Snap214™ is the fastest, most efficient way to assess your eligibility for veterans benefits — real power in the palm of your hand. Just take an iPhone snapshot of your DD Form 214, and Snap214™ begins piecing together the information highlighted by your active duty career and gives you an instant read on the benefits you're likely eligible to receive.
It's benefits knowledge in a snap!
Snap214™ is the ONLY mobile app that can assess your veterans benefits eligibility — a self-directed service specifically made for the independent warrior.

Snap214™ is a FREE productivity and organization tool designed to streamline and ably assist veterans and their families through the time-consuming and often confusing process of VA benefits claims submission.
Take a picture of your DD214, we'll use Computer Vision and Optical Character Recognition to extract the information; OR jump straight to our easy-to-use structured questionnaire and enter the data yourself

Snap 214™ uses the information you provide to give you an instant read on your benefits eligibility

You'll see your high-level eligibility across several categories of benefits including range of compensation, a list of benefits programs, and the life events when benefits are often used
This app was developed by Fast Yeti, Inc. — with guidance from certified veteran service officers — to provide veterans and their families with an independent first look at benefits eligibility.
Download Snap214™ now to enjoy seeing your benefits eligibility in a snap!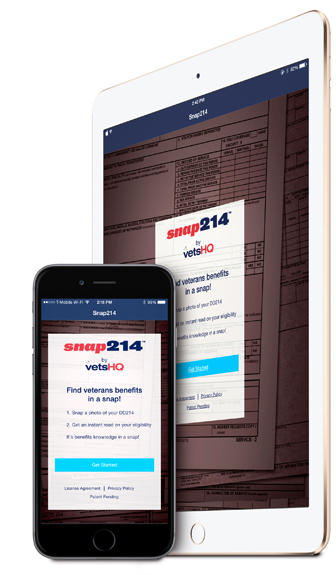 Supported devices: iPhone 5, iPad (3rd Generation), iPod Touch (5th Generation) or better. Coming soon to Android phones and devices.