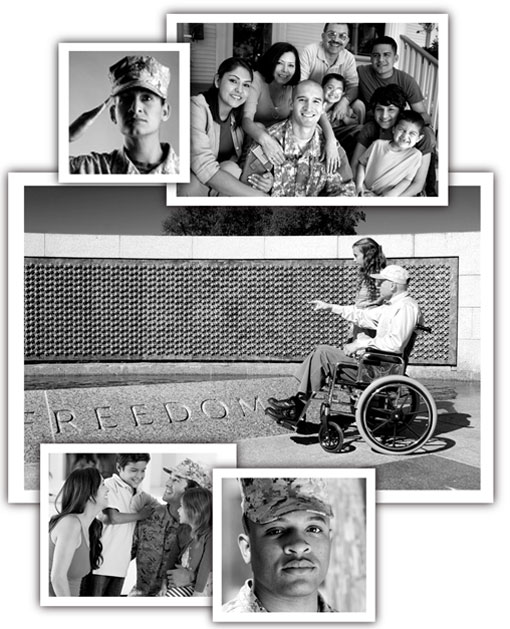 Veterans from these service periods:
Iraq and Afghanistan
Gulf War
Vietnam War
Korea
World War II
Peacetime
Others who are underserved by the current system, as well as veterans advocates, can use VetsHQ as well:
a veteran's spouse
surviving spouses and children
caregivers and representatives
veteran service officers
The VetsHQ mission is simple: to help ensure America's commitments to veterans and their families are honored.
13.8 Million Veterans from Vietnam, Gulf Wars
Vietnam and Gulf War veterans and their families will have a fast, secure, and online analysis of the VA benefits and entitlements that apply to each, individually. VetsHQ puts the power in the hands of the veteran.
Let's take a look at how one benefit — disability compensation — affects veterans, survivors and beneficiaries across all service periods.
Disability Compensation
The Department of Veterans Affairs Compensation program provides monthly benefits to veterans in recognition of the effects of disabilities, diseases or injuries that were incurred during active service or brought about later in life and connected to the veteran's service. This benefit is available regardless of service era, and millions are being compensated annually.
Below is a look at the average benefit amount by service period, plus the total average of $12,542.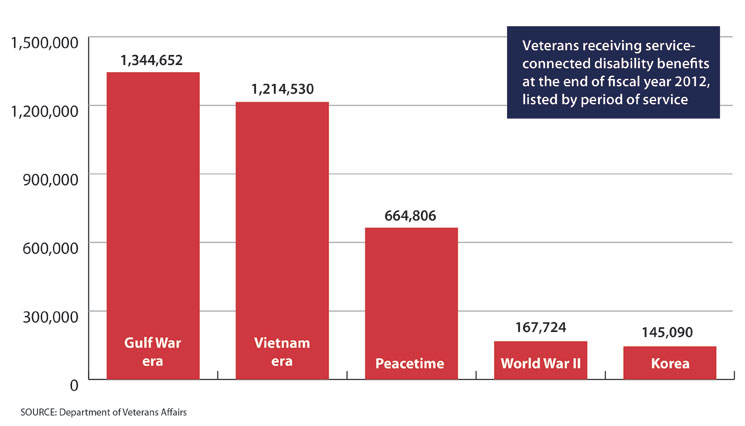 Disability compensation benefits also provides monthly payments to surviving spouses, dependent children, and dependent parents in the case of the economic loss caused by a veteran's death during military service or, subsequent to discharge from military service, as a result of a service-connected disability.
In fiscal year 2012, there were 366,430 survivors who received service-connected death benefits.
Just one benefit has the opportunity to touch and improve many lives.