Families of Fallen Soldiers Denied Death Benefits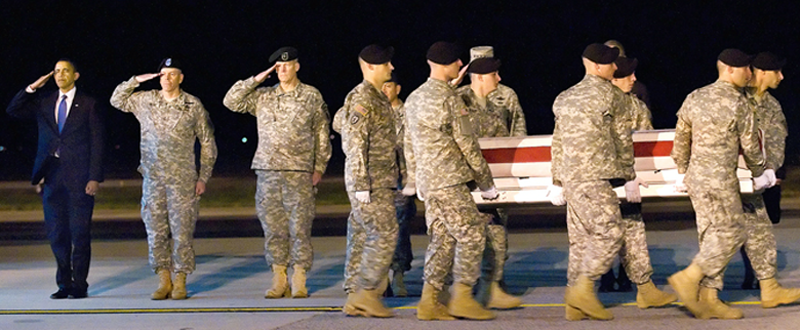 Soldiers carry a flag-draped coffin carrying the body of a slain serviceman at Dover Air Force Base. Because of the government shutdown, family members have been told they will not be able to use a $100,000 death gratuity, which some family members use to fly to Dover to meet with their loved ones. (U.S. Air Force photo by Jason Minto)
They've served their country honorably. Some have given the ultimate sacrifice. Many come home to the uncertain prospect of finding jobs away from military service. Many veterans have faced more than a year waiting to have their benefits claims processed.
But during the ongoing shutdown of the federal government, veterans and their families are being told yet again by the government: You'll have to wait.
The VA has announced that absent funding it will run out of money to continue making benefits payments to veterans in "late October."
"Claims processing and payments in the compensation, pension, education and vocational rehabilitation programs are anticipated to continue through late October. However, in the event of a prolonged shutdown, claims processing and payments in these programs would be suspended when available funding is exhausted," the department said in a statement.
As if that weren't enough, a new, more unconscionable effect of the shutdown has emerged — beginning this past weekend, families of servicemen killed in action in Afghanistan were told that they would not be receiving the $100,000 death benefit that is typically sent to them within 36 hours after the death.
The so-called "death gratuity" payment is intended to assist with funeral and burial arrangements and living expenses until survivor benefits kick in. Families also use the money to fly to Dover Air Force Base to meet the flag-draped coffins.
Gayle Tzemach Lemmon of the Council on Foreign Relations told the Today show:
"Washington may be shut down, but it's still asking people to go to war. When people realize that they can serve and fight for their country, but that their families will get an I.O.U. until the shutdown is over, I think they're just shocked."
Congress passed a law last week that will continue to pay members of the military during the shutdown. But the "death gratuity" payments were not included in that legislation. Still, the Department of Defense is looking for ways to correct this issue quickly.
Let's hope so.
UPDATE, Oct. 9, 2013: According to CNN, "disturbed to learn that death benefits were not being paid to survivors of fallen military soldiers" as a result of the government shudown, President Obama has ordered the Pentagon, the Office of Management and Budget and White House lawyers to fix the problem. White House Press Secretary Jay Carney told reporters at his daily briefing that Obama expects the problem "to be fixed today."
UPDATE II, Oct. 9, 2013: The House has voted unanimously to restore funding that would allow family members of soldiers to get death benefits during the shutdown.