Veteran GOODNEWS, Oct. 7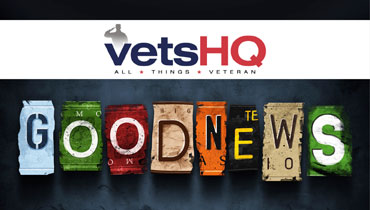 Mississippi woman's quilts for veterans gain global support (Hattiesburg American)
What started off as a quilting lesson is now a challenge to put a quilt in the hands of as many veterans and service members as possible. Melissa Scarborough Allred, an Iraq War veteran herself, was showing her daughter-in-law how to make a chevron quilt, but she didn't want one of her own. Instead, she thought she'd make one that was a nod to the flag, using the chevron patterns for stripes. Allred calls the project the Veterans Flag Quilt Challenge, and she gives it away the quilt pattern with a challenge. "I challenge each of you to do something to honor veterans in your community. I personally would like to see lap-sized versions of my quilt in the hands and laps of veterans all across the USA. This quilt is my original design. Feel free to share, but add the challenge," she says in a post in the Facebook group she set up to unite all the people who had contacted her.
VA partners with Walgreens to expand real-time sharing of medical information of vaccines (VA.gov)
In a first-of-its-kind partnership, the Department of Veterans Affairs (VA) today announced that it will join forces with retailer Walgreens to provide greater access to Centers for Disease Control and Prevention-recommended vaccinations to Veterans across the country. This partnership grew out of a successful pilot program that began in Florida to provide flu vaccines to Veterans throughout the state.  Based on those results, VA is expanding the pilot nationwide.  Through its nearly 8,200 locations nationwide, Walgreens will offer flu and other recommended vaccinations to Veterans. Pharmacists can administer vaccinations to Veterans and will leverage eHealth Exchange, through its Walgreens Cloud Electronic Health Records platform, to securely share immunization records with VA to help ensure complete patient medical records.  Vaccinations are available daily during all pharmacy hours with no appointment necessary and are subject to availability.
Army veteran, double amputee committed to inspiring others (VAntage Point blog)
Noah Galloway is 32 years old and a former Army Sergeant. The Birmingham, Alabama, native enlisted in October 2001, joining the 502nd Infantry, 101st Airborne Division. Galloway's world changed on Dec. 19, 2005, when he was injured in an IED attack in Yusafiah, Iraq.  He lost his left arm above the elbow and left leg above the knee. His road to recovery began in Germany, and continued at Walter Reed Army Medical Center. While Galloway's journey wasn't an easy one, he has worked to overcome his injuries, including the invisible ones. The Army Veteran participated in the 2012 Marine Corps Marathon and a host of extreme sport challenges. In 2013, Galloway shared his story with more than 150 Veterans at the VA-sponsored Midwest Valor Games. He challenged fellow Veterans not to let their disability define them. Noah Galloway's determination is one of the reasons he was just selected to grace the cover of the November 2014 Men's Health magazine.
Injured veteran sharing story to inspire other veterans (KGTV-San Diego)
It has been eight years since the Humvee Shilo Harris was in was hit by an improvised explosive device that had about 700 pounds of explosives. That day, he lost his ears, a part of his nose and suffered a broken collar bone. A third of his body was burned. After more than 75 surgeries and a lot of therapy, Harris is sharing his story with 10News. He hopes to inspire other wounded veterans who are attending the Road to Recovery conference in Coronado, Calif. "When I first got injured, it was hard for me to accept someone's generosity when I needed it," Harris said. He said for veterans in general, the transition back to civilian life is tough and trying to do that while healing from physical injures makes it even more difficult.
Actor Gary Sinese at the American Veterans Disabled for Life Memorial (C-SPAN)
Actor Gary Sinese, who played disabled veteran Lt. Dan Taylor in the 1994 film Forrest Gump, speaks at a ceremony for The American Veterans Disabled for Life Memorial in Washington, D.C.
Florida heiress' dream of D.C. memorial for disabled veterans comes to life (Associated Press)
A Florida heiress' decades- long push for a tribute to disabled veterans has finally come to fruition with the opening of a memorial near the National Mall. The American Veterans Disabled for Life Memorial was dedicated in Washington on Oct. 5. Beside President Barack Obama and other dignitaries was Lois Pope, an 81-year-old Palm Beach socialite and heir to a tabloid fortune, whose visit with injured veterans in the 1960s triggered her compassion for their struggle. Pope was a Broadway singer and actress when she was asked to perform at a charity program at Rusk Rehabilitation Hospital in New York, where Vietnam War veterans were recovering. Singing "Somewhere" from "West Side Story," she reached out as she got to the line "Hold my hand and we're halfway there, hold my hand and I'll take you there," but realized the man who lay on a gurney before her had no hand to hold. That day, she said she vowed to herself and to God to someday do something on behalf of these veterans.
D-Day veterans recall invasion at reunion dinner (Masslive.com)
Surviving members from the 296th Engineers recently gathered at the 350 Grille in Springfield for what may be the final reunion dinner. Beginning June 6, 1944, these men, many now in their early nineties, took part in D-Day, the largest seaborne invasion in history, crossing the English Channel and landing along the fifty mile stretch of beaches along the Normandy coastline. They fought their way through Europe and into Berlin, experiencing things none of us will ever experience, and seeing things none of us will ever see. Jean Bergeron of Wilbraham said she and her husband, Roland who was with the 296th, have attended many of the reunions. "I hear war stories of funny things that happened," she said, "but Roland and the others seem to forget the bad stuff."
After 7 decades, missing World War II soldier's remains return to Virginia (Stars & Stripes)
Richard Bean grew up in and around Manassas, Va. In 1941, just months before the Japanese attacked Pearl Harbor, he enlisted in the Army. He deployed the following year with the 105th Infantry Regiment, which was in the first wave of units sent into Pacific Theater combat. On July 7, 1944, while fighting on Saipan, Bean and his comrades faced the largest suicidal banzai attack of the war and, at 24, he was reported missing in action. Three years later, the military declared him dead. Posthumously, he was promoted to sergeant and awarded the Bronze Star. Decades ago, his family gave up hope that his body would be recovered. But early last year, an organization searching for Japanese casualties discovered Bean's remains in a mass grave where four other American soldiers have also been found.
Veteran farmer grows the family farm 'organically' (USDA.gov)
Larry E. King was raised in a family with farming roots. The very land he now farms in McCreary County, Kentucky was purchased by his mother during World War II.  He remembers his mother telling him, "If we didn't raise it, we didn't have it." In his late teens, King raised strawberries on the farm. His life moved away from farming at 17 when he followed in his two brothers' footsteps and joined the Air Force. For six years, King was stationed out of Little Rock, Arkansas where he worked with the mobile support systems out of the Military Airlift Command. After his military assignment, he finished college and worked for the U.S. Forest Service Civilian Conservation Corps. After a long career with the Forest Service, Larry retired a few years ago, bringing him home to the 34-acre family farm.
'Everyday hero' recognized for service with mortgage-free home (Wichita Falls Times Record News)
While they can never be thanked enough, one wounded veteran and his family can begin a new future in a mortgage-free home. Retired Staff Sgt. Charlie Smith was presented keys to a newly renovated, paid-for house in Wichita Falls to retired Staff Sgt. Charlie Smith in a ceremony before the Rider-Wichita Falls High School football game. Smith has traveled the world and experienced physical and mental hardships, but his determination to fight for this nation is what makes him an "Everyday Hero." Smith has served in the Army for eight years. He received the Purple Heart and two Army Commendation Medals for his injuries suffered in combat in Afghanistan, and has also been awarded many other medals, including the Army Good Conduct Medal, Global War on Terrorism Service Medal and National Defense Service Medal.
Volunteers work to improve Oklahoma vet's home (The Oklahoman)
Volunteers from Home Depot and the Paralyzed Veterans of America, Mid-America Chapter, came together to help local veteran Shawn Tracy improve his home. The work included a new deck with a wheelchair ramp, repairing siding on the house, landscaping and cleanup. The effort was part of Home Depot's fourth annual Celebration of Service campaign to help transform more than 1,000 homes for veterans across the country.
Wounded veteran humbled by free Palm Bay home (Florida Today)
Word that he would get a mortgage-free home left disabled veteran Stephen "Chris" Hamrick incredulous. "I am humbled," said Hamrick, who now rents a house in Palm Bay. "At first when Dave told me about this, I said 'This is too good to be true.' " Dave Isnardi, who has known Hamrick since he was hisdrill sergeant in the 1980s, was the one to tell him once the decision was made that he would receive the house. The City of Palm Bay, in with cooperation from the Space Coast Paratroopers Association, will formally present the house on Comet Avenue in Southeast Palm Bay to Hamrick Oct. 10.
Soldier sells high-fashion bags made of Army surplus (Army Times)
Three years ago, 1st Lt. Emily Núñez Cavness was the lone ROTC cadet at Middlebury College, in Vermont, headed for a career in the military. "I would put my uniform on, and walk across campus, and receive a lot of confused or surprised looks," said Núñez Cavness, 24, now the executive officer for a military intelligence company with 10th Special Forces Group, at Fort Carson, Colorado. "A lot of my classmates were curious about my service and why I wanted to serve … I definitely felt like a minority." But after attending a series of talks on social entrepreneurship at the college, inspiration struck, she banked on her good idea, and now she and her sister Betsy, 27, have launched a wildly successful start-up. The business, Sword & Plough, upcycles military surplus items into luxury handbags and backpacks — and hopes to bridge the military-civilian divide.
115 years later, Civil War veteran honored by students (Albany TWC News)
For 115 years a Civil War veteran's grave has been unmarked in St. Agnes Cemetery in Menands. But a school project worked on by East Greenbush middle school students changed that. Seventh and eighth grade students helped to keep history alive with every shovel of dirt. It was a long over due tribute for Albany-born Civil War veteran Pvt. James O'Connell. The students adopted O'Connell through the Civil War Veteran Memorial Project.  "He died 115 years ago, and that doesn't matter. He deserves to be remembered. All veterans do," Kelly Ann Grimaldi, the Albany Diocese cemetery historian, said.