Homeless veterans programs get $207 million from VA
The VA has announced 82 grants totaling more than $207 million to local veteran organizations as part of the Supportive Services for Veteran Families (SSVF) program to be put toward helping an additional 70,000 at-risk and homeless veterans and their families.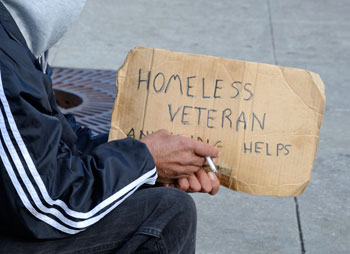 These grants go to organizations across the U.S., plus Puerto Rico and Guam, and is in addition to the $300 million in grants for homeless veterans awarded in August by the VA.
The VA also announced, in teaming up with the Department of Housing and Urban Development, an additional $62 million in vouchers and rental assistance to help 9,000 homeless veterans. You can read more about that here.
The terms of the SSVF grants state that these organizations must offer outreach, case management, assistance in obtaining VA benefits and assistance in receiving additional benefits to veterans and their family members.
Temporary financial assistance for rent and utility payments, security deposits, and moving costs, can also be provided to veterans through these grant funds, as well as a range of services designed to promote housing stability among eligible and low-income veteran families.
The SSVF program is in its fourth year, and the VA says that nearly 100,000 veterans and their family members have received direct assistance to end a homeless situation or to shore up permanent housing options in the past three years.
The 82 nonprofit agencies and organizations receiving the grants are listed below:
| STATE | ORGANIZATION NAME | AWARD AMOUNT | AREA SERVED |
| --- | --- | --- | --- |
| CA | Victory Village, Inc. | $467,349 | Tuolumne, Calavares, Amadore, El Dorado, Mariposa, Alpine |
| CA | HomeFirst Services of Santa Clara County (formerly EHC LifeBuilders) | $6,000,000 | Santa Clara |
| CA | Swords to Plowshares | $5,100,000 | San Francisco |
| CA | Hamilton Family Center | $849,867 | San Francisco |
| CA | Swords to Plowshares | $3,000,000 | Oakland |
| CA | Housing Resource Center of Monterey County | $3,000,000 | Monterey, San Benito |
| CA | WestCare California | $6,000,000 | Fresno, Madera |
| CA | Vietnam Veterans of San Diego | $3,000,000 | San Diego |
| CA | Interfaith Community Services, Inc. | $3,000,000 | San Diego |
| CA | Volunteers of America of Los Angeles, Inc. | $3,000,000 | Orange |
| CA | California Veterans Assistance Foundation | $3,000,000 | Bakersfield/Kern County CoC |
| CA | United States Veterans Initiative | $6,000,000 | Long Beach |
| CA | United States Veterans Initiative | $1,500,000 | Riverside |
| CA | LightHouse Treatment Center | $1,500,000 | Riverside |
| CA | United States Veterans Initiative | $1,500,000 | San Bernardino |
| CA | Community Action Partnership of San Luis Obispo County, Inc. | $4,899,717 | San Luis Obispo |
| CA | Good Samaritan Shelter | $1,100,000 | San Luis Obispo |
| CO | Volunteers of America Colorado Branch | $3,000,000 | Adams, Arapahoe, Boulder, Broomfield, Denver, Douglas, Jefferson |
| CO | Denver Options, Inc. (dba Rocky Mountain Human Services) | $3,000,000 | El Paso |
| DE, NJ | Veterans Multi-Service Center | $1,000,000 | Atlantic, Salem, Cumberland, Cape May, New Castle, Kent, Sussex |
| FL | Emergency Services & Homeless Coalition of Jacksonville, Inc. | $2,000,000 | Duval, Clay and Nassau |
| FL | Tampa CrossRoads | $3,000,000 | Hillsborough |
| FL | Society of St. Vincent de Paul South Pinellas, Inc. | $6,000,000 | Pinellas |
| FL | Salvation Army, a Georgia Corporation | $3,000,000 | Volusia, Flagler |
| FL | Homeless Services Network of Central Florida | $6,000,000 | Orange, Osceola, Seminole |
| FL | Emergency Services & Homeless Coalition, Inc. | $3,000,000 | Duval, Clay, Nassau |
| FL | Volunteers of America of Florida | $3,000,000 | Brevard |
| FL | Carrfour Supportive Housing, Inc. | $3,000,000 | Miami-Dade |
| GA | Volunteers of America Southeast, Inc. | $1,000,000 | Columbus-Muscogee, Harris, Chattahoochee, Talbot, Marion, Steward, Webster, Taylor, Macon, Schley, Sumter, Crawford, Peach, Bibb, Houston, Dooly |
| GA | Project Community Connections, Inc. | $1,488,000 | Atlanta |
| GA | Travelers Aid of Metropolitan Atlanta, Inc. (dba Hope Atlanta) | $1,512,000 | Atlanta |
| GA | Project Community Connections, Inc. | $738,000 | DeKalb |
| GA | Travelers Aid of Metropolitan Atlanta, Inc. (dba Hope Atlanta) | $762,000 | DeKalb |
| GU | WestCare Pacific Islands, Inc. | $700,000 | All 19 villages of Guam |
| HI | United States Veterans Initiative | $1,500,000 | Honolulu |
| HI | Catholic Charities Hawaii | $1,500,000 | Honolulu |
| IL | Catholic Charities of the Archdiocese of Chicago | $3,000,000 | Cook |
| IN | United Way of Central Indiana | $3,000,000 | Marion |
| KS | reStart, Inc. | $1,500,000 | Wyandotte |
| KS | Salvation Army, an Illinois Corporation | $1,127,757 | Wyandotte |
| KY | Volunteers of America of Kentucky | $2,971,607 | Louisville, Jefferson |
| MA | Vietnam Veterans Workshop (dba New England Center for Homeless Veterans) | $3,000,000 | Suffolk |
| MA | Veterans, Inc. | $3,000,000 | Worcester |
| MA | Soldier On, Inc. | $3,000,000 | Pittsfield, Berkshire |
| MI | Alger Marquette Community Action Board | $475,695 | Gogebic, Ontanogan, Bararga, Houghten, Kweenaw, Dickinson, Memine, Schoolcraft, Chippewa, Luce, Mackinaw, Delta, Alger, Marquette |
| MI | Volunteers of America Michigan, Inc. | $3,000,000 | Wayne |
| MN | Minnesota Assistance Council for Veterans | $3,000,000 | Hennepin |
| MO | St. Patrick Center | $390,790 | Lincon, Warren, St. Charles, Franklin, Jefferson, Washington, St. Francois |
| MO | ReStart, Inc. | $1,500,000 | Jackson |
| MS | PTEH, Inc. | $250,000 | Hinds, Rankin, Madison, Copiah, Warren |
| NC | Volunteers of America of the Carolinas, Inc. | $500,000 | Bertie, Edgecomb, Halifax, Hurtford, Martin, Nash, Northampton, Vance, Warren, Washington, Wilson, Pitt, Wayne, Johnston |
| NC | Homeward Bound of Western North Carolina | $2,717,329 | Buncombe |
| NC | Family Endeavors | $3,000,000 | Cumberland |
| NC | Volunteers of America of the Carolinas, Inc. | $1,912,500 | Wake |
| NV | United States Veterans Initiative | $3,000,000 | Clark |
| NY | Services for the UnderServed | $6,000,000 | New York, Bronx, Queens, Kings, Richmond |
| NY | HELP Social Service Corporation | $6,000,000 | New York, Bronx, Queens, Kings, Richmond |
| NY | Services for the UnderServed | $3,000,000 | Nassau, Suffolk |
| OH | Lutheran Social Services of Central Ohio | $459,067 | Fairfield, Hocking, Perry, Pickaway, Fayette, Ross |
| OH | Ohio Valley Goodwill Industries Rehabilitation Center, Inc. | $1,407,263 | Hamilton |
| OH | Talbert House | $1,592,737 | Hamilton |
| OH | Volunteers of America of Greater Ohio | $3,000,000 | Cuyahoga |
| OH | Volunteers of America of Greater Ohio | $3,000,000 | Montgomery |
| OR | St. Vincent de Paul Society of Lane County | $3,000,000 | Lane |
| OR | Transition Projects | $6,000,000 | Multnomah |
| PA | Veterans Multi-Service Center | $1,000,000 | Franklin, Fulton, Juniata, Mifflin, Snyder, Union, Centre, Clinton, Cameron, Potter |
| PA | Impact Services Corporation | $3,000,000 | Philadelphia |
| PR | Casa del Peregrino Aguadilla, Inc. | $742,640 | South/Southeast Puerto Rico |
| SC | Eastern Carolina Homeless Organization, Inc. | $3,000,000 | Sumter |
| TN | Centerstone of Tennessee | $3,000,000 | Davidson |
| TX | Family Endeavors, Inc. | $2,000,000 | Balance of State, Fort Worth/Arlington/Tarrant, Wichita Falls/Wise, Palo Pinto, Wichita, Archer, Dalls City & County, Waco/McLennan |
| TX | Front Steps, Inc. | $3,000,000 | Travis |
| TX | Family Endeavors | $3,000,000 | Fort Worth, Arlington, Tarrant |
| TX | American GI Forum National Veterans Outreach Program, Inc. | $3,000,000 | El Paso |
| VA | Quin Rivers, Inc. | $118,120 | King William, King, Queen |
| WA | HopeSource | $882,628 | Douglas, Grant, Kittlas, Chelan, Okanaogan |
| WA | Community Psychiatric Clinic | $3,000,000 | King |
| WA | Goodwill Industries of the Inland Northwest | $2,962,562 | Spokane |
| WA | Catholic Community Services of Western Washington | $1,500,000 | Pierce |
| WA | Metropolitan Development Council | $1,500,000 | Tacoma/Lakewood Pierce |
| WI | Center for Veterans Issues, Ltd. | $3,000,000 | Milwaukee |
Source: Department of Veterans Affairs
More on homeless veterans