Veterans GOODNEWS for Oct. 14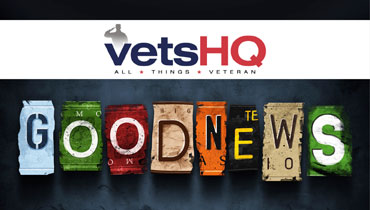 Strangers pay for veteran's 1965 Ford Mustang to be restored (AOL Autos)
An Iraq war veteran in Pearland, Texas, thought he was stopping by the shop to check on some small repairs to his classic car over the weekend. When he arrived, he was surprised to find his 1965 Ford Mustang restored to mint condition. Retired Sgt. Kelly Foster bought the classic car nine years ago after his first tour of duty in Iraq. He has been slowly paying for repairs and restoration on the car ever since, KHOU 11 reported. When Margaret and Timor Martin heard about Foster's car and his service in the armed forces, they gather funds from friends and family to help complete the work on the soldier's dream car. "We feel like these guys are underpaid and under-appreciated," Margaret Martin told KHOU 11. "They are not taken care of the way someone who is willing to put their life on their line should be treated."
A benefit for rural vets: Getting care close to home (NPR)
Army veteran Randy Michaud had to make a 200-mile trip to the Veterans Affairs hospital in Aroostook County, Maine, near the Canadian border, every time he had a medical appointment. Michaud, who was medically retired after a jeep accident in Germany 25 years ago, moved home to Maine in 1991. He was eligible for VA medical care, but the long drive was a problem. He's one of millions of veterans living in rural America who must travel hundreds of miles round-trip for care. "If I get an appointment in the winter, I'll cancel that sucker and I'll live with the pain until spring time," he says. To make it easier for vets to get care, the VA started a program called Access Received Closer to Home, or ARCH. A trial program began three years ago in five states. This summer, Congress extended the program for two years, as part of a law aimed at reforming the VA. It will allow veterans to use private doctors if they live far from a VA hospital or can't get a VA appointment within 30 days. It means Michaud can make appointments only 10 miles up the road, at the 65-bed Cary Medical Center in the town of Caribou.
Partnerships battle homelessness among veterans (South Jersey Courier-Post)
"Lazy" is not a word in Serafin Perez's vocabulary. He's had a job since his teens. After serving in the Navy and Army for 16 years, the Iraq War veteran secured civilian employment in private security. But Perez became homeless this year, after he lost his job and his rental home in Mount Holly. William Robinson of Camden, N.J., a much older veteran than Perez, spent the past six years in various homeless shelters and other temporary housing after a job loss and a domestic dispute. He ended up at Veterans Haven, a transitional facility in Winslow. Today, both ex-soldiers are in permanent homes due to the efforts of grassroots agencies implementing a federal Housing First mandate that has reduced the number of homeless veterans nationwide.
Prosthetic hand could help amputees feel texture (WXYZ-Detroit)
It's a medical breakthrough that could help amputees. Researchers at Case Western Reserve University in Ohio are on a mission to restore the sense of touch for people who have had an amputation. The school has teamed up with the Louis Stokes Cleveland Veterans Affairs Medical Center to develop a prosthetic hand prototype that would allow patients to feel textures and pressure. The system uses electrical stimulation creating a connection between a prosthetic hand and the human brain. Researchers are hopeful they can take the prototype system –and develop one people can use at home within five years.
Veteran marching across Wisconsin to raise awareness for PTSD, suicides (The Lacrosse Journal)
Travis Good of La Crosse, decrying the statistic that 22 fellow veterans a day commit suicide, is marching 221.4 miles from La Crosse to Milwaukee to raise awareness and money to treat PTSD. Good, 35, who has post-traumatic stress disorder he developed during Mideast deployments, was set to start his trek at 6 a.m. today at the Veterans Affairs River Valley Clinic at 2600 State Road. The statewide hike is a "ruck march," which means carrying a backpack. While such packs typically weigh 45 to 50 pounds, Good's will be a 65-pounder with extra supplies because he is crossing the Badger State. Accompanying Good on his "Ruck to Recovery for PTSD Awareness" is Gene Bennett, a 38-year-old Marine/Army veteran who also has PTSD. Good welcomes others — veterans and civilians alike — to join for however long they want. He plans to cover at least 36 miles a day, stopping at VA facilities along the way.
Restored Los Angeles hotel annex will house 75 homeless veterans (Los Angeles Times)
Anthony Smith slept near the baseball diamond at a West Los Angeles park Sunday night, huddled with the olive drab duffel pack he has carried since his four-year stint as an Army medic during the Gulf War. "I saw a lot of blood and despair," said Smith, 49. By noon Monday, he had taken up residence in an immaculately restored, cream-and-ivory studio apartment in the grand old Rosslyn Hotel annex in downtown Los Angeles. Smith is one of 75 former service members who are moving into the $32-million SRO Housing Corp. project as part of the Obama administration's drive to end veteran homelessness by the end of 2015.