Veterans' GOODNEWS for Oct. 22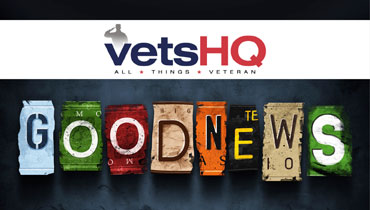 Virtual reality therapy shows new benefits (Wall Street Journal)
For some veterans of war, recovering from trauma means going back to the battlefield. The battlefield isn't real, however, nor are the gunfire and soldiers. But the scene is as a veteran like Chris Merkle remembers it. Behind a pair of virtual reality goggles, Mr. Merkle is once again invading Iraq on one of his longest days. Gunfire erupts, and he sees Iraqi men go down, not knowing whether he shot them or someone else did. He has no time to question, he is on the move. In his mind, he is back at war. When Mr. Merkle removes his goggles, he is back at the Veterans Affairs Healthcare System in Long Beach, Calif. The clinic is one of dozens of centers in the U.S. using virtual-reality exposure therapy, an increasingly popular treatment method for mental-health conditions such as post-traumatic stress disorder, phobias and anxiety.
Gentle cat is there for veterans at Salem VA (Lynchburg News & Advance)
As Edwin Gehlert drew his last breaths in a hospital bed at the VA Center, the World War II veteran was surrounded by his wife, daughter, son-in-law, a nurse — and an orange tabby cat named Tom. Tom lay on a bookcase and watched over the emotional scene in Gehlert's room in the Salem VA Medical Center's Hospice and Palliative Care unit. The cat almost seemed like a member of the medical team providing end-of life-care, and in a way, he was. For more than two years, Tom has lived in the hospice ward, where he roams the hall freely like a doctor making his rounds, nibbles treats sneaked to him by patients and brings comfort to old soldiers and their families during an emotional time.
New program to pair stressed veterans with trained dogs (Charlotte Observer)
Ryan Largeman is 28, served seven years in the Air Force and suffered multiple injuries two years ago in Afghanistan during his second deployment in the Middle East. He prefers the term "shell shock" to post-traumatic stress disorder in describing the anxiety that overcomes him when confronted by loud noises, whether it's a bottle hitting the floor or boards falling off a passing truck. "I hear fireworks and the first thing I think is: 'Oh, god, incoming!' " On Tuesday, Largeman became the first veteran accepted into a new Charlotte nonprofit program that pairs disabled former military members with a service dog specially trained to be a calming influence as they ease back into civilian life. Largeman's new constant companion is an 18-month-old blue tick hound named Duke, who loves pepperoni and likes to stand on his back legs and hug people.
Vietnam vet receives Silver Star after 45 years (Military.com)
Team Redstone gathered to honor a local Alabama veteran with the third highest military award for valor, the Silver Star, for his actions in Vietnam.  Retired 1st Lt. Phillip B. Fikes, of Huntsville, was awarded the Silver Star after 45 years during a formal ceremony hosted by Gen. Dennis L. Via, commanding general of the U.S. Army Materiel Command, Oct. 17 at the Bob Jones Auditorium here.  "I am so very proud and deeply honored to finally complete the mission and carry out the orders to present the Silver Star," Via said during the ceremony.  Via noted that Vietnam Veterans did not always get the honor they deserved.  "Today's ceremony reminds us that our Vietnam Veterans were patriots who served with honor, and will forever be deserving of our respect," Via said.
Connecticut veteran gets 17 medals, ribbon 46 years later (New Haven Register)
It's been some 46 years since Frank Somohano Sr. served in Vietnam, but as of Tuesday he's going to need a bigger display case for his medals and ribbons. Somohano, 67, who served in the U.S. military for 22 years, was officially presented with 17 medals and a ribbon Tuesday at City Hall by U.S. Sen. Richard Blumenthal, D-Conn. Somohano served as a Marine for four years, going to Vietnam in 1964, then the Army for 16 years, and the Army Reserve. "They mean everything. … I feel blessed," he said of the new decorations. "I was pleasantly surprised when this happened." Members of Blumenthal's staff discovered that Somohano had the awards coming to him when they were looking into a benefits matter for the veteran.
Surviving spouses soon to get tuition benefit (Stars & Stripes)
An overhaul of the troubled Department of Veterans Affairs means new education benefits will kick in next month for the spouses of servicemembers who died since 9/11 in the line of duty, according to the department. Surviving spouses will be eligible Nov. 3 for the Fry Scholarship — named Marine Gunnery Sgt. John David Fry, who was killed in Iraq in 2006 — which includes payment of tuition and fees, a housing allowance and a stipend for books and school supplies. The benefit has previously only been available to children of fallen troops. The expansion of education benefits was tucked into a massive $16.3 billion law passed over the summer and designed to fix the VA health care system following a nationwide scandal over wait times and records manipulation.
David Ortiz surprises a group of Army veterans with World Series tickets (USA Today)
After a last place finish in the AL East, the chances of the Boston Red Sox making it to the World Series were pretty much over by the middle of the summer. That doesn't mean they won't be represented at Game 1 of the Fall Classic. David Ortiz and three Massachusetts based military members (two veterans and one active) will be in attendance at Kauffman Stadium Tuesday night after the Red Sox slugger surprised the trio with tickets at Fenway Park recently. It was part of a partnership between Bank of America, the Red Sox Foundation and the Massachusetts General Home Base Program whose goal is to surprise military veterans with a "once in a lifetime experience." While Ortiz will be analyzing the game for FOX, the three Army members (Iraq and Afghanistan veteran Tom Pittman, Doug Whalen, who served two tours in Iraq, and Molly Alesch, an active servicewoman) will be honored during the seventh inning stretch of Tuesday's game between the San Francisco Giants and Kansas City Royals.
World Series Game 1 honors U.S. veterans (WDAF-Kansas City)
Game One of the World Series is a very special event for military veterans and their families. On Tuesday afternoon, Baseball Commissioner Bud Selig and a host of military dignitaries, gathered at the Kansas City VA Medical Center honor annex to pay tribute to the men and women who served this nation. Veterans and military families say they're honored to have the Kansas City Royals recognize their work and the sacrifices they've made to serve this country. Since 2008 Major League Baseball has spent $30 million to support non-profit agencies and hospitals that provide services for Iraq and Afghanistan veterans suffering from post-traumatic stress disorder and traumatic brain injury.
Houses for heroes: Veterans grateful for new homes (Chicago Tribune)
Retired Army Specialist Joel Sigfrid humbly took the keys to his split-level home recently week surrounded by family and friends. Wells Fargo donated the bank-owned home to the nonprofit Military Warriors Support Foundation, which will eventually deed it to Sigfrid. It's the 160th home that Wells Fargo has donated to help veterans and the fifth one in Minnesota. "It feel likes winning the lottery," Sigfrid said as he toured the newly remodeled three-bedroom house. But this is no stroke of luck. He's earned it. Sigfrid, 36, medically retired from the Army in September after being awarded two Purple Hearts. He served for six years, including deployments in Iraq and Afghanistan. Military service is a tradition in his family, he said, starting with his great-great-grandfather in World War I.
U.S. veterans find inspiration, healing in Israel (The Jewish Voice)
On the final evening of a September tour of Israel with Heroes to Heroes, an Army veteran named Juan said, "Instead of the VA spending money on our medical treatment, they should have spent money on this program, because more healing was done here." Based in New Jersey, the nonprofit Heroes to Heroes brings over "teams" of war veterans suffering from post-traumatic stress disorder (PTSD) and often physical injuries as well. Juan, who fought in Iraq in 2004 to 2005, was in the fifth cohort of 10 Americans accompanied by a coach and Heroes to Heroes founder Judy Schaffer, along with six Israeli vets who met them here. "For veterans who are struggling and may have thoughts of suicide or not moving on, the trip helps them get their connection back to what's important, spiritually and emotionally," Schaffer said.