Veterans GOODNEWS for Oct. 24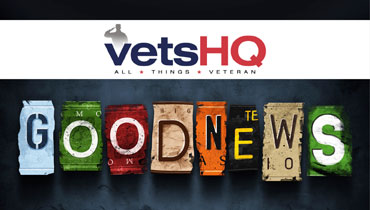 Veterans have created a housing boom (Washington Post)
There may be fewer military boots on the ground overseas, but here at home major campaigns in the housing market have been directed this year at veterans. Not only has the Department of Veterans Affairs' VA home-loan program gained significant market share compared with competing private and government mortgage options, but big banks and mortgage companies have stepped up efforts to help returning veterans obtain decent and affordable housing, including by gifting them hundreds of homes free of charge, with no mortgage attached. The VA's home-purchase financing program is now at record levels. New loans to buy houses have more than doubled since 2007. Since 2011, when VA-backed mortgages represented about 3 percent of total home-purchase mortgage activity, they've soared to roughly a 7 percent share, according to the Mortgage Bankers Association. For sales of newly built homes, the VA share is much larger: 14.5 percent in September, compared with a 16.7 percent share for the other major federal housing finance program, FHA, the Federal Housing Administration.
Nonprofit pays off education debts for U.S. veterans (Christian Science Monitor)
Delaina Conour was working, going to school, and had just purchased her first home when the events of 9/11 spurred her to uproot her entire life and enlist in the U.S. Army.  She made it as far as Germany before being sidelined by a back injury, and was left behind when her entire team was sent to Iraq. Within a few weeks of going into combat, all but one of her peers was dead, she said. Soon after, Conour was medically discharged from service, finished school in Europe, and moved back to the U.S.— racked with survivor's guilt, to add to her physical injuries. In 2006, Conour and her disabled veteran husband had a daughter. She was born with Down syndrome and has required a dozen surgeries since. "We ended up forced into bankruptcy and ended up losing our home because of medical bills," Conour said. Declaring bankruptcy helped clear most of the family's debt, but more than $15,000 in school loans could not be discharged. As she was surfing the Internet one day Conour stumbled upon a new nonprofit aimed at helping military vets get out from under educational debt. "I didn't even know help like this existed," said Conour. She soon became one of 10 veterans whose student loans have been paid off by Leave No Veteran Behind since 2009. Her portion of the family's loans, about $10,000, was paid for in full by the nonprofit.
National Medal of Honor museum on track to break ground in 2015 (Washington Times)
Famous connections and military supporters have helped the National Medal of Honor Museum Foundation reach an important fundraising goal needed to break ground on a memorial next year. Ross Perot, George W. Bush, Henry Kissinger, Gary Sinise and numerous other donors have helped propel the nonprofit past its goal to raise $5 million within the year. The organization ultimately expects to raise $98 million. Board member Rudi Gresham, a former adviser to the department of Veterans Affairs during the Bush administration, said the organization has already selected two firms to design the South Carolina museum. "Getting to the point where you're in a conceptual design phase is a very important milestone, and starting today the architectural design firms will be actually getting to work on what this museum will look like," Robert Wilburn, the foundation's founding president and CEO said. Although 3,487 men and one woman have received the nation's highest military honor since its inception during the Civil War, there is not currently one place where all their war stories are consolidated.
Retired VA employee shows pride for new disabled veterans memorial (Huffington Post)
Commentary: I am a veteran with more than 30 years of service both as an enlisted servicemember and as an officer. I served in Vietnam and the Middle East, in addition to serving as a member of the Stabilization Forces in the Balkans. When I retired, I chose to serve 10 years with the Department of Veterans Affairs Benefits Section. I was a veterans service representative and a public contact representative. My goal was to assist veterans and their families in obtaining their entitled benefits. So when I heard about the forthcoming opening of the American Veterans Disabled for Life Memorial, I was overwhelmed with gratitude for my country and proud of the American disabled veteran. This topic is very close to my heart. Upon the urging of veterans and their families and caretakers to not allow our veterans' stories to be forgotten, I recently published The Disabled Veteran's Story. These recollections and stories cover an array of experiences from around the world and speak to the struggles and sacrifices of veterans and their families for the benefits to which they're entitled.
Iowa soldier organizes a 23-mile march to remind veterans that people care (Omaha World-Herald)
You might say Patrick Osborn wears his passion on his sleeve. Wrapped around his arm, from triceps to wrist, is an American flag tattoo, emblazoned with the words "American soldier." The Iowa National Guardsman and Iraq War veteran from Council Bluffs will again show his commitment to soldiers when he leads more than 200 people on a 23-mile Ruck Up for Life through Council Bluffs and Omaha on Saturday. The 23 miles symbolizes the estimated 22 veterans who committed suicide, on average, each day in 2010 — according to a Department of Veterans Affairs report released last year — plus one representing the average number of active-duty suicides per day in recent years. "It's to help other veterans realize they're not alone with their post-traumatic stress," Osborn said.
World War II airmen again fly in storied B-29 (Stars & Stripes)
The bomber best known for dropping the atomic bombs on Japan also flew countless other raids. Karnig Thomasian's final mission on a B-29 Superfortress ended in flames when bombs collided and exploded in the air over Burma in 1945. He parachuted out and spent six months in a Japanese prison camp. On Thursday, he was once again in a B-29, flying from Baton Rouge to New Orleans. He and other veterans will be on hand at the WWII AirPower Expo in New Orleans this weekend. As the bomber named Fifi took off in Baton Rouge, the 90-year-old Pompton Plains, New Jersey, native peered out of the glass-covered nose where the bombardier sat during missions. He moved the bombsight from side to side. "I was thinking about my bombardier … and how vulnerable he was. He was wide open to flak," Thomasian said of runs they often made through a barrage of anti-aircraft fire.
Military spouse turns VA frustration into a pursuit of a degree to help others (USC News)
As the wife of a disabled veteran, Krystal Lerner knows the struggles many veterans face and the impact that can have on those closest to them. Lerner remembers the frustration she experienced going through the Veterans Affairs system trying to get her husband connected with services. "I made three pages worth of phone calls to people, and everyone kept referring me to someone else," she said. Lerner had the time to help her husband, but the experience made her think about others who might not have the same support systems. "There are so many barriers that would make this whole process frustrating," she said. Hoping to use some of her personal perspective to help others, Lerner is pursuing a Master of Social Work from the USC School of Social Work, with a Families and Children concentration and a sub-concentration in Military Social Work and Veteran Services. The USC School of Social Work is the first private research university to develop a military social work program that aims to graduate students who are prepared to meet the unique needs of active duty service members, veterans and their families.