Veterans' GOODNEWS for Oct. 31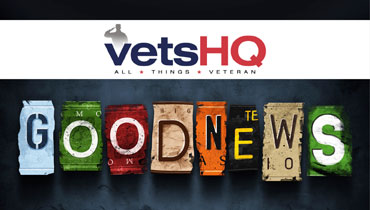 For Veterans Day, a TV special that will span 6 cable networks (New York Times)
For several years, Madison Avenue has been accelerating efforts to honor veterans of the United States military and help service members who have struggled since returning home. For this Veterans Day, the media giant Scripps Networks Interactive is preparing an hourlong special — centered on the celebration of the Hawaiian homecoming of a wounded serviceman — that is to run on all six of its cable channels and be sponsored by major marketers like ConAgra Foods, Liberty Mutual Insurance and Union Pacific. The special, "A Hero's Welcome," is the first program, Scripps Networks Interactive executives say, that they have scheduled to appear on all their channels: the Cooking Channel, the DIY Network, the Food Network, Great American Country, HGTV and the Travel Channel. The special will run first on the Food Network, at 9 p.m. Eastern time on Nov. 11; repeat an hour later, on the Cooking Channel and Great American Country; and run on the remaining three channels at 11 p.m. Eastern time.
U.S. Forest Service to waive fees to honor Veterans Day (Houston Chronicle)
The U.S. Forest Service is waiving fees at most of its day-use recreation sites from Nov. 8 through Nov. 11 in honor of Veterans Day. Forest Service Chief Tom Tidwell says he hopes the time will allow veterans and other visitors to find national forests and grasslands as a place where they can take time out for themselves. The agency doesn't charge fees at any time on 98 percent of national forests and grasslands.
Vietnam, WWII veterans inducted into Alabama Military Hall of Honor (AL.com)
The Alabama Military Hall of Honor has inducted two more heroes into its ranks. The Hall of Honor, located on the campus of Marion Military Institute, honored retired Army Col. Burnie Quick of Columbus, Ga. and the late John Brock, U.S. Navy, in ceremonies held Friday. Events included a luncheon and MMI Corps of Cadets parade. The Military Hall of Honor was established in 1975 by Gov. George C. Wallace as a way to honor the state's military heroes. The hall is housed at Marion Military Institute's Old City Hall Building and each inductee is honored with a bronze bas-relief plaque.
Online shopping privileges for all vets is likely, official says (Navy Times)
Expanding online shopping privileges to all honorably discharged veterans isn't a matter of "if," but "when," the chief executive officer of the Army and Air Force Exchange Service said at a meeting in Washington on Wednesday. "We still have a ways to go," acknowledged Tom Shull, but he said AAFES is working with its sister exchange services to iron out some issues. One of those is determining how to share dividends for morale, welfare and recreation programs when a Navy, Marine Corps or Coast Guard veteran buys online. The issues "are not insurmountable," said Shull, speaking at the annual convention of the American Logistics Association, an industry trade association that conducts business with commissaries, exchanges and MWR activities. In May, AAFES officials gave a formal proposal to defense officials to allow all honorably discharged veterans to shop at its online exchange store only; the proposal doesn't extend to brick-and-mortar stores. Concerns subsequently were raised within the Defense Department that expanding online access would lead to "benefit creep" — access for veterans to brick-and-mortar exchange stores and to other quality-of-life benefits.
Family's tradition of helping veterans marches on (USC News)
Pamela and Mark Mischel have been involved with the University of Southern California School of Social Work for over a decade — first as proud parents and now as one of the school's first supporters of the Yellow Ribbon Scholarship Fund. "Even though we don't have any direct experience with the military, these issues are very near and dear to our hearts," said Pamela Mischel, who also sits on the school's Board of Councilors. "These young men and women have given so much, and we want to do our small part to be able to help," Mark Mischel added. Already early donors to the school's military social work program, the Mischels' military-focused philanthropy has continued with recent donations that have established the Pamela and Mark Mischel Family Endowed Yellow Ribbon Scholarship Fund, which aims to help student veterans and military spouses pursuing military social work in the school's Master of Social Work program.