Veterans GOODNEWS for Nov. 18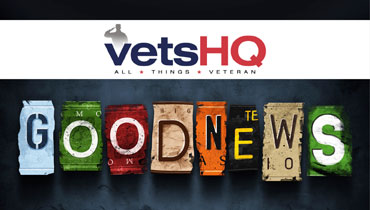 Starbucks boss Howard Schultz shines light on JBLM veterans in new book (Tacoma News Tribune)
Starbucks CEO Howard Schultz sounds almost apologetic when he talks about how little he knew about the people fighting in Iraq and Afghanistan for the first 10 years of the wars. He followed the headlines but didn't go out of his way to talk to a veteran or visit any of the military bases that are a short drive from his Seattle headquarters. "I'm embarrassed that I did not fully understand the sacrifices that the men and women who served were making on behalf of the country," the former Seattle SuperSonics owner said Monday during a visit to Joint Base Lewis-McChord. A 2011 visit to West Point opened his eyes to the dedication Army cadets showed on their way to war, and Schultz has been trying to reintroduce the public to America's 2.6 million Iraq and Afghanistan veterans ever since. "I'm committed to really raising the level of understanding and empathy so we do not have a bifurcated nation where the military and the people do not understand each other," said Schultz, whose father served in the Army as a medic during World War II. Now he has published "For Love of Country," a book he wrote with Washington Post senior correspondent Rajiv Chandrasekaran to highlight the heroism veterans showed on the battlefield and at home since the wars began. Their book tour concluded this week with events at JBLM and in Seattle.
Seattle 82nd Airborne veteran catches burglar, gives him a beating (The Inquisitr)
It seems that if one was to pick "burglar" as their career choice, or even as a hobby, among the rules they should follow would be making sure nobody is present in the targeted home, and that if they are, they're not a trained military veteran. Well, a burglar in Seattle failed to heed these two rules of the burglar-ing trade and, much to his chagrin, paid dearly for it with a severe beating from a resident that happened to belong to the U.S. military's 82nd Airborne, reports Fox News Insider. And much to the delight of YouTube viewers, and perhaps those who have suffered a burglary but never got to deliver a burglar-beat-down of their own, the whole event was captured on multiple security cameras. The Seattle resident whose home was the burglar's target is named Andrew Myers, and is a paratrooper with the 82nd airborne division. According to Myers, the burglar, who he calls the "local creeper," had broken into his basement before, on Veterans Day of all days, in the middle of the night. During that burglary, the "local creeper" came away with only a shirt, leaving behind very expensive camera equipment for which Myers expected the burglar to return. Sure enough, as seen on the video which features a running time-stamp of 11/16/2014, Sunday night, with the time beginning at 7:46 PM, the "local creeper" arrives, smiling, but not for long. Click the headline link to view the video.
Homeless veterans in Wisconsin find help from their despair (Minneapolis Star-Tribune)
"All residents meet by the security office for this morning's mandatory class. We will be taking a walk," a voice spills over the intercom, repeats, and then clicks off. It is a sunny morning in mid-July, and slowly men trickle out from their pods toward the front door of Klein Hall, a veterans transitional housing facility nestled on the grounds of the Northern Wisconsin Center for the Developmentally Disabled in Chippewa Falls. A few already are outside smoking, talking. Winston C. Baker stays behind. He had just spent his first night at Klein Hall, the building that houses the Veterans Housing Program, and for the first seven days new residents have to remain inside the building. For the first 30 days, they cannot leave the grounds. "Before they get here we already have kind of a plan," said Adam Kohls, the previous site director of the VHP in Chippewa Falls. A detailed interview process happens between the veteran, the site director, a Veterans Affairs liaison from the Minneapolis VA Health Care System and one, or both, of the in-house case managers. Veterans in the program, which is operated by the Tomah-based Veterans Assistance Foundation, come to Klein Hall at varying points in their lives, but they share the commonality of being homeless or at risk of becoming homeless.
Chicago theater's "Women At War" shines light on female veterans (DNAInfo)
You can add "combat soldier" to the list of careers relegated as "women's work," said Tara Mallen, Artistic Director of Rivendell Theatre Ensemble's "Women At War." The New York-to-Lincoln Square transplant said she has dedicated the past eight years of her life to better understanding the unique experiences of female soldiers and veterans. Now the culmination of her work during those years is on display at Rivendell Theatre in Chicago, performed by an all-woman cast and written by Megan Carney. Charli Williams, who portrays Army Pvt. Samantha Harris, said she hopes to give back to her mother, a real-life career Army veteran, through the play. "It brought up issues of being an Army brat that I didn't realize," Williams said. While Mallen said she feels like she, too, is a better person now for having the opportunity to connect with so many local veterans than before the show, her journey to this point has been long and challenging but always rewarding. "I was just allowing it to become someone else's problem," she said. Mallen said once she'd secured a $50,000 grant from the Chicago Community Trust in 2010, it took her a year for any female vets to begin opening up about their experiences. "Finding them and then gaining validity and trust within that community took a lot longer than I thought," she said.
USDA names first military liaison (Farm Futures)
USDA covers a lot of territory and much of that impacts military families. In acknowledgement of that, the agency  has created the first Military Agriculture Liaison and named Karis T. Gutter to the post. The announcement was made late last week in Des Moines by Krysta Harden, USDA deputy secretary. Gutter is the current USDA Deputy Under Secretary for Farm and Foreign Agricultural Services. The MVA Liaison will cooredinate USDA leadership across the department offering information, resources and support for active duty military and veterans interested in agriculture. According to USDA, the MVA Liaison will also have authority to facilitate formal relationships between the ag agency and other government agencies and non-profit organizations to strengthen USDA support for veterans. Deputy Secretary Harden, in a press statement, notes: "Veterans are key to building our future generation of farmers, land stewards and conservationists. USDA already has a number of initiatives to help veterans find meaningful work in agriculture upon returning home, but this new position will help coordinate our efforts and make programs easier to navigate. I look forward to Karis' leadership as we continue to support America's heroes."
NY Giants surprise Army veteran with a service dog (Giants.com)
Help a vet. Save a pet. Such is the mission of "Paws of War," a Guardians of Rescue program, and it was accomplished during Sunday's game between the Giants and 49ers at MetLife Stadium. Continuing the NFL's "Salute to Service" campaign, the Giants organization welcomed Army veteran Miguel Torres, a Brooklyn native and a Giants fan, on the field for a special ceremony in between the first and second quarters. There, he was presented with a service dog named Stryker to assist him throughout his daily life. "Many veterans of war suffer from PTSD, Post-Traumatic Stress Disorder," said US Army Corporal John Walis, who served in Afghanistan and spearheads the Paws of War Program. "It can have emotionally paralyzing effects. Daily living can become difficult and often be filled with feelings of paranoia and fear." Torres, who is now medically retired, served from March of 2002 to August of 2006 and was deployed twice to Iraq with the 101st Airborne Screaming Eagles. For his service, Torres has been awarded the Army Commendation Medal, Good Conduct Medal, Air Assault badge, and a Combat Infantry Badge. He now suffers from PTSD, migraines, short-term memory loss and spinal damage.
Fundraiser helping Marine adopt the dog he served with (Poughkeepsie Journal)
For Marist College junior and Marine Corps veteran Matthew Plumeri, the phrase "man's best friend" takes on new meaning when it comes to Gulliver. The 9-year-old Vizsla, trained to detect explosives, was deployed to Afghanistan with Cpl. Plumeri in June 2013. The pair returned to San Diego, California, in December 2013. As his handler, Plumeri was allowed to adopt Gulliver, but only once the dog was decommissioned. When Plumeri was honorably discharged on May 1, he was forced to come back to New York without Gulliver. Then in October, the 26-year-old Clinton Corners man got a phone call that Gulliver would soon be retired. Plumeri had to figure out how to acquire the money to fly out to California on a moment's notice to bring Gulliver home. The "Gulliver's Travels" fundraising campaign reached its original goal of $3,000 in just seven days, Plumeri said. Marist College President Dennis J. Murray asked Plumeri to raise the goal because many people were still interested in donating. Now, the goal is $10,000, which would cover not only airfare but also food, veterinary, and other costs of taking care of Gulliver.
Afghanistan veteran turns to crowdfunding for help with new home (New York Daily News)
An Afghan war veteran deemed not injured enough is looking for help with a new home. Franz Walkup, a sergeant in the 173rd Airborne, was critically wounded during his second tour in Afghanistan and needs a handicap accessible home. Now he's going the crowdfunding route after several government and veterans groups turned him away, claiming he wasn't injured enough. "It's hard because it kind of feels like my sacrifice wasn't great enough," Walkup told WUSA. Walkup, 26, has undergone 78 surgeries and countless hours of rehab at Walter Reed Hospital in Washington, D.C. after being shot five times by coalition Afghan soldiers during a patrol through the Taliban-controlled Tangi Valley on Sept. 29, 2012. One of four Walkup brothers to serve in the military, the sergeant in the U.S. Army's 2nd Battalion, 503rd Infantry Regiment suffered a shattered right pelvis, damage to the spleen and large intestine and lost function in his right leg below the knee after being shot in the stomach, back and leg. So they turned to GoFundMe and began a campaign to raise $50,000 for their "forever home," which has generated more than $13,000 in donations from 200 people in nine days. The couple lives in Gaithersburg, Md. They hope to relocate to a handicap accessible house with 36-inch doors wide enough for a wheelchair in their hometown of Woodbury, Tenn., about 55 miles outside Nashville.