Veterans GOODNEWS for Nov. 24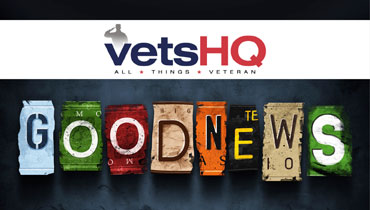 The man who stopped traffic in Utah with his Veterans Day salute (KSL-Utah)
Flying helicopters is something Jonathan Walker never worried about during his 7 1/2 years of military service. But the night before he was going to walk out on a bridge, he couldn't sleep a wink. "It kept me up all night. I felt for years I needed to do something," Walker said. This past Veterans Day, Walker did it. In full dress Army uniform, carrying an American flag, he walked onto an I-15 overpass in Lehi and started saluting drivers as they passed underneath. "I stepped up there, and just as I got to the bridge I kind of hesitated," Walker recalled. "I didn't know how people were going to take it. I could hear cars going behind me, slowing down and people staring at me and wondering what I was doing. … It was awkward for a while." Almost immediately, though, drivers started beeping at him in support. Some even went onto the overpass to meet him, shake his hand and say thank you. Many told Walker he reminded them of why Veterans Day is so important. "I wanted to do something, something a little different. I wanted to make Veterans Day stand out a little bit," Walker said. "A veteran is a little bit like a unicorn: it's a mythical creature (people have) seen on TV, but they've never, ever met a man in uniform and shook their hand."
10,000 holiday wreaths to decorate veterans' graves (Ocala Star Banner)
This year, 10,000 wreaths will be needed to decorate each of the final resting places for veterans at the Sarasota National Cemetery in Florida. The Bradenton Herald reports that the cemetery opened in January 2009 and averages about 10 funeral services a day. Last year, 6,300 holiday wreaths were placed on grave sites. Among the notable veterans at rest there is the late NFL player Rick Casares, who served in the Army. Tampa's Casares died last year. He was a star fullback at the University of Florida and played 12 years in the NFL with the Chicago Bears, Washington Redskins and Miami Dolphins.
Veteran unemployment down, networking required (Seattle Post-Intelligencer)
While Veteran unemployment is down overall, pursuing viable employment is still a challenge in today's market for many Veterans and their families. Sending resumes and thinking you have fulfilled your task toward employment is short-sighted. Sending resumes is just the first step. Mike Abrams, co-author of "Business Networking for Veterans," and co-founder of a veteran mentoring program called, "Four Block," is teaching veterans skills to help them establish careers after protecting and serving our country. Mike is no stranger to transition. He joined the Marine Corps following the September 11 attacks, serving on active duty for eight years and deploying to eastern Afghanistan with an infantry company as the artillery forward observer. After leaving active duty, Mike attended New York University's Stern School of Business graduating with an M.B.A. in Finance and Entrepreneurship & Innovation. Mike then founded the Four Block Foundation to help bridge the gap between returning service members and the business community. He is also an adjunct professor at Fordham University currently a Major in the Marine Corps Reserves.
Arizona Marine receives custom-built house from veterans group (East Valley Tribune)
On Nov. 15, Marine Sgt. Robert Bruce, a Mesa resident, received a rather large, early Christmas present: a newly built, custom-designed house donated by Homes for Our Troops. Bruce lost both legs to an improvised explosive device while attempting to rescue a fellow Marine. He walks with the aid of prosthetic limbs, but uses a wheelchair as well. The new home is equipped especially for his convenience, with accessible features including a remote-controlled front door. "We at Homes for Our Troops do not believe giving a home to a severely injured veteran is charity," said Tim McHale, president of Homes for Our Troops, in a statement. "We believe it is a moral obligation of our society. They fought to protect our freedom and independence, and we are now giving them back some freedom and independence by building them a specially adapted home." The house was built by Arizona-based Taylor Morrison Home Builders, with the help of many other local companies who donated time, effort and supplies toward construction of the home in northeast Mesa. Sen. Jeff Flake spoke, thanking Bruce for his service and congratulating him on his new home.
Virginia veteran opens up his home as a retreat (Richmond Times-Dispatch)
Wheelchairs line the edge of Gregory's Pond in Chesterfield County; some of their occupants carry fishing poles, others take in the view or relish in their shared military history that brought them to this peaceful shore. Clusters of lily pads are scattered across the water on the mild summer day, and the setting sun is in full view. It's a stark contrast to the hospital setting most of these veterans endure day after day for tests, treatments and therapy. Up the hill, Army veteran James Howard chats with other disabled veterans in his own motorized wheelchair by the grill on the back deck of his home he has opened for this purpose: to provide a retreat for veterans and their families and facilitate an open community of fellow disabled veterans learning to live post-injury. "That's what this place is for: to help people who need a hand," Howard said. "Getting them together with other people with the same condition … learning from each other is the best medicine." Keya Choate is fishing for the first time with the help of Howard's neighbor, Garland Farnsworth. She is part of McGuire Veterans Affairs Medical Center's Spinal Cord Injury Unit that takes disabled veterans injured within the past three months to Howard's house at least once a month.
Veterans trauma court: From broken and battered to a leap of faith (Colorado Springs Gazette)
About 100 military veterans, community advocates and elected officials gathered for a milestone graduation ceremony recently for the Veterans Trauma Court program at the 4th Judicial District courthouse in Colorado Springs. The program, which started at the courthouse in December 2009, works to give veterans a chance to receive rehabilitation and get treatment after entering the criminal justice system. At the 45-minute ceremony this month, five of the eighteen graduates of the Veterans Trauma Court were given diplomas and a special coin and were congratulated by peer mentors, probation officers and attorneys connected with the program. "You did what 99 percent of our fellow Americans chose not to do or couldn't do," said Lt. Col. Aaron M. Termain, battalion command of the Warrior Transition Battalion at Fort Carson, who gave the keynote address at the ceremony. "We're very lucky to have a community out there to support us."
What happens when veterans and wild horses meet up? (NationSwell)
Several organizations across the country are helping veterans rebuild their lives through equine therapy, but the Texas-based Mustang Heritage Foundation offers a unique twist: the horses it uses are wild. The therapy involves veterans training a mustang that was previously living on land owned by the Bureau of Land Management and that has never had contact with humans. Over the course of the 12-week-long program, the veterans train the horse so it can then be adopted. Program Director Byron Hogan tells the Austin American Statesman, "We started seeing this transformation not only of horses but of trainers. Time and time again we'd hear, 'This horse changed my life.'" Program participant and Army veteran Christina Avery says, "Honestly it was my last-ditch effort to find something that was going to work. I've been through a lot of counseling, I've been through a lot of treatments, I've been on a lot of pills. Nothing has compared to this…This has brought me to where I should be." KEYE-TV interviewed some participants from the most recent group of veteran tamers. One participant, Laura Parunak, flew Apache helicopters during two tours of Iraq. She found the training experience challenging, but rewarding. "I knew it was going to be hard, and I knew there were going to be days like this." And yet, she says, "I don't know that I could ever continue my life without some exposure to horses."
Dad, daughter end 4,200-mile bike trip for veterans in Florida (Tampa Bay Times)
A father and daughter have finished their 4,200-mile cross-country bicycle trek to benefit wounded American veterans and their families, ending the ride the Florida Keys. The 59-year-old Dean Hatcher and his 20-year-old daughter Taryn Hatcher on Sunday pedaled up to a Key West marker designating the continental U.S.A.'s southernmost point and lifted their bikes above their heads as onlookers cheered. They started Sept. 8 in Blaine, Washington, inspired by reports about the unmet needs of veterans. The duo averaged 60-80 miles daily with periodic rest days. Family members accompanied them in a support vehicle.
Tesla creates a veterans edition of its Model S P85 (TopSpeed.com)
Veterans Day is a big deal because it gives Americans a chance to pay homage to all the men and women in the military who protect this beautiful country. American automakers usually play their own part in commemorating this day and this year California-based Tesla Motors is front and center with the unveiling of the one-off Model S P85 Veterans Edition. The special edition Model S Veterans Edition is the latest example of the automaker's commitment to honoring the military and its veterans. It's also proof that Tesla takes this responsibility very seriously.
Veteran finds a home, holiday assistance (Shreveport Times)
Army Sergeant Marques Jones returned home from Iraq, his fourth tour, without a home. Jones, 31, and his son relied on family members to provide them a place to stay while Jones adjusted again to civilian life and PTSD. Medically retired, Jones had to find both a home and a career to support his family of two. "Financial times were tight," Jones remembered. "My brother told me about Volunteers of America's services for veterans. They found me a house and within a week I had a home." Supportive Services for Veteran Families, a program of VOA, offers rental assistance, security deposits and almost anything else a military family may need in times of trouble. With a roof over their heads, Jones was able to concentrate going back to culinary school.