Veterans GOODNEWS for Nov. 26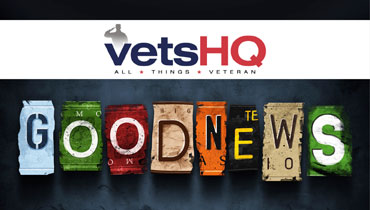 For rural veterans with PTSD, telemedicine may help (Fox News)
For the many veterans with post-traumatic stress disorder (PTSD) who don't have access to a trained mental health care team, connecting with such a team remotely by phone and video chats may help, a new study suggests. At least 500,000 veterans in the Veterans Health Administration (VHA) system, or nearly 10 percent of the VHA population, were diagnosed with PTSD in 2012, the researchers write in JAMA Psychiatry. Previous studies have found that PTSD treatments delivered by interactive video are equivalent to therapy given in person, according to lead author John Fortney of the VA Puget Sound Health Care System in Seattle, Washington. "PTSD services are available to all Veterans enrolled in the VA, but each veteran's perceptions about their access to care can depend on many factors," Fortney told Reuters Health by email. "We know that 38 percent of VA patients diagnosed with PTSD live in rural areas, and that two thirds live closer to one of VA's 825 Community Based Outpatient Clinics than to a large Medical Center (VAMC), which underscores the importance of striving to provide the highest quality PTSD care in these clinics," he said.
Army helps veterans transition to civilian jobs with new intern program (WDAF-Kansas City)
Some metro soldiers say this Thanksgiving they're grateful to have a job. A new program is helping soon-to-be veterans get real-world experience in their chosen profession before they ever leave the military. One of those veterans includes a Fort Leavenworth soldier currently interning with the city of Olathe IT department. Sergeant Rick Karlson is the first in the metro to take part in the Army's Soldier for Life Transition Assistance Program. Active duty soldiers in their last six months with the Army can now intern at metro businesses and still earn an Army paycheck. Sgt. Karlson has six children and another on the way. He says the opportunity to work is giving him peace of mind that he and his family will be okay when he retires. "You get great experience in the military, but it's not everything you need in the civilian side, and what this does, it fills that gap and it makes you, not only more confident, it makes you more employable," Karlson said. The Army is hoping to see the program grow and is looking for businesses that want to take part.
Giving thanks for veterans (The Daily Utah Chronicle)
Thanksgiving in the military might be different than the traditional turkey and sweet potatoes, but the Veterans Support Center is making sure those serving the country will have a Thanksgiving dinner. The Veterans Support Center at the University of Utah has been in operation since May 2011. Roger Perkins, director for the Veterans Support Center, said he is fulfilling needs of veteran students across campus. "The U saw a need to serve the trend of veterans going to school," Perkins said. "We needed to be more cognizant to serve our veteran students who go to the U. We had different areas for veteran students to go, but now it is all centralized in a one-stop shop." Recognizing that veterans are serving America's citizens is important to remember and to appreciate, Perkins said. "Veterans go where others are afraid to go and do what others are afraid to do," he said. "Not everyone can be in the military physically or physiologically, but if they can, we need to respect and recognize the ones who join and stand up and say that they will serve. They took the responsibility off our shoulders."
Desert Storm veteran recruiting 5,000 veterans into life sciences field (NationSwell)
fter graduating from West Point, Mike Minogue served in the military during the Gulf War. He then made a successful transition into the civilian world, now serving as the chairman and chief executive of Abiomed, a Danvers, Massachusetts-based company that manufactures what it calls "the world's smallest heart pump" — but his fellow veterans are never far from his mind. According to Shirley Leung of the Boston Globe, he's on a mission to recruit 5,000 veterans into the field of life sciences by 2018. Minogue isn't just hoping veterans will join his industry on their own; he's helped organize the MedTech and BioTech Veterans Program (MVP), which leads life science boot camps for veterans across the country, lines up corporate sponsors and connects former service members to mentors in the field. Minogue thinks veterans are especially qualified to work in the field because, "This industry is very mission focused," he tells Leung. "It's a mission to help patients. It's global, it's intense. There is a service element to it." The people at Massachusetts Life Sciences Center, an organization that oversees a 10-year, $1 billon-state funded investment in life sciences, think Minogue has a bright idea. Which is why they gave MVP a $50,000 grant to get started and another $50,000 to help them reach 1,000 veterans with the program.
Philanthropy jumpstarts homeless veterans project in Washington, D.C. (Nonprofit Quarterly)
Here's an example of private philanthropy stepping up to address what should very much be a governmental responsibility shouldered by everyone in our society—honoring and caring for homeless veterans. As retired attorney Tom Nurmi, a member of the board of trustees of the William S. Abell Foundation and chair of its Homelessness Committee, writes on the Funders Together to End Homelessness blog, "Our country has an obligation to ensure that those veterans who struggle to reintegrate into society will receive the assistance that they need—and deserve. America has never been as close to ending veteran homelessness as it is today." Funders Together to End Homelessness bills itself as "a national network of funders supporting strategic, innovative, and effective solutions to homelessness." Private foundations have historically not played much of a role in helping to end veteran homelessness. But Nurmi gives an example of how philanthropy can make a highly leveraged impact. He talks about the progress made in recent years in Washington, D.C., where the number of homeless veterans has dropped over 20 percent since 2010. While much of this reduction has been through HUD VASH housing vouchers, "there has been a realization that to really address veteran homelessness in the years and decades ahead, a more permanent infrastructure needs to be in place."
Walking off the war on North Carolina's mountain to sea trail (WUNC-North Carolina Public Radio)
Sharon Smith is taking two months to walk North Carolina's Mountain to the Sea Trail, which is more than 1,000 miles long and crosses the entire state. Smith served as an Air Force combat medic during the Gulf War – and she is helping to prep the trail for a larger contingent of veterans from Iraq and Afghanistan who will cross the state next year as a part of the Warrior Hike: Walk off the War program. The program is simple: when veterans come off the battlefield, they are encouraged to head to head out to nature and take some time for themselves before attempting to transition back into their lives. Many service members go from the front line to family life in 48 hours, Smith says. Hiking with other military veterans while surrounded by nature and quiet gives them time to process what they've been through.