Veterans' GOODNEWS for Nov. 3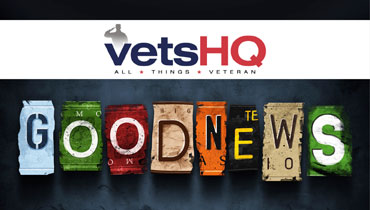 'The Greatest Generation': WWII veterans honored at celebration (Marietta Daily Journal)
Fifty-seven members of "the greatest generation" — those who were brought up during the Great Depression and served their country during World War II — were honored during a veterans celebration in Marietta on Saturday. The 12th annual event at the Hilton Marietta Conference Center was put on by the Cobb County Republican Women's Club, and organizers said it lauded more than 200 veterans, including the 57 who served in WWII. The day included moments of levity, such as when people danced in the aisles to "Sing, Sing, Sing," by Benny Goodman, and the audience took time to sing "Happy Birthday" to Dale Jones, a World War II veteran who celebrated his 100th birthday Saturday. There were also serious moments, including when four hats from different branches of the military were laid on a table set for one, representing those who have died, prisoners of war and servicemen and women listed as missing in action. Forty-four veterans who have died were recognized, and taps was played at the conclusion of the event. Barbara Hickey, president of the CCRWC, said members love putting on the veterans celebration every year, and she elaborated why she thought paying tribute to WWII veterans is especially significant. "Celebrating the greatest generation means we remind them one more time how special they are," she said.
Fellow veterans support WWII survivor attacked in his home (Indianapolis Star)
Dozens of people strapped on their motorcycle helmets, climbed aboard their bikes, and took to the roads Saturday to pay their respects to Hershel "Bud" Moore, the 94-year-old World War II veteran attacked recently in his Arcadia home. They started at noon at the Harley-Davidson dealership in Kokomo, Ind., for the "Justice for Bud" event, before riding to the Cicero American Legion post, and ending up at the Noblesville Eagles Post. Moore traveled the route in an old Studebaker driven by a volunteer. "It was like new," Moore told The Star later about the car, his face beaming. "That guy put a lot of money into that." Moore was in good health and spirits Saturday, as he welcomed more than 100 people who came out to show him their support. They raised more than $3,500 as of Saturday afternoon to help Moore, who lost his savings when he was attacked in a home invasion. More than two weeks have passed since the assault and robbery that injured Moore and raised a public outcry. Two thieves stole a large sum of money and ransacked his residence. Several days later, police arrested two suspects, Joseph Michael Lowe, 26, Indianapolis, and Justin Wayne Lawson, 27, Cicero, in connection with the crime. Trials for the two men, who are accused of robbery, burglary and other charges, are set for March.
Arizona man building a memorial for veterans (AZfamily.com)
Even if you're not going to the NASCAR races next week, you might want to head out toward the track. "I think we all want to say thank you, but I think we all just get busy," said 69-year-old Jay Humphrey. "I just want to say we do care." On his prime piece of real estate by Phoenix International Raceway at 143rd Avenue and Indian Springs Road, Humphrey is putting the finishing touches on a veterans' tribute wall. "We're wanting veterans and mothers and fathers and brothers and sisters to come out and write their loved one's name on this wall," he said. "We're hoping by the end of Veterans Day that this wall is just full of names." With donated concrete and manpower, it's been a labor of love for him and his wife of 52 years. "That's his, you know, dream, so I'm helping him to live his dream," Frances Humphrey said. "I just got carried away," Jay Humphrey said. "At first, I went and put up a couple flags, and then I put up a couple more flags, and then the nursery came by and said, 'Let me put some plants out here,' and it just kept growing." Humphrey was never in the military, but he grew up appreciating the sacrifices of those who were.
Quilts of Valor Foundation honors nearly 70 veterans with blankets, gratitude (AL.com)
As Joe Wilkerson received one of the handmade quilts made for nearly 70 veterans during the ceremony in Wilsonville, the token of appreciation came on a day that will always be special in his life. Wilkerson celebrated his 88th birthday on Saturday, the same day as the ceremony held by the Quilts of Valor Foundation at the Wilsonville United Methodist Church for many veterans in the community. "I feel great, just the remembrance," Wilkerson said after receiving the quilt covered with squares of different colored fabric sewn together. One by one, veterans came to the front of the church's fellowship hall and viewed the quilt before it was wrapped around them to symbolize a hug. "It's a tangible token of appreciation just to say thank you for your service and there are Americans who do love you and support you in what you're doing," said Odenville's Elizabeth Mathews, the Quilts of Valor Foundation's Alabama coordinator. In what is the Quilts of Valor Foundation Alabama chapter's largest purely in-state undertaking to date, the organization's members with the help of at least 20 volunteers from Wilsonville and elsewhere in the area created roughly 70 quilts to present to veterans in the small Shelby County community.
Teaching our young people to vote by pairing them with veterans (The Ely Echo)
A question was posed to a group of Ely high school students and veterans gathered for training to be election judges Wednesday in Ely, Minn. How can we get 18 year-olds to vote when they are 18 and every single election after that? The organizer of the event, Ely summer resident Cole Kleitsch, explained it was 1971 when the 26th Amendment to the U.S. Constitution was passed to allow 18 year-olds to vote. "It was ratified within three months and eight days making it the fastest amendment every to be ratified," said Kleitsch, Director of Walking Civics. "Why do you think this was important in 1971?" The answer was clear, the Vietnam War. What the students didn't know was there was a veteran of that war in the room. "I'm Jim Belehar and I'm a Vietnam vet. I did two tours in Vietnam and I ended up coming back from Vietnam before I could vote," said Belehar. "It makes a difference." A veteran closer in age to the teens was also in the room. Nick Jordan served six years in the active Army and was in Afghanistan three weeks after 9/11. He's also been in the National Guard for the last nine years. Jordan explained he moved back to Ely to be part of a small town. He owns Ely Safe Ride and will be offering voters rides to the polls at a discount on election day. Stressing the importance of voting to our young people is not a new cause. But Kleitsch's idea to bring veterans and high school students to be trained as election judges is new. And it just might work. "No matter what else happens, you're going to know about election law," Kleitsch told the students. "You're going to know the process of an election and you'll leave here as a fully qualified election judge."
Veterans carry things home with them (The Californian)
Commentary by Norris Burkes: In May 2009, after serving four months as the chaplain for the Air Force Field hospital in Balad, Iraq, I checked five pieces of luggage onto the military charter flight that would carry me home. The five bags were heavy with my uniforms, mementos and military gear. However, as we approach another Veteran's day, I'm becoming more aware that I carried some unseen baggage too. For instance, I was carrying the weight of a job undone. It felt undone because my four-month chaplain rotation was out of sync with the six-month deployment of the hospital staff. I was returning alone while many remained. There were moments where I felt more like a deserter than a returning vet. … As the weeks went on, I realized that I also carried some things that offset the weight of these burdens.
How a D.C. airport reacted when an honor flight landed (The Daily Signal)
Recently I saw one of those spontaneous events that renews your faith in the patriotism and good will of the American people. It also illustrated their appreciation for the servicemen and women who have risked their lives for our nation. It was in the C Terminal of Reagan National, one of three airports serving Washington, D.C. I had just passed through security when I saw a huge crowd of travelers gathered around Gate 38, clapping and cheering. I could hear music, too: "I'll Be Seeing You," a World War II standard seldom heard these days. It turned out that an Honor Flight had pulled up to the gate and was unloading a group of veterans for a special visit to Washington. With a live band playing favorites of a bygone era and flags flying on either side of the entrance to the jetway, veterans of World War II and Korea came out of the gate. Some were walking, some rolling in wheelchairs, and others hobbling with the aid of canes or family members and Honor Flight ground crew. Reagan National is always full of travelers rushing to catch their flights—tourists returning home after visiting the Nation's Capital, servicemen and women from the Pentagon or nearby military installations, business travelers as well as many congressional and executive-branch officials. But today, a large number of those harried travelers spontaneously took the time to stop and show their support for these elderly Americans who have given so much for their country. For many of those veterans, this may be their last trip to Washington.
Announcing the Outstanding Disabled Veteran of the Year (Arizona Republic)
Roger Ferland, retired firm partner at Quarles & Brady in Phoenix, has been named the 2014 Outstanding Disabled Veteran of the Year by Disabled American Veterans. He served as a squad leader and platoon sergeant during the Vietnam War in 1968, where he lost both legs and sustained severe injuries to an arm after stepping on a explosive device. He went on to graduate with distinction from Duke University Law School in 1974 and practiced environmental and natural resources law for over 35 years. He worked with the local DAV to spearhead legal clinics that utilize over 300 volunteer lawyers to provide pro bono legal assistance to veterans, particularly in the are of family law and basic estate planning. Through his efforts, DAV and the Arizona Disabled Veteran Foundation have now piloted five such clinics, with additional clinics planned to help serve the veteran community. Ferland retired from Quarles & Brady in 2013.
Drill sergeant heads to the White House for 'Salute to the Troops' (Army Times)
From singing in a nine-person "mini-choir" made up entirely of her brothers and sisters to belting out Martina McBride songs on a karaoke machine at Iraq's Camp Liberty to winning an Armywide talent contest, Sgt. Christiana Ball's music career hasn't taken a traditional path. Never mind the fact that she's an active-duty drill sergeant. Regardless, Ball's winding musical road has at least one more major stop before her planned departure from full-time service in the spring — a Nov. 6 concert at the White House, part of a military appreciation event that will air on PBS the following day and re-air on Veterans Day. Other performers scheduled to appear at "A Salute to the Troops: In Performance at the White House" include Willie Nelson, Mary J. Blige, John Fogerty, and Marine Corps Capts. Matt Smith and John Ed Auer, who performed, as did Ball, on the Academy of Country Music's "An All-Star Salute to the Troops" concert, which aired on CBS in May. Ball, a 28-year-old sergeant with 787th Military Police Battalion out of Fort Leonard Wood, Missouri, landed that gig thanks in part to her win in the 2013 Rising Star competition, put on by Army Entertainment. She beat 11 other finalists from Army installations worldwide in her third try at the competition, with a big voting boost from her base and the surrounding community.
Way overdue wedding in VA hospital brings cancer patient, bride some peace (Buffalo News)
Albert Lewis is unlike most men facing death. There's no doom-and-gloom talk. No self-pity. No self-loathing. Only Lewis, dressed in his 20-year-old uniform, scratching off one of the more important items on his bucket list. And his new bride, dressed in a flowing white wedding gown, her eyes wet with tears, couldn't have been happier. "I just want to spend the rest of my life with him – no matter how long that might be," said Dorothy Lissmore, Lewis' longtime girlfriend. The couple was married Saturday in Veterans Affairs Medical Center, Buffalo, in what friends and family called a welcome and long-overdue event. "Way overdue," said Lewis as his brother mopped the sweat from his bald head. Lewis, 56, is a patient undergoing cancer treatment at the hospital but that didn't stop him from correcting one of the great regrets in his life. "They gave me a three- to six-month time period," he said of his doctors. "Now, I get a chance to do things that normally wouldn't happen." Like marry the woman he loves.