Veterans' GOODNEWS for Nov. 7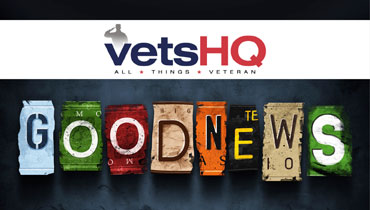 6,000 veterans earning degrees in Dallas community colleges (Dallas Morning News)
Decorated veterans who have defended the country in numerous parts of the world will walk through the streets downtown Tuesday in Dallas' annual Veterans Day Parade. Among them will be a group of veterans from the Dallas County Community College District. The community college district, which assists veterans as they acclimate to civilian life as students, provides college credit for military experience. "We have approximately 6,000 veterans [enrolled at DCCCD campuses]. However, those are only self-identified veterans, meaning that they receive benefits," said Hamaria Crockett, coordinator of the College Credit for Heroes office at DCCCD. "We probably have upward of 7- or 8,000." Don B. Munson, former lieutenant colonel in the U.S. Army, is this year's parade chairman. "The majority of the people with whom I come in contact [have] a tendency to be the older generation. But in the course of setting up the parade, what we have found out is that in the Dallas County Community College system … the seven community colleges of Dallas County, each has a veterans service organization office, a VSO, and they're primarily set up in order to set up veterans who are coming back who want to take their GI benefits and go back to school," he said. "And I figured, OK, well there's probably 20 or 30 of those out there." When he found out how many veterans were supported, a military group Munson belongs to, the Military Order of the World Wars, presented a certificate to the college system.
Hundreds get assistance at Homeless Veterans Stand Down in Denver (Denver Post)
About 400 homeless veterans on Thursday streamed into the Colorado National Guard Armory, where they received a free meal, haircuts, clothes and access to an array of services. Rick Caviness, 57, an Army veteran who served from 1974 to 1983, was flooded out of his Longmont apartment in September 2013. He was among those who attended the 24th annual Homeless Veterans Stand Down, an annual event that takes place on the Thursday before Veterans Day. "This is a great event," said Caviness, who is currently enrolled in a two-year Coalition for the Homeless program. He and three friends tapped the Stand Down program as a way to check out a variety of services and referrals offered, including medical, dental, employment, education, legal and housing. Stacy Lowry and her husband, Troy, were evicted from their Aurora apartment last week. Both 47, they've been temporarily staying with friends. They've been working, but it's spotty, through day labor pools. Troy Lowry, who served in the Air Force, was hooking up with housing specialists inside the Armory as Stacy Lowry waited outside. "It's been a really rough week," she said. "This (program) has been a big help for us today."
No ordinary lives: A tribute to Washington's World War II veterans (Washington Post)
It's hard not to get goose bumps when Herman Zeitchik is talking about storming Utah Beach at Normandy on D-Day. Or when Marjorie Gallun is telling how she became one of the few women in the Marine Corps in that era, how her mother never got over it and her dad never got over being proud. Or when Eckehard Muessig talks about World War II breaking out and somehow he went from Ohio to Okinawa, "18 years old and killing somebody." Most of the surviving World War II veterans are in their 90s — the District's John Smith, a U.S. Navy vet, describes himself as the "baby of the bunch" at 88 — and their memories and ribbons and medals and experiences are tributes to lives that seem built of a different grade of mettle. There is the echo of another time to their memories. Dust motes and faded letters and church bells in the town square and breezes through an open window. War bonds and Gold Star Mothers and telegrams and the columns of Ernie Pyle. People who were teenagers and still no one knew the words "Holocaust" or "Hiroshima."
Six veterans surprised with new motorcycles in Florida (Associated Press)
Six veterans have gotten a big surprise in Florida. The vets thought they were simply taking part in a press conference Thursday announcing a partnership between the Wounded Warrior Project and Harley-Davidson. But during the event, they were given brand-new motorcycles. Bill Davidson – the great-grandson of company co-founder Will Davidson – and managing director Christian Walters rode to the presentation on two of six new Harleys. "This is a great day and a very special day and we couldn't be more excited about this new partnership," Davidson told the veterans. "We want to say thank you – thank you for your service, thank you for your personal sacrifices. You have protected our country and you have preserved our freedom." Organizers say all of the veterans suffer from post-traumatic stress disorder and had been avid motorcycle riders, but gave up their bikes due to various hardships. They had all been involved with the Wounded Warriors Project, which is collaborating with Harley-Davidson to develop motorcycle-themed programs for veterans.
Semper Fi Fund's horsemanship program offers peace to veterans (New York Times)
Eleven years after he lost his leg in a motorcycle accident that no one thought he would survive, Mike Johnston found himself on a horse last spring, a cowboy for a week, herding cattle through rolling Wyoming terrain with a dozen other former and current members of the United States military. Mr. Johnston, 31, a petty officer third class in the Navy when he left the service in 2010, was part of the Jinx McCain Horsemanship Program, started in 2011 by the Injured Marine Semper Fi Fund, which provides financial assistance and lifetime support to ill, injured and wounded post-9/11 service members. Mr. Johnston recalled a magnificent ride framed by snow-capped mountains. The ride was challenging for Mr. Johnston, who had little experience on a horse and none as an amputee, but he said he felt serene, then, down the trail, even elated. "Being in that environment is really conducive to thinking a lot of thoughts," he said. The Semper Fi Fund, established in 2004 by Marine Corps spouses, offers similar programs in other sports, including running, cycling, swimming and skiing. The horsemanship program, named after a Marine colonel who was awarded four Purple Hearts, is of particular interest to Karen Guenther, Semper Fi's chief executive and a founder.
91-year-old veteran's home rehabbed by volunteers (Dayton Daily News)
A 91-year-old World War II Army veteran's home was rehabbed Thursday as part of a multi-state program involving two local organizations. "What these people are doing for me today, I think is just a reflection of the United States' attitude to help others," said William E. Bateman of Dayton, a Pearl Harbor survivor. Bateman is one of several low-income veteran homeowners across 14 cities that Fifth Third Bank and Rebuilding Together, a community revitalization partner, have selected to receive maintenance work on their homes. "We partner on a national basis with Rebuilding Together and we partner in all of those cities where we have operations and they have affiliates," said Mark Walton, director of economic and community development for Fifth Third Bank. "We believe that it's very important to serve the communities with which we do business." Fifth Third Bank pledged $190,000 to Rebuilding Together to assist with rebuild projects for low-income veterans in 10 states, including Ohio.
A different kind of NFL veteran hopes Salute to Service gives others pause (USA Today)
NFL players are donning camouflage hats, gloves and hoodies as part of the league's fourth annual "Salute to Service" military appreciation campaign, and Denver Broncos guard Ben Garland hopes the show of support will give fans pause. "Take a step back, and look at everything you have," said Garland, an Air Force Academy graduate who served two years of active duty before resuming his pursuit of an NFL career. "The freedoms you have and everything you get to do — even just getting to enjoy that NFL game while someone else is over there fighting for their country, putting their life on the line, being away from their family, so you can enjoy these common freedoms that we take for granted." Eric Kettani, a fullback on the Jacksonville Jaguars practice squad, knows that sacrifice well. He attended the U.S. Naval Academy and served the majority of his active duty aboard the USS Klakring, putting his football dreams on hold for the better part of three years. Indianapolis Colts linebacker Josh McNary and Pittsburgh Steelers practice squad offensive lineman Alejandro Villanueva served on active duty after attending the U.S. Military Academy, meaning all three service academies that play Division I football are currently represented in the league.