Veterans GOODNEWS for Dec. 1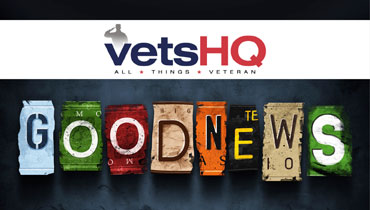 Billionaire brings hope to veterans on a California ranch (Forbes)
When First Sergeant Chris Carlisle arrived at billionaire B. Wayne Hughes Jr.'s sprawling ranch in central California last August, he was angry. The 37-year-old Marine had been wounded twice during three tours overseas—including the bloodiest battle in Afghanistan—earning two Purple Hearts and a Bronze Star. After returning to San Diego in 2010, he faced a new enemy: himself. Carlisle had come to SkyRose Ranch in San Miguel, California, for Fight Club, a faith-based program Hughes runs for veterans with PTSD, but he was skeptical of the God factor. Characteristically fuming, he spent the first day with his tattooed arms crossed over his chest. Over the next six days, he and a handful of other veterans went zip-lining, rode horses and raced ATVs. Instructors, all graduates of the program, led classes on character and trauma. In the evenings, the men shared stories around a campfire and bunked together in well-appointed yurts.  After three tough days, Carlisle felt a shift. "I'd been physically alive but emotionally and spiritually dead. By the time I left, the light at the end of the tunnel was lit again. There was hope," he recalls. When Hughes saw Carlisle's smile at the graduation, it was just the transformation he was hoping for. "I get a good seat to watch miracles happen," Hughes says. Hughes, 55, has hosted some 500 veterans and active-duty servicemen in the Mighty Oaks Warrior program at his ranch since 2012. That number is likely to double by next year. In addition to Fight Club, which is for men, there are retreats for women, couples and, soon, families. The program is part of Serving California, a nonprofit Hughes founded last year to help veterans, crime victims and inmates transition back into society.
Man trains dogs to help disabled veterans return to their feet (KETA-Omaha)
As they've done for the past three months, Jeremy Butcher and Russ Dillon met for a training session with Lucy. While serving in Afghanistan four years ago, an IED exploded near Butcher. "I got some head trauma and some back and spinal injuries," Butcher said. Even after surgery, Butcher has numbness along his left side and down his leg. Lucy, a certified balance-assist dog, helps Butcher walk. "I don't have to worry about falling because I can use her for support," said Butcher. Lucy is just one of four service dogs that Russell Dillon has helped train for disabled veterans. As a veteran himself, Dillon said he just wants to help others. "Because I'm a veteran, they know that I did service as well, so it's really nice to be able to help fellow veterans like that," said Dillon. Dillon said the national average price for a trained post-traumatic stress disorder service dog is about $20,000. But Dillon is offering a much better deal: training service dogs for free and helping disabled veterans like Butcher get back on their feet.
Love at first sight when war vet meets his service dog (USA Today)
A national veteran's organization based in Maine has been rescuing dogs from kill shelters in the south and training them to be buddies for soldiers returning from battle. These pooches saved from death are in turn helping veterans overcome their toughest battles, which includes becoming members of society again. Therapy dogs are popular; veterans can spend more than a year on a waiting list for one. One Warrior Won, which serves as a resource to veterans across the country, is putting service dogs in the hands of veterans in just a couple of months. A non-profit organization called Patriot Charities donated the money to train four dogs, Tiger, Decimo, Zeke and Zaily, all who were rescued in Florida. For veteran James Tessneer, it was love at first site when he finally met Decimo. A former Marine, Tessneer did three tours in Iraq in four years. Because of PTSD, he has to live with a caregiver provided by the Veterans Administration. He has prayed for a dog that will help him break free from his constant "mental hell." "My daughter's been asking me to go to the beach, I haven't set foot on sand since I came back from Iraq, I just didn't think it was something I could do. (But) having him, I think it is something I could do," said Tessneer.
New Jersey resident's holiday gift drive targets homeless veterans (NJ.com)
Dorothy Nicholson knew there was a problem when her cousin, a military veteran, told her that the only jobs he could find as a civilian were janitorial. When Nicholson realized that veterans weren't finding jobs that suited their level of skills and expertise, she found the perfect solution. In 2008, the long-time Secaucus resident founded Bright Star eSolutions, a Newark-based non-profit technology company, which helps government and businesses modernize. The company has 20 employees, the majority of whom have military experience. "I have veterans all around me," said Nicholson, who's husband and uncle are also U.S. military veterans. "I saw what was going on." And starting this week, Bright Star will begin its inaugural Holiday Gifts for Homeless Veterans charity drive at locations across Secaucus. "The training they get from our military is outstanding," Nicholson said. "These people are logistics and get-it-done experts. Their learning curve is much shorter than with most people."
Union steps up to finish home for disabled veteran (Military Times)
The union boys are coming to help save a disabled veteran and his wife from financial ruin and finish his handicapped-accessible home. The unfinished house is on a new street on the south side of Underwood, N.D., snow piled around and the yard littered from the contractor's unfinished projects. Chuck Stewart, 56, a career Air Force man, sits in the family car outside, tethered to oxygen for his pulmonary fibrosis and unable to make the trip inside the house in the cold. He and his wife, Sue, started building the house last year after their two-story Minot home presented too many physical obstacles for him. They hired a reputable contractor, who died in January of a massive heart attack at the age of 54. A few months later, at the urging of the banker, they hired another general contractor. Now, $86,000 later, that contractor has disappeared, with very little progress to show for it. Union members with the Carpenter and Millwright Local 1091 and its training academy in Center heard of the Stewarts' plight and decided to take on the house as a way to train apprentices, engage retirees and help in the community. Travis Beck, the local business manager, Bill Marlenee, a millwright instructor, and John Doubek, carpenter instructor were at the house Wednesday afternoon, looking at the work that has been done and at what remains to be done. "We're going to get at this and help get it done," said Beck, adding it's an honor to give back to a veteran who served for 20 years. "I feel terrible for these people."
10 years after battle in Iraq, West Virginia veteran receives Silver Star (The Charleston Gazette)
Capt. James McCormick received the Silver Star last month, more than 10 years after he was wounded during a battle at the Baghdad International Airport. On Easter Sunday 10 years ago, Army Capt. James L. McCormick was part of a unit defending Baghdad International Airport when, at noon, enemy insurgents attacked his camp. McCormick, now retired from the Army and living in New Haven in Mason County, was shot three times in the head, leg and chest. "That day in April 2004 was one of the longest days in my life," McCormick, 46, said last week. "I was blessed to have the soldiers I had. They were like the Rough Riders. Their feelings didn't get hurt too easily. But on that day, I saw a lot of them break down and cry." In late November, McCormick was honored with a Silver Star, the third-highest honor for combat gallantry, during a ceremony at the Clay Center in Charleston.
New alliance saves veteran from financial ruin (The State-Columbia, S.C.)
Four months ago, U.S. Army veteran Herbert Frink was on the verge of losing his home, his car and his children. Then, an army of organizations — some he didn't even know existed — helped him out of the financial problems that threatened his family. The Beaufort, S.C., resident and disabled veteran was finishing a divorce that cost him thousands in court fees, and the time spent in court cost him his job in Savannah. He had received custody of his two young children but was far behind on his rent and car payments. He asked the American Red Cross for help, and he was referred to a coalition of veteran-minded organizations that came to his rescue. Frink's success story is one service organizations in the Lowcountry hope to see more of, through a new network called the Military and Veterans Service Alliance. The initiative, founded in May, aims to coordinate the services of various aid organizations, in part by creating a database veterans can use to find help. The Red Cross helped pay Frink's past-due electric bills. The local Wounded Warriors chapter made his missed car payments. One80 Place, a Charleston-based service organization, paid his rent and helped him get a job driving for a trucking company in Savannah owned by a fellow veteran. The new job allows Frink to take his children to school and daycare and pick them up in the afternoon. One80 Place introduced Frink to the daycare, which changed its hours to accommodate his 11-month-old son, Tavis. The Salvation Army pitched in as well, donating clothes for the children. Frink said that without help from so many organizations, he almost certainly would be homeless and without his children. "They have done so much for me," he said of the groups. "The resources started pouring in once I contacted them, and they have not stopped."