Veterans GOODNEWS for Dec. 12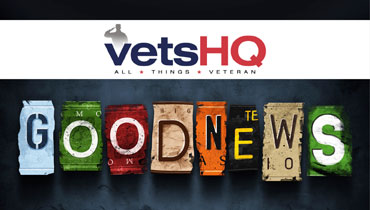 Solemn tributes to the fallen at Vietnam Veterans Memorial (Stars & Stripes)
Some are messages from schoolchildren to men who died many years before the students were born. Others are something whose significance will only be known to the person who placed it and the one it honors. Still others show just how deeply losses suffered a half-century ago are still felt by the families and friends they left behind. Every day, tributes are left at the Vietnam Veterans Memorial in Washington, D.C. Sometimes there are only a handful; on special occasions there are dozens. But they are always poignant. The Vietnam Veterans Memorial Fund is storing these tributes, and many will be displayed at the planned Education Center at the Wall. Click the headline link to view.
Steel horses replace reindeer on Santa's ride for veterans (WIS-Columbia, S.C.)
When Christmas comes to the patients at Dorn VA Medical Center Sunday, it won't come with the sound of sleigh bells, but with the roar of thunder. Hundreds of motorcycles will roll through Columbia Sunday afternoon to deliver gifts to veterans at Dorn. "They don't get Christmas if we don't bring it," said veteran and businessman Jim Wertman, who organized the event 14 years ago. What started with 100 bikes and 100 presents back then has turned into one of the largest motorcycle rides in the state. "It really makes a difference," he said. "The motorcycles, we're like the reindeer and the sleigh. We bring the presents. One of the things we wanted to do was to make sure that every veteran has Christmas. And there's a segment of our society that's in Dorn VA Medical Center that are in the VA Hospital that never get Christmas."
Nation's oldest veteran, 108, gets an honorary degree (KTBC-Austin)
You'll usually find the nation's oldest veteran, Richard Overton sitting on the porch of the East Austin home he bought in 1945 for a steep $4,000. But on Thursday night, he took the stage in front of thousands at the Erwin Center to be given an honorary associates degree from Austin Community College. "I enjoyed it. I hope they keep it up, get some more, not only me, get somebody else too. Can't find nobody as old as I am," Overton joked. Overton spent several years in the Army during World War II, stopping in Hawaii before serving in the South Pacific. At 108, Overton is thought to be the oldest living veteran in the U.S. Having this distinction means the past couple of years have been pretty eventful for him. Texas Governor Rick Perry stopped by for a chat on the porch and on Veterans Day last year, President Obama honored him in front of thousands in D.C. "Yeah but I enjoyed it. He wants me back up there. But I haven't been back yet. I'm just tired of going up there," Overton said with a laugh. When asked about his longevity, Overton usually gives the same answer. "Ain't got nothing to do with that…God got that business," he said.
Cemetery honors vets with Christmas wreaths (Reno Gazette-Journal)
Each year, the Northern Nevada Veterans Memorial Cemetery participates in "Wreaths Across America," a nationwide day of recognition for past veterans through the placement of Christmas wreaths at gravesites. Wreaths Across America was developed on the idea to "remember, honor, teach" by coordinating wreath laying ceremonies on a day in December in all 50 states and in other countries. For the first time, NNVMC will receive enough wreaths to cover each headstone throughout the cemetery through the donations and sponsorships of individuals and organizations. "These wreaths are entirely funded through private donations in honor of veterans and family members who are placed at the Fernley cemetery," said Kat Miller, director of the Nevada Department of Veterans Services. "We're honored with this outpouring of support from the community and family who want to continue to remember those who have served and are no longer with us during the holiday season."
VA helps paralyzed Alabama veteran travel to U.S. Marine Corps Ball (WBRC-Birmingham)
Imagine coming home safely after serving multiple tours of duty overseas with the U.S. Marine Corps, only to get into a car accident that leaves you paralyzed. That's the reality for one veteran in Tuscaloosa. But thanks to an excellent support system, Sgt. Shane Strickland will not face this fight alone. At times Strickland admits he felt "forgotten" as he now communicates on his tablet. However, he is certainly not forgotten as his fellow Marines and the Tuscaloosa Veterans Affairs helped him attend the 2014 U.S. Marine Corps Birthday Ball on November 10 to celebrate the corps' 239th birthday. Words like "outstanding, fantastic and not forgotten" are now used to describe the highly decorated soldier and his friends couldn't have been happier to make this day possible. And Strickland looked outstanding thanks to the detail of the VA staff. "Found his shoes….found all his medals. We got some white gloves also for him to wear and we had a dress rehearsal the Thursday before the ball to make sure everything fit," Joanne Davis, a VA nurse, said.
'Faces of the Wall' reaches 20,000 photos as education center gains momentum (Stars & Stripes)
Nearly a decade ago, Jim Reece and his brother Tom were talking about a high school friend who had been killed in Vietnam, and they decided to look online to see if there was any information about him on a memorial site. Jim Reece couldn't find a page for his friend, so he decided to create one. Then he began building memorial pages for everyone from his high school who was killed in Vietnam. When he finished that, he built a page for everyone from his hometown of Wilmington, N.C. Then, for everyone from that county. Since 2005, Jim and Tom Reece and their friend Rosa King have found photos of and built memorial pages for more than 1,700 people with connections to North Carolina who were killed in Vietnam. The Reeces and King are among the volunteers scattered across the country who have been working to gather photos of every one of the 58,300 dead American servicemembers whose names are listed on the Vietnam Veterans Memorial. The photos will be a key part of an education center adjacent to the Wall in Washington, D.C. The center will include the history of the Wall, the Wall of Faces, stories recorded by veterans and an exhibit of some of the objects left by families and others since the Wall was built in 1982 (a virtual Wall of Faces is online). Organizers are raising funds for the center, hoping to hit a 2017 deadline and 2019 opening.
To fight PTSD, this veteran cross-stitches (NationSwell)
With treatments for PTSD ranging from equine therapy and scuba diving to a nudist lifestyle, it's clear that what works to ease one veteran's PTSD symptoms might not work for another. Regardless of method, anything that relaxes someone suffering is beneficial. Veteran David Jurado couldn't shake the troubled thoughts that serving in Iraq left him with. About his time serving overseas, he tells the Greenville Online, "We definitely saw our fair share of battle. I lost really good friends through IED (improvised explosive device) explosions." A few years after Jurado returned home from Iraq to Greenville, S.C., he began to seek help for his PTSD. Companions for Heroes helped him train a service dog from the Greenville Humane Society. "With the resources that Companions for Heroes had to offer, I was able to able to raise my own service dog in about a year's time," Jurado says. "The service dog really broke my anti-social shell. I was ready to take on whatever the world had to throw at me." While the dog helped, Jurado kept seeking other activities to ease his PTSD — including cross stitching, a craft that his mom taught him when he was eight-years-old. "My wife gave me a pattern, and I jumped right back into it for a reason. It's something that keeps my mind from wandering into places I don't want to go or remember," he says. "Life is pretty simple when all you've got to worry about is needle and thread."