Veterans GOODNEWS for Dec. 15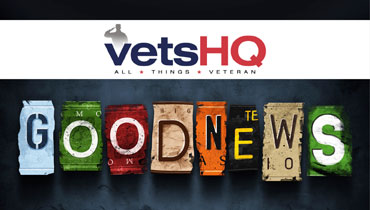 Thousands gather to honor fallen veterans for Wreaths Across America Day (Department of Defense)
Amid crisp air and the aroma of pine needles, thousands gathered to lay remembrance wreaths on veterans' headstones here to mark National Wreaths Across America Day, and in doing so drew one of the annual event's largest turnouts in its 23 year history. We're grateful for the sacrifice, bravery, courage and tenacity of members of our armed forces who currently serve in harms way; we're grateful for the freedoms that we have as Americans," Marine Corps Sgt. Maj. Bryan Battaglia, the senior enlisted advisor to the Chairman of the Joint Chiefs of Staff told those gathered on a sun drenched but cold day in the shadow of the Pentagon. He said he's particularly grateful to one couple, Morrill and Karen Worcester, who he said seeks no fanfare as they continue to make a difference in society through Wreaths Across America, the non-profit organization they founded in 2007. "Because of the great efforts of Morrill and Karen Worcester, we're able to cover every eligible gravesite with a holiday wreath, symbolic because it's a circle that never ends – so their service still continues as well." A Maine businessman, Morrill Worcester donated 5,000 wreaths in 1992 and arranged for trucks to carry them during their pilgrimage from his home state to Arlington National Cemetery. In 2005, Air Force photographer Jim Varhegyi snapped the iconic photo of wreaths in snow, bringing WAA unprecedented attention and acclaim. Later, Congress proclaimed Dec. 13th as "Wreaths Across America Day" and at this year's event, Morill Worcester placed the two-millionth wreath laid nationwide to honor U.S. Army Pvt. William Christman, the first soldier to be buried at Arlington National Cemetery.
Veterans get new Detroit home after fire destroys house (The Detroit News)
Panic rose in David Addison as fire ripped through the transitional home where he and three fellow military veterans were staying. "We were shocked there for a minute," said Addison, 63, recalling the blaze last month that destroyed the building on Detroit's west side. "We thought one of the guys was trapped upstairs." None of the four men was injured, but the Nov. 14 fire destroyed all of their possessions and killed a service dog belonging to one of the veterans. With winter approaching, the veterans faced the prospect of homelessness. But an official with Michigan's AmeriCorps chapter felt something had to be done and coordinated a campaign to find the men a new place to live. Bill Mowder, veterans resource navigator for AmeriCorps, the national service organization, spoke to his contacts and found a rental house near Wyoming Avenue and Joy Road for the four vets. "He's an old Navy guy, and he offered to put in a new refrigerator, a new stove and whatever else the house needed to pass inspection at no cost," Mowder said of the landlord. "The next day, we got the VA in there and the next night they were living there." Addison and his comrades are grateful. "Things have worked out," Addison said last week as he showed a visitor the group's new quarters. "We're over here and we're trying to put our lives back together."
Phantom II F-4 dedicated to Orlando area Vietnam veterans (WDBO-Orlando)
The board members of the Kittinger F-4 Park initiative worked for over a year  to get an F-4 Phantom fighter jet  installed on a pedestal, as a monument at Col. Joe Kittinger Park in Orlando . On Sunday December 14, Colonial Kittinger along with Congressman John Mica and Orlando Mayor Buddy Dyer unveiled the F-4 Phantom II and dedicate  it in honor of Central Florida Vietnam Veterans. This  F-4 Phantom II  was flown by Col. Joe Kittinger, on four combat missions over North Vietnam while the Commander of the 555 TFS at Udorn, Thailand in 1971 and 1972. Kittinger also flew the aircraft in  England while stationed there from 1975-1977.
Veterans tormented by war find refuge in healing exotic birds (CBS-Los Angeles)
Military veterans tormented by war are finding refuge in helping to heal exotic birds that have been orphaned. The little known gem on the grounds of the Veterans Administration complex in West Los Angeles is called the Serenity Park Parrot Sanctuary, a rescue facility for orphaned exotic birds. Matthew Simmons, the director of the Serenity Park Parrot Sanctuary, started out at the facility as just another veteran in need of some help. Simmons served in the Navy during Operation Desert Storm and returned to civilian life. But at Serenity Park, it's the veterans who have also suffered trauma that nurse many sick or injured birds back to health. The park offers a peaceful place for veterans to come and think while others, like Navy veteran Bob Correll, come to escape demons that have haunted them for years. "I tend to let stress get the best of me, and I don't treat people quite right when I do that," Correll said. But nothing softens him more than spending his morning in the company of the feathered Julius. In fact, every veteran who gets cuddle-time with the birds contributes to their welfare and feeding.
Veterans receive gift of a new suit for the holidays (CBS-Pittsburgh)
In the past couple of weeks, there have been several stories about all kinds of groups trying to help others during the holiday season. Now, the Veterans Leadership Program of Western Pennsylvania wants to make sure our former military members aren't forgotten. Back in May, the Principal Financial Group started collecting gently-used suits that would be given to our veterans. Ruby's Cleaners couldn't wait to help. "All our freedoms are because of our veterans and everything that they do. My father was a World War II veteran, so we were very interested in coupling up with the Principal and with Tom James in order to give back," Rich Marusic said. "We do custom clothing so this is a nice opportunity to get clothing donated to us that we could get re-hab it, alter it and get it out to the veterans," Bob Engel, of Tom James Company, said.
U.S. veterans of Battle of the Bulge join 70th anniversary commemoration (Stars & Stripes)
The weather was the same, as were some of the people present. But the atmosphere here Saturday couldn't have been more different from 70 years ago when German forces threatened to seize this town in the Battle of the Bulge. Thousands of local residents and people from around Europe and the United States crammed the streets of this small Belgian town to pay tribute to the American forces who held off the German attackers. Braving nonstop snow and biting cold, they waved American and Belgian flags in what is one of the largest annual freedom parties on the Continent. "I'm impressed. I just wouldn't have missed it," said Fred Chapal, who fought here 70 years ago as a mortarman in the 87th Chemical Mortar Battalion. Restored vintage American war machines rolled up and down the streets under strings of Christmas lights. The mellow sounds of the Glenn Miller Orchestra belted out of a sound system in the town's McAuliffe Square. The square was named for Brig. Gen. Anthony McAuliffe, who refused the Germans' request to surrender here after they'd surrounded the town, famously responding "Nuts," which an officer explained to the Germans meant they could go to hell. In the besieged town, along with the villagers, were the bulk of the forces of the 101st Airborne Division and the 705th Tank Destroyer Battalion.
Program for disabled vets help launch ex-Marine's business (Dallas Morning News)
A small business training program for disabled veterans served as a launching pad for John Raftery's foray into entrepreneurship. It's been seven years since Raftery, CEO of Patriot Contractors in Ellis County, attended the inaugural Entrepreneurship Bootcamp for Veterans With Disabilities in Syracuse, N.Y. Today, looking back on the experience, the 35-year-old Raftery can't help but promote the boot camp and other programs that help military veterans get started in business. For him, the timing was perfect. After leaving the military in 2003, he kicked around in a mishmash of jobs to make ends meet, from mowing lawns to working in a video store. He ended up in college, working on an accounting degree while also working for a health care corporation. That's when he got the EBV invitation. "I came back with a confidence where I knew I could do this, and I did — quickly," he said. EBV started with an online component and culminated in a nine-day intensive education program at Syracuse University. The program is offered at eight universities, including Texas A&M University, and has graduated more than 700 participants. Darla Booker, a spokeswoman with the Small Business Administration, which offers the program in partnership with the universities, said 106 military service members from Texas have been through the program along with 17 family members of Texas veterans.