Veterans GOODNEWS for Dec. 16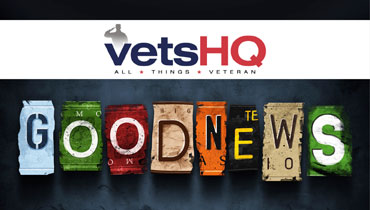 Young war veterans see political influence grow (Air Force Times)
The number of veterans in Congress continues to dwindle each session, but a new report suggests that the power and influence of young war veterans in national office are growing rapidly. Officials from the nonpartisan Veterans Campaign said the success of Iraq and Afghanistan war veterans in recent election cycles indicates not only a stronger-than-expected pool of national candidates but also an affinity among voters to back those candidates, despite the widening civilian/military divide in society. "Some of these veterans are moving into Congress very fast," said Seth Lynn, executive director of the campaign and co-author of the group's post-election analysis. Iowa Sen.-elect Joni Ernst went from state Senate to the U.S. Senate with no step in between. [Arkansas Sen.-elect] Tom Cotton went from no office to the Senate in five years. "Iraq and Afghanistan vets are quickly becoming a pretty huge force on Capitol Hill." Next year, Congress will boast 25 or 26 Iraq and Afghanistan war veterans, depending on the outcome of Martha McSally's recount in Arizona later this week.
VA enlists IBM's Watson to help veterans suffering from PTSD (Mashable)
IBM's Watson beat the odds on Jeopardy! Now the big question: is it smart enough to help solve what ails the U.S. Department of Veterans Affairs? The past couple of years have been pretty rough for the V.A.. In June of this year, it got blasted for underreporting veteran complaints, which ran the gamut from slow response time to poor care. Eventually the Secretary of the VA, Eric Shineski, resigned. The new secretary, Robert A. McDonald, appears to be presiding over a high-tech pilot program that may address some of these concerns — and that enlisted one of the world's best-known computers. In a joint statement on Monday, IBM and the VA announced they'll be using IBM's Watson to develop a clinical reasoning system to help primary care physicians treat veterans suffering from post-traumatic stress disorder. Watson will ingest the electronic medical records for millions of veterans to find patterns — the kind that will help the Veteran's Health Administration healthcare professionals make diagnoses and find solutions more quickly for the 8.3 million veterans currently in its care. Like many of Watson's other projects, this will allow clinicians to ask natural-language questions. Watson will answer based on massive amounts of data that, for this project, will reside in an Austin-based data hosting facility.
Creating a place for veterans to work with therapy horses (Minneapolis Star Tribune)
An ancient link exists between horse and warrior, forged over millennia of human and animal together facing whatever danger may lie ahead. So it's perhaps no surprise that horses, though supplanted by machines on the battlefield, have proven effective in helping former soldiers struggling to adjust to life after combat. For the past two years, HorseSense for Special Riders has offered an equine therapy program aimed at veterans, letting them connect with an animal at a time when they might not be able to relate as well to humans, the La Crosse Tribune reported. "And animals," said HorseSense executive director Maggie McDonald, "are just good for the soul." One veteran noted his horse shared traits of his post-traumatic stress disorder. "Loud noises spook him," McDonald explained. "He said, 'Spooks my horse, too.'" Horse and man then worked on that fear together. Horses are by nature a flight animal, one that looks at anything new or unusual with suspicion, McDonald said. A plastic bag along the path can cause them to shy. It's a survival instinct veterans of wars in Iraq and Afghanistan, familiar with roadside IEDs, can understand, she said.
'Surprise of a lifetime' as World War II veterans honored for service (MLive.com)
It took only a brief moment of honor and respect to transform a typically festive Christmas celebration into something a bit more special. As about 100 people celebrated the holidays on Monday, Dec. 15, five uniformed members of the U.S. military strode through the door at McLaren's Pulmonary Rehab center.  The three Marines and two Army soldiers marched over to two special guests — Ed Sullivan and Mort Henick — the only two World War II veterans in the room. Sullivan, 89, of Flushing, Mich., let out a loud laugh as the Marines shook his hand and thanked him for his service. Henick, 92, a former Flint resident, was shocked and tears filled his eyes as the soliders presented him with an American flag and shook his hand. "It was the surprise of my lifetime," said Sullivan, who served time on Wake Island in the South Pacific during WWII. "It was a great honor to be recognized." The celebration was extra special for Sullivan, who was surprised yet again when a patriotic cake was presented to him in honor of his 90th birthday on Jan. 10. Sullivan has attended the rehab center for two years for care related to his lung disease, and is often seen wearing his WWII baseball cap. He's known around the center for his energy and positivity, said Valerie McLeod, manager of pulmonary rehab at McLaren Flint.
Tyler Perry donates $20,000 to women's veterans charity after seeing TV report (WJLA-Washington)
A Hollywood A-lister has written a sizeable check to help out a local female veterans group owed thousands of dollars by an actress and her management company.  On Sunday, Tyler Perry pledged $20,000 to Women Veterans Interactive (WVI). He also made a personal phone call to the head of the organization. During that phone call, Perry reportedly told WVI's founder, Ginger Miller, he's not giving because one of his actresses owes money—he doesn't want to comment on that at all—but because he wants to reward the work Miller does for female veterans. Just hearing from actor, director and businessman Perry himself was a surprise for Miller. "Wait a minute, Mr. Perry, do you have my cell phone number?" she said. "I'm just like, 'It's Tyler Perry!' I was floored." Then came an unexpected gesture—a $20,000 donation to WVI, the nonprofit's largest gift from an individual. "God, this is like a dream come true," Miller said. "Mr. Perry, if you're out there, if you're watching, we love you, we adore you … we will never forget this."
This radio host reaches out to female veterans (NationSwell)
A few years ago, Air Force veteran Teresa Lambert felt silenced about her experiences in the military, as do many female vets. But now she speaks up by hosting a radio show focused on issues facing female veterans that's sponsored by Women Veteran Social Justice (WVSJ) and recorded on the campus of the University of North Georgia Gainesville. Lambert has a lot to talk about on air, such as the fact that female veterans are more likely to become homeless than male veterans are, and women vets face homelessness at a rate four times greater than civilian women. Since many of them are coping with trauma from abuse, female soldiers feel uncomfortable visiting V.A. hospitals and shelters where large groups of men gather, and many of them are mothers who can't find homeless shelters that accept kids. Lambert's job as the northeast Georgia ambassador for WVSJ is to help female veterans with any issues they face. Not long ago, she was struggling, too, having been a victim of domestic abuse during her time in the Air Force. She felt frustrated with the military's response to her troubles and experienced symptoms of PTSD. "By the time I left, my anxiety level was so high that I would not let anybody touch me," she tells the Gainesville Times. "I didn't get any kind of help, and I was such a mess. I continued making bad choices." So Lambert and the WVSJ reach out to female veterans — in person and through social media — offering them assistance, resources and camaraderie. Volunteers give fellow female veterans food, housing and help filling out paperwork and applying for benefits.