Veterans GOODNEWS for Dec. 19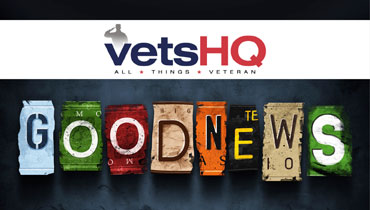 Nebraska issues nearly 2,700 special veterans driver's licenses (Omaha.com)
Nearly 2,700 Nebraska military veterans have obtained special driver's licenses available through a new state program. "I'm proud Nebraska continues to find unique ways to recognize our veterans," Gov. Dave Heineman said during a press conference called Wednesday to promote the service. A law that took effect this summer allows Nebraska veterans to have the word "veteran" printed in bold letters at the bottom of their driver's licenses or state identification cards. Heineman, a U.S. Army veteran, said he has a special operator's license. In order to qualify for the designation, veterans must sign up on the Veterans Registry through the Nebraska Department of Veterans Affairs.
Boy raises $1,000 for veterans by making paper airplanes (WANE-Fort Wayne)
A boy's love for paper airplanes will send one World War II veteran on an Honor Flight paid for in full.  Honor Flight is a program that takes World War II vets to Washington, DC to see the memorial built nearly 60 years after the war ended. Seven-year-old Jagger from Hamilton, Indiana makes paper airplanes as a hobby.  Little did he know it could help raise money to give back to those who gave so much. "…this one is a classic dart," 7-year-old Jagger said. He's not your typical seven-year-old.  Wise beyond his years.  Jagger's homeschooled and last month started learning about D-Day.  After watching a documentary, Jagger's mom said he had his heart set on giving back. "As soon as he was done watching it, he came out and said, 'I'd like to do something to help them,'" Jagger's mom Chante Hurraw said. "They did a lot for the country," Jagger said. Jagger then learned about Honor Flight of Northeast Indiana.  His goal was to raise $800 to send one World War II veteran on an Honor Flight to DC.  So, Jagger came up with an idea. "If someone made a donation I would make them an airplane."
Disabled Rhode Island veteran launches a new clothing line (Providence Journal)
Steve D'Amico, of South Kingstown, realized he was broken when an injury forced him to retire from the Rhode Island Air National Guard after 18 years. "We were all gears in the war machine," he says now. "Some of the gears were broken." Now the former rugby and hockey player has created a clothing line, Broken Gear Wear, for injured veteran athletes, disabled athletes and the people who support them. The company's motto is "I am broken, not beaten" and features T-shirts with sayings such as "I am broken and I play," or "… and I ride," or "… and I run," plus hats and stickers with the Broken Gear logo. He also sells pockets that hang on a belt or hook to a wheelchair. Sean O'Hara, a South Kingstown friend who moved to San Diego, he said, makes them from decommissioned camouflage uniforms. D'Amico decided to carry them after reading a story about a man whose prosthetic hand wouldn't fit in his pants pocket. D'Amico, 42, a stay-at-home dad since he was medically retired in 2013, has had a lot of help in starting his business. In October, he was one of 25 disabled veterans who attended The Entrepreneurship Bootcamp for Veterans with Disabilities at the University of Connecticut, one of eight universities nationwide that offer the program. Besides free lodging and meals and an immersion program with business professors, entrepreneurs and Fortune 500 CEOs, he received a laptop to help him get his business going.
All-terrain 'TrackChair' gives veteran new possibilities (Mat Su Valley Frontiersman)
Sometimes when you find something good you want to keep it a secret. But sometimes you find something so good, you have to tell everyone the good news. That's the case with Alaska's Andrew Liebig and his Action TrackChair. "It's no fun being the only TrackChair guy out there," he said. Liebig is a military veteran, confined to a wheelchair due to a service-related injury or illness he doesn't talk much about. What he does talk a lot about, though, is his all-terrain chair, the places it lets him go and the foundation that made it possible. "I've been volunteering with The Independence Fund since I got this back in July," Liebig said, sitting in his TrackChair in his garage in a neighborhood off of Knik-Goose Bay Road. On Friday, a delegation from the Cordova Telephone Cooperative showed up at his house with a check for $15,000 for the Independence Fund. The cooperative said it wanted both to support The Independence Fund and to challenge other organizations to do the same. As for the chair, Liebig said it has meant the world to him. The tracks on it allow him to go virtually anywhere he did before he lost his mobility. It mean small things: "Last night we got home and took the dogs for a walk, my daughters and I, went a mile down the road," he said, before adding that afterwards he configured the chair into the position that stands him upright and proceeded to wash the windows on his home. It's also meant much bigger things, milestones like the one he passed when he took his daughters to their annual summer camp. "This summer, for the first time, I went down to the lake," he said. He told a story about waiting for moose on a moose hunt — he's outfitted the chair with a gun rack and shooting mounts — when he realized he wasn't thinking about his disability or how to accommodate it. He was just enjoying the hunt. He said that's why he wants his fellow veterans to know about the Independence Fund. The chairs are just one of the mobility devices the group provides to veterans. Liebig said he heard about the foundation from a friend who was injured. The fund has given out 750 of the chairs in the Lower 48, but so far, Liebig is actually the first and only Alaska applicant.
School groups raising money for Honor Flight (Fort Lauderdale Sun-Sentinel)
Students from many Broward high schools were captivated as World War II veteran Lt. Col. Leo Gray told stories of his time with the Tuskegee Airmen Red Tail Squadron. "I didn't have that many (combat missions) because I was a replacement pilot," he said. "We lost a lot of men. Of my class, two were killed, two were prisoners of war and another crash landed." Gray, 92, spoke at the Broward County Association of Student Councils meeting at Flanagan High School in Pembroke Pines. The organization was finalizing plans to fundraise for the second consecutive year for Honor Flight, a nonprofit organization that flies veterans to Washington, D.C., to visit war memorials. Last year, students raised $30,000, enough to send 43 veterans in October. This year's goal is $48,000 for the April trip. Gray plans to be on that flight. "I'm excited," he said. "I've been in the receiving group (at the airport) for Honor Flight, and it changed my life." Michael Roland, student activities liaison for Broward County Public Schools, hopes to get every school involved in this year's fundraising efforts. "This is something (students) should all know about," he said. "The kids (currently) in seventh grade will probably never hear from a World War II veteran."
Army veteran, family receive mortgage-free home (Chico Enterprise-Record)
Outside a mocha-colored residence on the 2800 block of El Noble Avenue there's a sign above its door that welcomes people to the home of the Fackrells. The Fackrells are a family of four, who on Thursday received keys to their mortgage-free home. Karl Fackrell, an army veteran, was the recipient of a donated and renovated home from the Nehemiah Community Reinvestment Fund through a partnership with Bank of America. Fackrell, his wife, Angie, and their two children, previously lived in a small apartment in Orland and weren't having any luck finding a bigger place, he told reporters outside his new home. Now, the toddlers and their parents have a single-story, three bedroom home with a lush, green yard that wraps around the property. Karl Fackrell was selected out of 25 people who applied to the "Roof for Troops" program because he stood out above the rest for his service, and commitment to his family and community, said Ron Mellon, managing director of real estate services for Nehemiah, a Sacramento-based non-profit.
A Jewish Christmas tradition that helps hospitalized veterans (Los Angeles Daily News)
The old vaudeville song- and-dance man decided in 1946 to break with Jewish tradition and skip the movie and Chinese dinner on Christmas Day. There was something more important that needed his attention. Hundreds of returning World War II veterans were laid up in VA hospital beds all over Los Angeles County and they needed some Christmas cheer. Eddie Cantor and his pals at the Hollywood Canteen were going to bring it to them. "He came to us for help that first year, and we've been playing Santa Claus for him at veterans hospitals every Christmas Day since," says Greg Lee, state commander of the Jewish War Veterans of the USA. It's a beautiful sight to see, says Sadie Stewart, chief of volunteer services at the West Los Angeles VA. All the hallways filled on Christmas morning with Jewish families, Boy Scouts, and women from synagogue clubs stopping in with presents for the 600 or so patients. "A lot of our veterans don't have loved ones still alive, so it can be a lonely, depressing day," Stewart says. "Then these wonderful people walk into their rooms with gifts, and you see their faces just light up." When you add the hospitalized veterans at the Long Beach VA facility and the long-term care residents at the Sepulveda VA, you have well over 1,000 vets receiving a visit and gift.