Veterans GOODNEWS for Dec. 22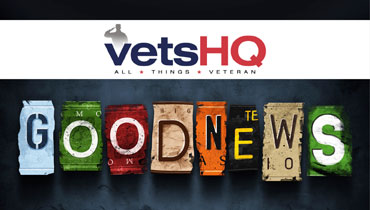 VA works to help a growing number of female veterans (The Washington Post)
"Not every GI is a Joe." "Please, don't call me Mister" These are the titles of a series of posters that the Department of Veterans Affairs has put up across its vast hospital system. It's all part of an effort to help the fastest growing veteran population — women — feel more comfortable in a system designed to serve and dominated by male veterans. Today's veterans are more likely to be women than at any other time in U.S. history: There are currently 2.2 million of them. Since the Civil War, women have served in the U.S. armed forces. But, in 1973, a two percent legislative cap on women's participation in the military was lifted, and women began entering military service at unprecedented rates. Approximately 280,000 women served in the post 9/11 Global War on Terrorism: Operations Enduring Freedom (OEF), Iraqi Freedom (OIF) and New Dawn (OND). "Most of these women were directly exposed to combat and the daily threat of wartime violence," according to a report released earlier this year by the Disabled American Veterans."But the current system that awaits women transitioning from military service is a disjointed patchwork of programs marked by serious gaps in health care, housing, other community support services, employment and efforts to eradicate sexual assault." As the number of female veterans has risen, so have their voices.
Christmas 1914: The Day Even WWI Showed Humanity (Stars & Stripes)
With British and German forces separated only by a no-man's land littered with fallen comrades, sounds of a German Christmas carol suddenly drifted across the frigid air: "Stille Nacht, Heilige Nacht" ("Silent Night, Holy Night"). Then, during that first Christmas Day in World War I, something magical happened. Soldiers who had been killing each other by the tens of thousands for months climbed out of their soggy, muddy trenches to seek a shred of humanity amid the horrors of war. Hands reached out across the narrow divide, presents were exchanged, and in Flanders Fields a century ago, a spontaneous Christmas truce briefly lifted the human spirit. "Not a shot was fired," Lt. Kurt Zehmisch of the 134th Saxony regiment wrote with amazement in his diary that Christmas. On the other side of the front line, Pvt. Henry Williamson of the London Rifle Brigade was amazed by the goodwill among his enemies. "Yes, all day Xmas Day & as I write. Marvelous, isn't it?" Few could be believe their eyes, especially on this mud-caked patch of Belgium and northern France where crimson poppies had long ago shriveled in the cold. Peace allowed for corpses to be recovered from the fields and given a proper burial. Fighting continued in many other places on the front line. But it was a momentary peace in a war that would last for nearly four more years.
Veterans in need get aid, advice at Stand Down event in LA (Los Angeles Times)
Free meals, beauty makeovers, gift sleeping bags and complimentary cellphones brought more than 800 military veterans to the Los Angeles Convention Center on Saturday, but the bigger gift for many could come in the form of permanent homes. The trove of goodies and services available at the mass Stand Down — the first of its kind in the city of Los Angeles — was welcomed by former sailors, soldiers and Marines. Many planned to stay overnight in a temporary shelter in the Convention Center basement that will remain open through Monday. Organizers of the event said that the short-term victories — a night on a warm cot, a root canal or a lawyer's advice on how to get a citation dismissed — will become more meaningful if the most troubled veterans also sign up for housing assistance. "This is just the start," said Ivan Mason, executive director of the Los Angeles office of the nonprofit U.S. Vets, organizer of the event. "We are really trying to find the chronically homeless and the chronically mentally ill. We are looking, at the end of this, at how many of those individuals we can put into permanent housing." That is no small task in Los Angeles County, where an estimated 4,200 people who served in the armed forces do not have regular homes. That is more than twice as many homeless veterans as in any other local jurisdiction in the United States.
Vietnam War veteran's family receives his medals (Associated Press)
The family of a highly decorated Vietnam War veteran was given his medals during a ceremony Saturday, decades after they went missing after he died in 1980. The nonprofit Purple Hearts Reunited held a ceremony in the Dallas suburb of Irving to present the medals to the widow and children of Chief Warrant Officer 2 Carter Stephens, a Green Beret who served two tours of duty as a medic in Vietnam. Among his medals were the Silver Star for gallantry, the Bronze Star for valor and the Purple Heart. Stephens' widow, Joyce Stephens, 68, of Carrollton, said she was "flabbergasted and ecstatic" when she learned the medals had been located, and was especially excited for her two children. "I'd wondered where they were. I really didn't worry too much about them," she said, noting that she had the bars that correlate to the medals and the paperwork in case she ever wanted to get replacements. "I wanted the medals, but I had proof." Vermont-based Purple Hearts Reunited, which works to return lost or stolen military medals to veterans or their families, had tracked down her son after being contacted by Kim Jacobs, who came into possession of the medals after serving as the casualty assistance officer for the family at Stephens' memorial. When her husband died in a car accident at Fort Bragg in North Carolina, Joyce Stephens was pregnant with their daughter, who was born 21 days later. In the confusion between the memorial and the birth, when friends were helping her pack up her house for a move to live with her parents in Memphis, the medals ended up with Jacobs.
Vetrepreneurs: More veterans starting their own businesses (Minneapolis Star Tribune)
Capt. Tim O'Neil was finishing up a stint at a Twin Cities Marine recruitment office when he saw an article about a new program at the University of Minnesota's Carlson School of Management. The school was intensifying its recruiting of military veterans and had even hired a retired Navy commander to scout the country for prospects. O'Neil, a Minneapolis native who had spent seven years in infantry deployments from Korea to the Horn of Africa, decided it was time to stop selling the military and start selling himself. At school he was able to develop a business he had conceived while in the Marines. He would take his knowledge and passion for military gear and apply it to the civilian market in a premium line of rugged commuter and weekender bags with an urban aesthetic. Now, like a growing number of veterans, O'Neil is doing battle in a different environment: the high risk/high reward world of entrepreneurship. "Having your own team, a sense of effort and duty, being able to right your own ship, it all fit in to what I knew," said O'Neil, who still sports a military bearing, despite having exchanged Marine battle dress fatigues for flannel shirts.
Bands, public 'Give-A-Jam' for homeless vets (Louisville Courier-Journal)
A sold-out crowd of more than 450 people ate, drank and jammed out to local music acts during the fourth annual "Give-A-Jam to End Homelessness" at the Clifton Center in Louisville, Ky., last week. The Coalition for the Homeless sponsored the event with the hopes of raising money for the Rx: Housing Veterans, a collaborative built to help get homeless veterans. "Our goal is that literally there will be no homeless veterans," said Natalie Harris., executive director of the Coalition for the Homeless. Harris also stated that the event was mostly about the music but was also a way for the community to help combat the problem of homeless veterans in Louisville. Eleven bands donated their time for the event, with local acts such as Small Time Napoleon, John Gage and Applatin, among others.
New Jersey WWII veteran wants to 'show people the war' (Asbury Park Press)
Thoughts and words come fitfully to the old sailor. But Herman Schnipper, 91, is adamant about his wishes for the pictures he took while stationed on the USS Astoria. The 1,500 prints — sheathed in plastic, captioned and stored in his Hackensack apartment — depict in black-and-white splendor the drama and drudgery of military service. "I don't want them to be put in a box and forgotten," he said slowly, quietly. "I want to show people the war." Schnipper was a skinny kid out of Bayonne when the Navy, aware of his hobby, gave him a camera and a darkroom and made him the light cruiser Astoria's photographer. From May 1944 through the end of World War II and for several months after, he chronicled the hostilities in the Pacific experienced by the Astoria and also the daily routine of its crew: Sailors in perfect formation for inspection. Shipmates mugging for the camera. A cook cracking open a crate of dried salmon. A boxing match on the ship's fantail. The collection of photographs has followed Schnipper as he moved from one Teaneck house to another to another and finally to the Hackensack high-rise where he and his wife, Julie, have resided for 18 years. Now, the couple's daughters, Rachel Ohnouna and Sari Shlufman, want to give their dad's wartime photography its due.
Nearly 70 years later, WWII veteran awarded medals (Delaware News Journal)
It has been some 70 years since U.S. Army Sgt. Benjamin Jones stormed a German-occupied town sprinting and shooting, through the European village as fast as he could. On Sunday, the Smyrna veteran's bravery was honored as the medals he earned were finally pinned to his chest. About 50 family and close friends joined as Jones was presented the Bronze Star Medal, European-African-Middle Eastern Campaign Medal and the Army of Occupation Medal at a family home in Smyrna. "It really feels good," said the 95-year-old, whose slow movements belie his quick memory. "Hooray for the Army, hooray for the United States, hooray for the Veterans Administration. They are one of the best things that has happened to me." Jones was born in 1919 in Millington, Maryland. He attended school through the eighth grade before working for the railroad and as a painter. He moved to Wilmington around 1940 before he was drafted. "Getting drafted didn't bother me a bit. I really felt that I was needed and I was glad to go, but I didn't like leaving my family," said Jones, who was by then a father of four. On the battlefield, Jones said the motto was "keep up the fire." "And they kept bringing us bullets," he said.
Former Marines raising money for Kentucky monument (Marine Corps Times)
Old Marines aren't the type to shy away from a challenge, which may explain why members of the Greenbo Detachment of the Marine Corps League are hitting the streets and scheduling meetings with local business and community leaders in the days before Christmas. "If we don't do this, it absolutely won't be done," said Mike Hale, who served as a Marine during the Vietnam era, as he and fellow Marine Corps League member Jack Nuckols waited recently for a chance to discuss their project — a memorial monument honor Gold Star families, with Ashland's mayor. Wearing the distinctive red jackets of the Marine Corps League, Hale and Nuckols say they know the monument effort will be challenging. "Forty-thousand is a lot of money," said Nuckols, who was wounded as a Marine fighting at Okinawa. Hale said the cost of the monument could be as much as $50,000. However, undaunted by the challenge, the men said they will first meet with local business owners, as well as area elected officials, to gain momentum and collect contributions. "I'm one of the younger ones in our organization and I'm 61 years old. You have to understand that when I was growing up, these guys were our heroes," Hale said, pointing to Nuckols and citing the service of local men, while pledging his own energies to help build a monument honoring families whose loved ones did not come home from wars in foreign lands.