Veterans GOODNEWS for Dec. 23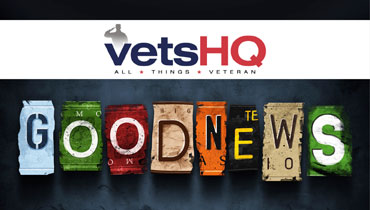 Louisville's battle cry: No more homeless vets (Louisville Courier-Journal)
Back home from a difficult Army tour in Iraq, it didn't take long for Kyle O'Hair's life to unravel. There were nightmares, anxiety and memories of death. He got hooked on drugs. He divorced. He spent time in jail. And he found himself homeless, haunting soup kitchens and shelters. "You just want to be rid of the feelings," said O'Hair, a 35-year-old discharged soldier who served as a .50-caliber gunner in Iraq in 2004. Today he's among those targeted by an ambitious veteran housing effort between Mayor Greg Fischer, the Coalition for the Homeless and the Department of Veterans Affairs that is now accelerating as it nears its goal of "ending" veteran homelessness in the area by the end of 2015. Emulating cities such as Phoenix and Salt Lake City, which have already reached the goal, Louisville is ramping up its "housing first" approach that combines federal and local rent vouchers with case management, substance and mental-health treatment and rapid-assistance grants to return evicted vets to apartments.
Colorado Technical University honors 50 wounded warriors, vets, spouses with full scholarships (Marketwatch)
As part of its commitment to providing education and skills training to those serving in the U.S. armed forces, Colorado Technical University (CTU) announced the 50 recipients of its seventh annual Wounded Warrior and Wounded Warrior Spouse scholarships. Since the university's inception in 1965, it has been dedicated to serving the educational needs of active-duty military personnel, veterans and their families. Together with the nonprofit Yellow Ribbon Fund, CTU created the annual Wounded Warrior scholarship program in 2008 to award 25 wounded service members and veterans, and 25 spouses of wounded service members with scholarships. The scholarship covers the full cost of tuition toward any CTU degree, including books and fees, as well as a new laptop computer. "We strive to continuously support military service members, veterans, and their spouses as they pursue their personal, professional and academic goals," said Andrew H. Hurst, president of CTU. "We understand military families and spouses face overwhelming hardships when a service member is injured. Suddenly their lives are turned upside down. Spouses not only need to care for their injured spouse, but need to identify ways to provide for their family. We're proud that these scholarships can help these brave soldiers and spouses get an education and transition to civilian careers."
Veterans turn to volunteer drivers for shuttles to medical appointments (The Columbia Missourian)
Just before dawn on a chilly Wednesday morning, Gary Powell climbs into a large white passenger van and turns on the ignition. As the engine warms up, he affixes a GPS device to the windshield. It sits to the left of the steering wheel, just above the dashboard. He unwinds a cord and plugs the navigation system into the cigarette lighter. "Thank goodness for GPS," Powell said.  "We go some crazy places." He has a 153-mile drive ahead of him, so he sets off from the Truman Veterans' Hospital parking lot at 5:30 a.m. Powell's journey that day would take him to Macon, Huntsville and Centralia. Powell, 67, served as a communications officer in the U.S. Navy from 1968 to 1971 and is now a volunteer driver for the Disabled American Veterans Transportation Network. At least once a week, he wakes up before dawn to drive military veterans to their appointments at the hospital. He has volunteered for the last five years, since retiring as a driver for a soda distributor. In the last year, Powell has shuttled a growing number of veterans to their appointments. On that Wednesday, he drove seven, an even busier day than usual. "We haul more than we used to," he said. "I don't remember hauling people like we do."
Stolen medals replaced for Alabama World War II veteran (AL.com)
Medals earned by a Huntsville veteran who was among the thousands who landed in Normandy during World War II have been replaced after they were stolen. How that happened — and the speed in which it took place — is nothing short of a military Christmas miracle. Charles Boynton was among a group of 250 soldiers dropped on the beaches of Normandy, France on June 6, 1944. Of those, only a handful survived. Boynton received military honors for his service but said the medals were later stolen. His family sought to have them replaced but was concerned with the amount of time that would take. Boynton is currently receiving care through Gentiva Hospice of Huntsville. Through the hospice's We Honor Veterans program it teamed up with Still Serving Veterans, a local group that assists veterans with a variety of needs, to try and speed up the replacement process. "When I asked Mr. Boynton's daughter about the medals, she told me that her daughter had applied to receive them, and that they were suppose to arrive in January or February of next year. She also stated that they wanted to surprise Mr. Boynton with them," said Nicole Simmons, Manager of Volunteer Services at Gentiva Hospice and Chair of North Alabama Hospice Veteran Partnership.
Veterans receive support, holiday meals for Christmas (Corpus Christi Caller-Times)
More than 80 families received a bit of Christmas on Monday as members of the American GI Forum handed out holiday meals at the American Legion Hall. Patsy M. Vazquez-Contes with the Beatrice T. Perez Robstown Women's chapter of the American GI Forum said her organization partnered with H-E-B and various veterans groups to make Christmas Dinner Package Giveaway happen for the second year. She said often veterans and their families don't want to ask for help or don't think they deserve a donation for what they have done. "This is just a very small token of appreciation to our military veterans and their families," Vazquez-Contes said. "This is the least we can do." Vazquez-Contes said she reached out to politicians like County Commissioner Joe A. Gonzalez and State Rep. Abel Herrero to find veterans most in need.