Veterans GOODNEWS for Dec. 5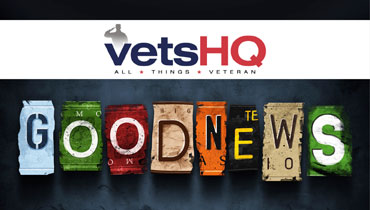 Civil Air Patrol to receive Congressional Gold Medal for World War II service (NJ.com)
A group of thousands of civilians took to the skies during the grimmest days of World War II. They served their country by spotting and attacking U-boats off the coast, saving sailors stranded in the water, and escorting convoys with armaments offshore toward the European theater. For their effort, the U.S. Civil Air Patrol will be awarded the Congressional Gold Medal, one of the nation's highest honors, next week. And New Jersey began it all. "It started here – the Civil Air Patrol was born in New Jersey," said Steven Tracy, a colonel who is the wing's current commander. The CAP was instituted less than a week before Pearl Harbor, a result of the campaigning of Gill Robb Wilson, a Presbyterian minister in Trenton who was at one point the director of aeronautics for the State of New Jersey, according to wing historian Greg Weidenfeld. The first three bases were in Atlantic City, Delaware and Florida, and were created on a trial basis in the nascent war effort. The outfits soon proved their mettle, Weidenfeld said. The CAP eventually expanded to 21 bases from Maine to Texas, spotted 173 U-boats and attacked 57 of them. From 1941 to 1945, they escorted more than 5,600 convoys and reported 17 floating mines, 36 bodies, 91 ships in distress and 363 survivors in the water, according to records.
Honor Flight to recognize Pearl Harbor survivors (USA Today)
Seventy-three years ago this Sunday, August "Bub" Erwin was a newly enlisted naval officer. Just graduated from basic training, the then-18-year-old Oklahoma native was assigned to the U.S. destroyer Cassin — which was in dry dock at Pearl Harbor in Hawaii — on Dec. 7, 1941, when the Japanese bombs began to fall. "It was a bad experience," Erwin, now 91, recalled. "There's nothing good about war, nothing good about death, nothing good about destruction. To see all of that was a terrible experience." To commemorate the 73rd anniversary of that fateful day, Erwin and 12 other World War II veterans who survived the Pearl Harbor attack will travel by plane from their home state of Texas to the National World War II Memorial in Washington, D.C., on an Honor Flight meant to recognize them for their service to the country. "I'm anxious to see that World War II memorial," Erwin said. "I know a lot of people that their name is on there."
Florida man's documentary preserves World War II veterans' stories (Tampa Bay Times)
In his dimly lit home office, Matt Wilcox pointed at the black and white pictures of naval ships and soldiers pasted to the black pages of a spiral-bound book. It belonged to his grandfather, who operated gyroscopes during World War II. Wilcox, 25, has studied the war since he was a kid. He collects photos and letters, and decided a year ago to use them to create a documentary called In Their War. The movie's first segment, about the attack on Pearl Harbor 73 years ago, will premiere Sunday on local TV. Wilcox says the sole purpose of the documentary is to preserve the stories of WWII veterans. "I'm doing this for them," he said.
York, Pa., group aims to put roof over heads of homeless veterans (The York Dispatch)
On any given night, there are nearly 50,000 homeless veterans in the United States, according to the U.S. Department of Housing and Urban Development. One local veterans group has joined with York's Helping Hand for the Homeless to make sure York County veterans have a roof over their heads. Wielding five-gallon buckets and wearing yellow vests, members of Veterans Helping Hand have been deployed throughout York to collect donations. Funds raised during this holiday campaign will be used to repair the roof of a building at 412 W. King St. that will serve as an emergency shelter for homeless veterans. Sandie Walker, the daughter of Veterans Helping Hand President Sandy Walker, said the facility will give homeless veterans a place to sleep, get mail and take a shower. Sandie Walker said she is filling in as spokeswoman for the organization while her father recovers from a stroke. To replace the roof, the group needs to raise $30,000. So far, Walker said, the Pennsylvania Veterans Foundation has pledged $10,000 for the effort. For Walker, whose father is a Vietnam War veteran, this is all about helping a group of people who have given so much for the country and have not always received the treatment they deserve.
Company uses Christmas trees to thank veterans (KELO-Sioux Falls)
Most of us focus on what is underneath the Christmas tree. On Thursday, at the VA Medical Center in Sioux Falls, S.D., nobody was talking about presents. Today, nobody is talking about presents. "That's a beautiful tree, isn't it?" "Oh, it's beautiful." This was the sentiment, as veterans held up decorated miniature Christmas trees. The bright colors of the tinsel and Christmas ornaments paled in comparison to the big smiles from our service men and women. Employees and volunteers with Thies & Talle Management gave out stockings, wreaths, and Christmas trees to veterans at the VA. "A lot of them have said, 'I wouldn't have a tree this year if it wasn't for you,'" Helen Ganske, Thies & Talle Management, said. "It's a big deal to me. I really appreciate it," Ted Mothershed, veteran, said. Mothershed served in the army in the '70s. Between the trees, stockings, and wreaths, this all costs about $1,000. The company does not pay for that. The money comes out of the pockets of employees and volunteers. "So many of them don't ever get told thank you, and I think it's so important. They put their life on the line for us, for our freedom," Ganske said.
Pennsylvania WWII veteran to be inducted into French Foreign Legion (Pittsburgh Tribune-Review)
A World War II veteran from Whitaker, Pa., is going to Washington next week to be honored at the French Embassy. Rosemary Pagano said her father, William McCallister, 90, will be inducted into the Legion of Honor for his service in France. She said he was drafted into the Army and served in France from 1945-47, earning two Purple Hearts and two Bronze Stars. According to the French Embassy, the Legion of Honor is an order of distinction first established by Napoleon Bonaparte in May 1802.
85-year-old knitter churns out hats for homeless veterans (NationSwell)
Seven years ago, 85-year-old Orville "Mark" Skattum, who served in the Army National Guard during the Korean conflict, took up a new hobby: knitting. He got the idea after seeing a friend work on a loom. After getting one of his own, he started knitting hats to give to family and friends at Christmas. Then, he realized that homeless veterans could use some extra warmth. "I feel sorry for the ones that have a hard time. They're homeless and out of work," he tells Kevin Simpson of the Denver Post. "The least I can do is help out a little." Skattum began knitting about five hats a week, each with a tag that reads, "Made by a Vet, for a Vet…God bless." Whenever he has completed 50 hats, he donates them either to his church or to the Denver V.A. hospital to be given to needy vets. He estimates he's knitted 1,200 hats. Last year, his daughter Karla Tillapaugh joked with her father about getting a booth at Holiday ManCraft, a hipster-delighting fair that has been showcasing the wares of crafty men — many of them professional artisans — since 2000. She didn't realize he'd taken her seriously until several months later, when he told her that he'd knitted 150 caps for his booth. Tillapaugh quickly contacted the craft fair organizers to see if her dad could join. ManCraft founder Stu Alden immediately accepted him. "How can you say no to that?" he tells the Denver Post. "There was something really touching that he got excited about it."
Bronze statue of U.S. Navy SEAL hero headed for Arkansas (Bradenton Herald)
A bronze statue of an American hero, U.S. Navy SEAL Adam Brown, received a respectful send-off Thursday from Bradenton and Sarasota veterans as it departed for Hot Springs, Ark. Brown was killed in action March 17, 2010, in Komar Province, Afghanistan, when his special-operations team was trapped by heavy enemy fire. Brown charged the enemy position, drawing fire away from other members of his team. A best-selling book based on his life, "Fearless," has been published, and a film is in the works. Greg Marra, the Sarasota artist who sculpted the 600-pound statue, said he felt he came to know Brown in his studio. "I feel like his spirit was in the studio watching," Marra said. Were Brown still alive, he would be the first to admit he wasn't a perfect, having struggled with drugs and having served time in jail before entering the Navy. But he became known for his drive to be a SEAL, his bravery, sense of humor and for his love of the family he left behind, including a wife and two children. The statue was commissioned by the veterans council in Garland County, Ark.