Veterans GOODNEWS for Dec. 8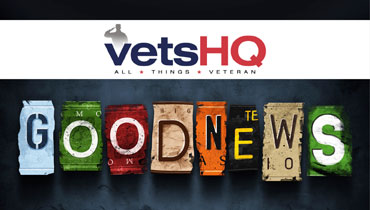 Pearl Harbor veterans honored at World War II Memorial (USA Today)
Under clear blue skies, 15 survivors of the Japanese attack on Pearl Harbor gathered at the National World War II Memorial to see their service of 73 years ago recognized. "As the years stretch, the stories of every sailor, soldier, Marine, airman, nurse or citizen who was at Pearl Harbor grow more precious, and we use this anniversary to retell them," U.S. Navy Adm. Michelle Howard, vice chief of Naval Operations, told the 400 people gathered at the hallowed ground between the Washington Monument and the Lincoln Memorial. "We understand that the collective toughness of the American people, our survival, and the eventual success of this country, is due to them." About a dozen of the veterans of what President Franklin D. Roosevelt termed "a day which will live in infamy," came to Washington as guests of Honor Flight Austin. Among those veterans was Jack Jones, 91, who was aboard the battleship Tennessee when Japanese bombs began raining on Hawaii on Dec. 7, 1941, killing more than 2,000 men and drawing the USA into World War II. "I was overwhelmed," Jones said. "We had to clean up the harbor — take the dead and bury them. I was just 17 years old. It kind of missed up my head a little bit. "Everybody says you're a hero, but I was just a fuzzy-faced kid who did what others did. Today is really special for me because I'm just a little nobody."
South Florida female veterans remember their WWII service (Miami Herald)
Clara Leinhauser Hagarty, 91, of Westchester, was a driver in the Coast Guard Women's Reserve during World War II. Four years after the attack of Pearl Harbor on Dec. 7, 1941, she was stationed in Honolulu, where she volunteered at the Naval Hospital, tending to the wounded servicemen. "Some of them were so beat up that they couldn't help themselves," she said. "We would kind of help them out and they appreciated everything." Hagarty was one of approximately 400,000 American women who served in the military between 1942 and 1946, after President Franklin D. Roosevelt signed H.R. 6293 into law on May 15, 1942. The law established the Women's Army Auxiliary Corps (WAAC) and went into effect six months after the Japanese attack on Pearl Harbor, which took place 73 years ago today and killed more than 2,500 Americans. Many of the women saw the war's carnage firsthand. Mildred Weintraub Kagan, 94, of Aventura, was a nurse in France during the Battle of the Bulge, the German counteroffensive launched on Dec. 16, 1944, through the Rhineland, Belgium, Luxembourg and France that led to one of the bloodiest battles of World War II. Regina Ferrin, 92, of North Miami Beach, witnessed maimed servicemen shipped back to the States on ships that docked at Fort Hamilton in Brooklyn, the Army base near Bay Ridge. There, she helped transfer the wounded to area hospitals. "The job I had wasn't easy," Ferrin recalled. "There were a lot of young kids. It took a toll on me." Women who served in the military during World War II, coupled with the three million women who volunteered as civilians, played a crucial role in filling key jobs and supporting the servicemen, military experts say.
Veterans climb together in the fight against PTSD (KSTU-Salt Lake City)
Rock climbing is as much a mental challenge as a physical one, and for a group of veterans in Salt Lake City it's the best exercise to deal with emotional issues. That's why Mike Cumming started a climbing support group called Operation Climb On. "I fell into some pretty heavy PTSD type issues," Cumming said. As for Micah Van Wagoner, he felt like he was just holding on in a constant state of alarm while serving a yearlong deployment in the Philippines. When he got home, the stress tied him up in knots, but he said it was nothing compared to what he saw other guys go through. "Some veterans were dealing with drug abuse and DUIs," he said. Once a week, the veterans climb together, and if only for an hour, they can focus on the rocks in front of them and forget about what they saw in Iraq and Afghanistan. "It's just calming because you are so focused, and you get to tune out the world. And when you get to the top you get to look out and see what you've done," said Brian Wilson, an active duty Marine. The wall therapy helps them work through their own issues, but also re-establish a brotherhood and a sense of trust.
U.S. Mint will create 350,000 silver dollars in 2018 to commemorate World War I (Coin News)
Two days after the World War I American Veterans Centennial Commemorative Coin Act passed in the U.S. House of Representatives, the U.S. Senate also gave it a thumbs up. The bill, H.R.2366, heads to the President's desk next and is expected to be signed into law within days. When that happens, the United States Mint will be directed to strike up to 350,000 silver dollars in 2018 to help celebrate the centennial signing of the armistice with Germany, which ended World War I. "This important bill gives us an opportunity to honor and remember more than four million American veterans who served our country during World War I," said Sen. Roy Blunt who introduced a similar version of the bill, S.2714, in the Senate. "I thank my colleagues in the House and Senate for their unanimous support in passing this bipartisan legislation, and I look forward to the president signing this bill into law so we can encourage future generations to recognize the selfless sacrifice of these brave American heroes nearly 100 years ago." Other great conflicts have been memorialized on United States commemorative coins, but not World War I, which is also known as the First World War or the Great War.
Female veterans offer help to neglected comrades (The Gainesville Times)
When Teresa Lambert graduated high school in 1988, she found herself on a more unique path than most of her fellow female classmates. Lambert joined the U.S. Air Force at 17 and began a career in air transportation. In the overwhelmingly male-dominated field, she relished the challenge. "It's considered a man's career field, so it was a perfect fit for me because I grew up as a tomboy and there was nothing a man could do that I couldn't do," Lambert said. However, her life in the military was not idyllic. She faced several obstacles during her tenure in the Air Force. But each obstacle she overcame led her to helping others through their own journeys as active service members and veterans. Now, the University of North Georgia student serves as the Northeast Georgia ambassador for Women Veteran Social Justice, an organization that advocates for female veterans and their needs. A big part of Lambert's job is reaching out to female veterans via social media, as many of them are disabled and can't leave their homes. WVSJ also connects female veterans with job skills training and counsels them on how to get the Veterans Administration benefits to which they are entitled.
Duke students help female veterans transition into civilian life (WNCN-Durham)
An organization is helping female veterans transition into the business world. Fuqua Initiative for Veteran Employment, or FIVE Star Transitions, was started by two Duke MBA students from the Duke Fuqua School of Business. Saturday afternoon, veterans had mock interviews to help them build job search skills and land their job in the civilian workforce. The group teamed up with the national organization Women Veterans Interactive to make the workshop happen. "It's important that we learn these skills and get those concepts so when we become a civilian especially being a woman we can compete with the other civilian sector out there," said Army veteran Sandra Wiggins.
Pritzker Museum donates $5 million to WWI centennial programs (Chicago Tribune)
A $5 million donation from a Chicago military museum will help a national effort to commemorate the 100th anniversary of the First World War with a new memorial, education campaign and traveling exhibit. The Pritzker Military Museum & Library, which announced the donation Friday, is the founding sponsor of the U.S. World War I Centennial Commission — a group formed last year and charged with developing projects to mark the anniversary of the United States' involvement in the war in 1917. Kenneth Clarke, president and CEO of the Pritzker museum and library, said remembering the war and those who served brings to light how applicable the history of World War I still is today. "We believe the Great War is something everybody needs to know about. There are very real examples in today's geopolitical climate that make World War I very relevant today," he said, pointing to boundary conflicts in the Middle East, among other issues. "As an institution dedicated to preserving and sharing the history and heritage of the Citizen Soldier, the Pritzker Military Museum & Library is proud to support the Centennial Commission in similarly preserving and sharing the history of World War I, so that we can learn lessons from the past to apply to the future," Jennifer Pritzker, museum and library founder and a retired colonel in the Illinois Army National Guard, said in a statement.