Veterans GOODNEWS for Dec. 9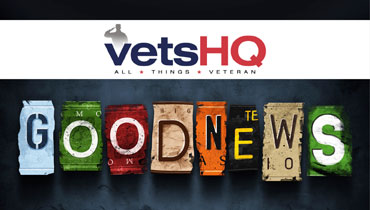 How Afghanistan vets are trying to cultivate peace through saffron (NPR)
When you think of saffron, dark red strands from Spain or Iran may come to mind. But the delicate spice, one of the most expensive and labor-intensive in the world, grows well in another country long plagued by conflict: Afghanistan. Rumi Spice, a small, enterprising company in Brighton, Mass., is trying to build an Afghan saffron connection for lovers of the spice in the U.S., and cultivate peace through trade. Behind Rumi Spice is a group of veterans who served in Afghanistan who are now business school students, a lawyer, an Afghan water specialist and farmers the vets met while serving there. The idea for the fledgling company came about in March 2013, when Army veteran Kimberly Jung was chatting with a fellow vet named Keith Alaniz. Alaniz told her about how when serving in Afghanistan, he met a local saffron farmer who had a warehouse full of the valuable spice, with no buyers lined up overseas. "I was very surprised to find out it grows the best in the climates of Afghanistan with hot winds and dry climate," Jung tells The Salt. "So, I immediately thought, hey, this could be an awesome business opportunity." Jung and Alaniz teamed up with four others, and the six realized that if they could create a viable market for saffron in the U.S., they could also transform saffron into a cash crop that might one day replace poppy, the crop used to make opium that helps fund the Taliban.
'Lottery ticket' helps veterans transition to new careers (CBS News)
Many veterans returning from wars overseas face a new challenge at home: finding a job. Many times employers say they want to hire veterans but then don't because many are seen as unqualified. But one unusual program has a simple solution — give the veterans a job skill needed in tens of thousands of businesses worldwide, reports CBS News correspondent Wyatt Andrews. There were 20 veterans at a special graduation — all of them expressing appreciation for the chance to earn certificates to work in data management software. That might not sound like much, but to them, it's everything. "This is like a lottery ticket and it's not a scratch off, it's a Powerball," NS2 Serves graduate Mark Brummit said. What these veterans get is best described as a software bootcamp run by a non-profit group called NS2 Serves. For 11 weeks, 10 hours a day, they live, sleep and study together — all on a mission to learn data management software from the SAP Corporation. SAP's software is widely used in banking, factory operations and military intelligence, and now veterans who were going nowhere are qualified to work almost anywhere.
Author donates proceeds of book to veterans charities (USA Today)
Diana Cosby combines her passion for writing and charity work to help our troops with the release of An Oath Taken, the first book in The Oath Series, by donating the first week of royalties to vets' charities. She said, "Many of you know that I love volunteering my time and energy in helping to make a positive difference in others' lives. As a military brat, a retired Navy Chief, a former military wife, and a mom of three children who have served in the military — two in the Marines and one in the Army, all who have served in Afghanistan — I understand the demands on members of the military and the impact on their families. Upon return from combat duty, many veterans face challenges including depression, PTSD, survivor's guilt, suicidal thoughts, brain injury, as well as physical issues incurred during deployment. I wanted to do something that would make a difference and help these Veterans. So, I will be donating 100% of my proceeds from the first week of sales of An Oath Taken (Dec. 8-14) to veterans' charities and causes that support military service members and their families."
National Science Foundation awards 37 fellowships to veterans (NationSwell)
very year, the National Science Foundation (NSF) awards grants to help promising graduate students in the sciences and engineering fund their research and education for three years. Lately, the NSF has made encouraging diversity in science their highest priority — a mission that includes helping veterans who want to become scientists. This year, 37 of the 2,000 NSF Graduate Research Fellowships were awarded to military veterans. In addition to the fellowships, which include a $32,000 annual stipend and a $12,000 education allowance, the NSF makes its cyberinfrastructure resources available to some recipients and offers them the opportunity to collaborate with other scientists across the globe. One recent fellowship winner is Luis Morales, an Army veteran who is earning his Ph.D. in physics from the University of Notre Dame in South Bend, Ind. Last month, the NSF invited Morales and 10 other veteran scientists to Washington D.C. for a ceremony honoring their contributions to science, technology, engineering and math, giving them a chance to meet each other and discuss how to attract more veterans to careers in science. "Throughout the day, we [talked] about the relationship between veterans and the sciences," Morales tells the Notre Dame Observer. "We're not traditional students. Many of us start schooling with families. It can be a struggle to manage this financially and time wise." Morales continues, "I wasn't in a science field when I was in the military. I just had this drive to do it. I followed my heart. I took all the opportunities that were given to me."
D.C. conference to focus on war wounds' impact on sex, intimacy (Military Times)
A two-day conference in Washington, D.C., this week will tackle an often overlooked result of combat injuries: the impact war wounds can have on fertility, sex and relationships. The groundbreaking seminar is sponsored by the Bob Woodruff Foundation. Woodruff, an ABC News correspondent who suffered a serious head injury while covering military operations in Iraq in 2006, co-founded the non-profit with wife Lee Woodruff to support injured post-9/11 troops and their family members. According to foundation spokesman Sam Kille, the symposium aims to spotlight sex and relationship problems facing troops, veterans and their partners as they cope with long-term recovery from combat wounds. "Many of our service members face — whether it's from a physical or emotional wound — problems with intimacy. It's something people are afraid to talk about but it needs to be discussed, since it's a silent casualty of war," Kille said. Topics to be covered include fertility treatments, advancements in reconstructive surgery, sexual dysfunction and regenerative medicine.
Denver veterans use art and marijuana to treat PTSD (ABC-Denver)
Military veterans suffering from post-traumatic stress disorder are trying a non-traditional approach to their condition and it involves pot and paintbrushes. Puff, Pass, and Paint is 420 friendly and its founder, Denver-based artist Heidi Keyes says the 2-hour sessions are a great way to unwind and even help military veterans. Keyes teaches these small classes out of her home studio, which allows her to operate without any legal trouble. "You can follow along with my instruction or if you're feeling inspired, you can do your own thing as well, and partake in cannabis at the same timel" says Keyes. Most of the artists do, like former Marine and cannabis activist Sean Azzariti. "Using cannabis and having art as an outlet has helped me tremendously," says Azzariti. Azzariti spent 6 years in the military, deployed twice to Iraq, and says medical marijuana saved his life. "I was being prescribed to take 12 pills a day to help with my PTSD," said the former Marine. "Cannabis made it so I don't have to take any of that."