Veterans GOODNEWS for Jan. 12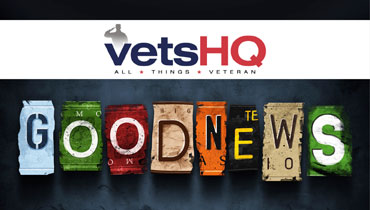 Two close friends and Tuskegee Airmen, 91, die on the same day (The Daily Mail)
Two members of the Tuskegee Airmen – the famed all-black squadron that flew in the Second World War – died on the same day, in the same city, both at the age of 91. Clarence E. Huntley Jr and Joseph Shambrey died on January 5 in their respective homes – both in Los Angeles. They were lifelong friends who joined the army together as teenagers. The men enlisted in 1942 and were deployed to a fighter squadron as mechanics, who kept the planes in combat-ready shape. Their families, who announced the deaths Sunday, described the men as devout patriots who cared deeply for their fellow soldiers and stayed close with many of their war buddies.  Huntley and  Shambrey were part of the 100th Fighter Squadron in the Army Air Force's 332nd Fighter Group. They trained at the Tuskegee Army Airfield in Alabama, which gave the group their moniker. Huntley serviced Mustang, Thunderbolt and Aircobra fighters aircraft, and as crew chief was responsible for the plane of the squadron commander, Capt. Andrew D. Turner.
Veteran makes sure others' military service is recognized (Los Angeles Times)
"Even if it's nothing more than a Good Conduct Medal, that's like for coming to work every day, it's something you should have," World War II veteran Art Peterson said. "Not something that should be left undone." So Peterson, who served in the Navy from 1943 to 1946, has made it his mission to track down medals owed to military vets who live in his retirement complex in Granada Hills, Calif.  The process isn't difficult or costly, just tedious, he said. With the right paperwork and a little patience, you can replace a missing medal for the cost of a restaurant meal. The honors that veterans are entitled to are listed on their discharge papers. The medals can be ordered from military officials or purchased from Army-Navy stores. The hardest part for Peterson was getting veterans to participate; it was "like pulling teeth," he said. About two dozen reside at the Aegis Living senior center, but only six were willing to go through the process to land the medals they'd earned. Some felt their service was so far behind them, the ribbons and badges don't mean much anymore. Others don't put much stock in memorabilia. And some either already had their awards or were afraid they hadn't earned any at all. As he got their paperwork in order, Peterson began pursuing more than service awards. He made regular trips with the men to the Veterans Administration center in North Hills to get all they were they entitled to: bigger pensions, better medical care, less expensive hearing aids.
Mother picks up the pieces after suicide of her Marine son (The Washington Post)
It has been two years since Marine veteran Janos "John" Lutz committed suicide, wracked with the memories and guilt he came home with following a deployment to Afghanistan. An enlisted infantryman, he had been involved in the largest helicopter offensive that the Marine Corps had launched since the Vietnam War, taking back territory from the Taliban. And he lost his best friend in that mission. Lutz's death sent his mother, Janine, 53, into a spiral, she said. She, too, considered suicide before deciding that she wanted to honor her son's memory by raising awareness about the unseen wounds that combat veterans can have, she said. In May 2013, she launched a foundation bearing her son's name, providing a support system for returning veterans and their families here in this town just north of Miami. "After I decided not to kill myself … I told myself, we need to raise awareness," Ms. Lutz said. "We need to tell the families about post-traumatic stress, how to deal with and what to expect — These guys need to know they are not crazy, that what they are feeling is normal for experiencing the theater of war. They are survivors, and they are awesome." On Sunday, the second annual Lance Cpl. Janos V. Lutz Live to Tell Awareness Motorcycle Ride traveled 26 miles, starting at Western High School, where Lutz was a student before joining the Marine Corps, and finishing in nearby Pembroke Pines, Fla. Its purpose is to encourage veterans to grow from their most difficult days and provide information about post-traumatic stress to their families.
VA secretary tells student veterans, "Come join us" (The Washington Post)
Veterans Affairs Secretary Robert McDonald on Friday encouraged student veterans to join his agency as it tries to improve customer service and recover from the biggest scandal in its history. "If you want to be a part of the VA when you get out of school, come talk to us," he told a packed house of 1,200 attendees at the three-day Student Veterans of America conference in San Antonio. He then gave out his e-mail. It's all part of a new initiative called "My VA," a massive reorganization of the agency after a scandal last summer that involved widespread falsification of patient wait times. McDonald, who took over the agency after details of the scandal emerged, has vowed to hire 28,000 medical staff to help ease the problems with treatment delays. He said he has visited 17 medical schools across the country. "Come work for us," he told a student in social work, who went up to the microphone during a question and answer session. "Join the VA — help fix us."
Biden tells returning troops: "Go get that education" (The Washington Post)
Vice President Biden told over 1,000 student veterans at their annual conference to "Go get that education," and that their success would determine the nation's. "You are the very spine of this country," he told a cheering crowd. "I'm not trying to be nice to you. You are the most talented people in the country, not only to defend us, but to make us even greater and help us rebuild a prosperous middle class." The last-minute visit by the vice president and his educator wife, Jill Biden, was seen as a sign, officials here said, of how committed the administration is to helping the 2 million former troops who are returning home and trying to adjust to civilian life. Biden also mentioned President Obama's proposal earlier Friday to bring the cost of two years of community college "down to zero" for all Americans. And said that program fit in with his belief that education was the great leveler. Biden told the student veterans that they should pursue their education with their full force.
First African-American female POW cheered at student veterans conference (The Washington Post)
"I've always had a thing for Marines." That's Shoshana Johnson, the first African-American female prisoner of war, speaking to more than 1,200 students, veterans groups and college representatives at the Student Veterans of America (SVA) conference. Johnson was an Army cook and part of the 507th Maintenance Company at Fort Bliss in March 2003 when she and members of her unit were ambushed in Nasiriyah, Iraq, by Iraqi troops and paramilitary forces. Johnson, who was shot in the ankles, and five other soldiers, including Jessica Lynch, were held in captivity for 22 days before being rescued by Marines. On Friday, wearing a black dress and red pumps, the 40-year-old retired soldier told a cheering audience that the day she was rescued by Marines – "who came kicking down the door, just like in the movies" — was one of the happiest of her life. But her story doesn't end there, she told an ebullient audience. She returned home to El Paso, Tex., and used her GI benefits to graduate from culinary school at the community college there. She also wrote the book, "I'm Still Standing: From Captive Soldier to Free Citizen — My Journey Home."
College veterans center grant program to expand (Military Times)
Marywood University's new veterans center opened last semester without any permanent student housing, but veterans moved in anyway. "We always have between seven and 20 veterans in here," said Lauren Williams, the school's director of military and veteran services. "It's a space on campus where they feel welcome. They meet with each other, they rely on each other. It's like a family here." The Scranton, Pa., college built the new center thanks to funds from the Veterans Center Initiative Grant program, a partnership between Student Veterans of America and the Home Depot Foundation. That program launched last year with the goal of helping a handful of colleges improve veteran-specific space on campus, to ease student veterans' transition to university life. This weekend, program officials announced an expansion of the grant program to 50 more campuses this spring, a $400,000 investment by the foundation. Officials began taking questions and proposals for the upcoming grants at this year's annual SVA conference.
Virginia governor announces veterans and military families legislation (WVIR-Richmond)
The Office of Governor Terry McAuliffe announced on Friday a series of bills on the table this General Assembly session that would boost opportunities for service members in the commonwealth. "They're coming back home. They're coming back home to Virginia, and we need to help them get started on their new lives," said Sec. of Veterans and Defense Affairs John Harvey Jr. With a high concentration of veterans in the commonwealth, Harvey says we should support service members when they look for jobs post-service and reward them for their valuable training. "This is really important when you talk about the new Virginia economy. Things are changing very much in the Old Dominion," Harvey said. Gov. McAuliffe wants to expand the Virginia Values Veterans program to reward employers who hire younger veterans and keep them employed for a year. Officials say big firms have been on board with hiring veterans, but getting small businesses to take part would make a difference. The governor is also proposing academic credits be identified and awarded within the Virginia Community College System for people with a military background.
Military tattoos evolve into tributes for veterans (NBC-Philadelphia)
Andrew Einstein did what a lot of leathernecks do immediately after surviving Marine boot camp. He got a tattoo. It would not be the only one. After tours of duty in Iraq and Afghanistan, Einstein got several other symbols of his military service, including one emblazoned on his left rib cage to memorialize the death of two fellow Marines. Army veteran Bruce Coleman got one of his tattoos for the same reason — to remember fallen comrades in Iraq, where he served. Younger veterans' tattoos are different than those worn by their World War II and Korean War counterparts — today, they are often larger, more colorful and artistic, relating more personal, intimate stories of their military service. Craig Bruns, curator of the Independence Seaport Museum in Philadelphia who penned a history of the art, said tattooing has moved beyond the "flash" — a simpler, more standard tattoo with a fixed price that hangs in wall displays in every tattoo shop — into designs that can carry hefty price tags into the thousands of dollars. While tattoos have changed, he said, the main motives for getting them have not. "Young recruits, kids mostly, are whisked away from their mothers, plopped into the midst of a new and unfamiliar culture and are looking for a way to belong, to love and be loved, which are reasons to fight," Bruns said. "Wearing your heart on your sleeve is what tattoos are all about. You don't have many personal items from war, but you do have your skin."
Family receives Vietnam vet's war medals after 34 years (Dallas Morning News)

For 34 years, Joyce Stephens and her family had no idea what had happened to her husband's military medals. When Carter Dwyer Stephens, a Vietnam War veteran, died in a car accident in 1980, an Army officer planned to put the medals in a display case for the family. He spent decades trying to locate them but couldn't because they had moved several times. The year after Carter Stephens' death, Joyce Stephens moved her two kids to Carrollton to be close to family. Last month, the veteran's military medals were returned to his family thanks to Purple Hearts Reunited, a nonprofit that works to return lost or stolen military medals of valor to veterans or their families. The family honored Carter Stephens and the return of the medals in a ceremony Dec. 20 in Irving, Texas. Joyce Stephens said the ceremony was a way to finally recognize her husband's service. "I felt like he never got anything for his service, he never got recognized," she said. "It made me very proud. I'm glad we went through that, more so for my kids."