Veterans GOODNEWS for Jan. 13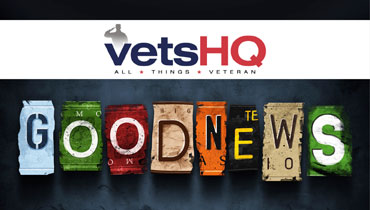 Brain-zapping: Veterans say experimental PTSD treatment has changed their lives (The Washington Post)
The headquarters of Oakley, a maker of recreational and military gear, looks as if it belongs in a war zone. It's a massive bunker with exposed steel pipes, girders and blast walls. Even the dais in the auditorium is armored. But on a recent afternoon, the talk inside the building, set atop an arid, inland hillside in Orange County, is not about fighting wars but about caring for warriors. Doctors, scientists and veterans approach the podium at a conference to present some of the latest tools to help vets recover from wounds both mental and physical: bionics, virtual reality, magnetic waves. A session called "Healing the Warrior Brain" features a trim, bleach-blond former Army staff sergeant named Jonathan Warren, who recounts on video his struggle with post-traumatic stress disorder after combat in Iraq. His flashbacks, panic attacks and booze benders were well chronicled: For a year, the Los Angeles Times tracked Warren's efforts to find peace, including via Department of Veterans Affairs therapy. It didn't work, he says. But now a different Jon Warren is here to say that he is finally free of symptoms, one year after that 2013 story ran. No longer does his worst memory of the Iraq war — failing to rescue his best friend, who nearly burned to death after their Humvee hit a roadside bomb in 2006 — grasp his psyche and inflict guilt. The 32-year-old veteran, who also suffered traumatic brain injury in the blast, credits his recovery to a revolutionary new treatment called magnetic resonance therapy, or MRT — a procedure that pulses energy from magnetic coils into his cortex. He and scores of other combat vets have been drawn by word of mouth to a private clinic here for what some of them call "brain zapping."
Connecting returning veterans with retail careers (National Retail Foundation)
Post-9/11, the most prominent narratives about veterans are a study in extremes. Not all veterans are decorated heroes and not all veterans are victims. More than 200,000 warriors return to civilian life each year, and nine out of 10 are proud of their service and would do it again. At Retail's BIG Show, Lieutenant Colonel Brian Gilman presented the business case for recruiting, hiring and retaining veterans. Today's returning veterans are diverse, creative and innovative, but often discover it challenging to readjust to civilian life and find understanding and opportunities when they leave the military. To serve successfully in the military, new recruits must subordinate their self-interest to the organization and put their own individual needs aside. But finding a job in the private sector requires talking about yourself, and many vets find it difficult to articulate individual contributions. Gilman encouraged attendees to think about the last person their organization fired, and the reason for letting that person go. Chances are it was an issue of soft skills — accountability, integrity, discipline, maturity, performance — and this is where it's easy to see why veterans often experience less turnover than their civilian counterparts once they're hired. Especially when companies develop strong programs for recruiting and retention, veterans bring high levels of productivity and commitment to their work. Gilman offered some suggestions for retailers developing new talent acquisition programs.
Japanese-American World War II veterans to receive French honor (Associated Press)
More than two dozen World War II Japanese-American soldiers will be decorated with France's highest medal this month for their part in liberating France. The Honolulu Star-Advertiser reports France's consul general in San Francisco will bestow the Legion of Honor on the men next week Friday in Honolulu. The veterans are all former members of the 100th Battalion and 442nd Regimental Combat Team. The French government will recognize five veterans at a similar ceremony in Kona on Jan. 21. It will honor 18 veterans on Maui the following day. American servicemen who fought in one of the four main campaigns of the liberation of France between June 6, 1944 and May 8, 1945 are eligible for the Legion of Honor.
More than 1,200 veterans enter contest to win 7-11 franchise (PRNewswire)
Enlistment has been brisk for Operation: Take Command, 7-Eleven, Inc.'s first franchise giveaway contest targeted exclusively to U.S. military veterans. With the Jan. 25 deadline less than two weeks away, more than 1,200 veterans have completed the contest application, exceeding company expectations for the first-time promotion.  The winner will receive a waiver of the franchise fee, valued at up to $190,000, to franchise any of the company's 7-Eleven® convenience stores available in the continental U.S. at the contest's culmination. Interested veterans, who are first-time 7-Eleven franchise applicants, can enter online at www.Franchise.7-Eleven.com/franchise/infographic through Jan. 25. The winner will be announced in April. "Response to Operation: Take Command has been enthusiastic across the country," said Greg Franks, 7-Eleven vice president of Franchise Systems, "but especially so in states that have a large military presence like Texas, California, Florida and Virginia. Not only have we received a high number of applications, but also high-caliber candidates that I think will/would make great franchisees for 7-Eleven. From our veterans, I would expect nothing less." Besides their military experience, many of the veterans who have applied have earned bachelor's and graduate degrees and possess business, retail and management skills.
Veterans use fly fishing program as a stress reliever (The Vermont Standard)
Jim Gunzinger served as an Air Force firefighter in Panama, Alaska and Korea. He left the service in 1992 with significant hearing loss and respiratory problems, and found his way to the White River Junction Veterans Administration hospital for treatment. That's when he discovered that he loved fly fishing. "I saw a flyer for Project Healing Waters at the hospital one day in 2012," he said. "I went to a meeting with Terry Coburn and I've only missed one since." Some Upper Valley volunteers are using the North Country's great outdoors and related activities as therapy through Project Healing Waters Fly Fishing, Inc., helping people like Gunzinger, who missed that PHW meeting because he was on a fishing trip near the Canadian border in Maine. Gunzinger feels the camaraderie among the veterans is one of the most valuable benefits of PHW. "Tying flies and making my own rod is a great stress reliever," said Gunzinger, 53, who was never a fisherman before he went into the service. Now he has set up a bench to tie flies at home when he feels stressed. Gunzinger has also started working at the hospital and is now part of the grounds and transportation department, plowing snow, transporting patients and doing landscaping.
World War II veteran and viral video star dies at 95 in California (CBS News)
Joe Bell was simply cheering on runners in a charity run in March when he became the star of the race. When the uniformed 95-year-old World War II veteran was caught on video encouraging participants during the San Jose 408K, he was the one who ended up getting the applause as a steady stream of runners took detours to thank him for his service. Bell, who became a viral star after that race, died Thursday in San Jose, the San Jose Mercury News reported. Bell's son told the newspaper that his father was rejuvenated by the recognition he got by the viral clip. "He wouldn't have lasted nearly as long if it wasn't for the love of the people who saw that video," Matt Bell told the newspaper. "When someone said, 'Hey, that's Joe Bell!' he'd stick his chest out. They'd say, 'That meal's on me.'" Bell's presence at the race was fitting since the charity event's partner, the Pat Tillman Foundation, funds scholarships for military veterans and their spouses. J.T. Service, who founded the race, said that the video was viewed more than 3 million times because it touched a nerve with people nationwide.
Veteran uses military skills in the limo business (South Florida Sun-Sentinel)
Zachary Morgan started Elevation Limousines after attending a workshop last year by Edge4Vets, a Fordham University program that helps veterans transfer their military skills to civilian jobs. When stationed in Iraq, Army Sgt. Zachary Morgan found himself driving around the top brass. So when he was looking for a civilian role last year, limousine business owner seemed to fit. Morgan, 25, is now the proud owner of Elevation Limousines in Coral Springs. He has operated the business since June 2014, starting it soon after attending a workshop last year by Edge4Vets, a Fordham University program that helps veterans transfer their military skills to civilian jobs. The program has benefited many in South Florida. Army veteran Delanor Nurse, 47, attended Edge4Vets in South Florida in the fall and in December got a job offer from Bank of America in Coconut Creek. Natasha Hedrington, 34, is a case manager in Supportive Services for Veterans by the Broward Regional Health Planning Council in Hollywood, Fla. But, sometimes, a business is born. After Morgan got out of the Army in 2011, he entered Broward College to study supply-chain management. He's still pursuing his degree. But when he's not in the classroom, Morgan is in his eight-passenger black Lincoln limousine taking passengers to an airport or event. When asked to write a vision statement for his future in the Edge4Vets workshop, Morgan found himself describing Army vehicles he had driven in Iraq: Humvees, forklifts, 48-passenger buses and 5-ton vehicles that carried officials. He realized: "I've carried a lot of higher-ups in the military. I can drive a personal vehicle and carry anyone," he said.
From tragedy of Haiti quake, thousands of veterans find purpose with Team Rubicon (Digital Journal)
When Haiti was brought to its knees by an earthquake five years ago, former Marines Jake Wood and William McNulty ignored naysayers and quickly assembled a small team of fellow veterans and first responders to help–arriving in Port-au-Prince within five days. They called themselves Team Rubicon and would provide medical care to thousands of Haitians over the next 20 days. Little did they know, they would also change the lives of thousands of Americans at home. "When I left the Marines, even while pursuing an MBA, I was deathly afraid of a life void of purpose," said Wood, Team Rubicon CEO. "Witnessing the Haiti earthquake's aftermath ignited within me not just compassion but a compulsion to act." The team quickly learned that by adapting the skills they had learned in the military for disaster response, they found a renewed sense of purpose. Now, more than 80 disasters later, Team Rubicon has 22,000 members and has greatly influenced the way emergency officials view the role of nonprofits. For example, following Superstorm Sandy, Team Rubicon demonstrated its ability to coordinate and lead 10,000 spontaneous volunteers in the Rockaways and Jersey shore–saving residents and communities $3.8 million in cleanup costs. Since then, several communities have officially requested Team Rubicon's services, including Faulkner County, Ark., after a deadly EF-4 tornado leveled homes in Mayflower and Vilonia, last spring. Also — for the first time ever — a municipality signed over emergency management of a response to a nonprofit when Pateros, Wash., enlisted the aid of Team Rubicon's Incident Management Assistance Team during the Carlton Complex Fire, the worst wildfire in Washington State's history, last July. Beyond debris removal, volunteer management and in-kind donations, Team Rubicon was responsible for the safety of volunteers; tracking supplies and commodities; cost accountability; and public information.
Orlando VA could treat veterans by spring (Health News Florida)
The long-awaited Orlando VA hospital in Lake Nona is 95 percent complete. That's according to builder Brasfield & Gorrie, which says parts of the $665 million facility have been turned over the VA. Orlando VA spokesman Michael Strickler said veterans could start being seen as soon as spring, with summer the target for the hospital to be fully operational. "We're almost there, leaning heavily forward, to try and get veterans in the door," Strickler said. Building a massive hospital is, in some ways, like building a house. When the builder says it's done, it's time to check everything works- including the electrical outlets, windows, heating and AC. The Orlando VA Medical Center is about to start doing just that, a process that will take four to six months. The VA is also looking to hire staff for the hospital. "At this point, we're recruiting for nearly 600 positions," Strickler said. "And the possibility that that could go up in the future.  Everything depends on the veteran population here in Central Florida."