Veterans GOODNEWS for Jan. 15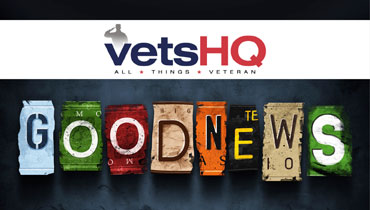 Veterans help warbird rise again (Tyler Morning Telegraph)
A vintage warbird reclaimed its place in the sky after a group of veterans banded together to repair and restore the aging craft as a permanent tribute to the fallen. The 10,200-pound "Blue Ghost" AH-1 Cobra Helicopter was carefully repositioned on its pedestal at the Veterans Memorial Park in Hawkins, Texas, after it was removed several weeks ago for repairs. Suspended above a large gazing pond, the armed attack helicopter is a beloved anchor highlight of the park, which features a memorial wall and commemorative plaques highlighting the various wars. "It looks good," said project volunteer Sven Sterner, 73, of Holly Lake Ranch, watching as a large crane hoisted the craft back onto its place of honor. "It looks real good." The Blue Ghost saw combat in Vietnam from 1970 to 1973 before moving on to peacetime assignments in Alaska, Germany and United States, then retiring from active duty in 2002, records show. Sterner, a retired U.S. Army lieutenant colonel, and wife, Jeanette, a retired colonel, are credited with securing transfer of the unit from Fort Drum, N.Y. to Texas.
Chief judge's veterans court credited with saving man's life (Oakland Press)
Two military veterans became the first-ever graduates from Oakland County Chief Circuit Judge Nanci Grant's veterans court on Wednesday, and at least one of those men credits the program with saving his life. Specialist Patino and Sgt. Willis (Grant asked that their first names and hometowns not be used) were released from probation Wednesday during a celebratory court hearing. "Not very many people understand how (veterans) hurt inside," Willis said. "To get in front of a judge and have her say 'Thank you for serving our country and welcome home,' ― what a positive way to start a new journey. To leave the courtroom feeling good about yourself is almost unheard of." Grant said she started the program after probation officer Marseille Allen approached her with concerns that veterans were struggling with probation issues. "We had to do something," Grant said. "What (veterans) need to have is special attention paid to their needs. You can't ask someone to go to a foreign country, work 24 hours a day seven days a week, listen to noises (civilians) would thing were nothing (but could be) the click of a gun or a bomb … and come back here and not be hypersensitive."
D.C.'s Dog Tags Bakery helps disabled veterans learn how to run a business (The Washington Post)
The small building at 3206 Grace St. NW, just south of Georgetown's central intersection, has been home to several bakeries, including the renowned Patisserie Didier. Now croissants and baguettes are again available at the address, but they are no longer served with a French accent. The storefront has become the home of Dog Tag Bakery, whose goal is to educate disabled military veterans to be business managers and entrepreneurs — and to serve top-rank pastries. The program's participants "really get a sense of how a business operates, from the very top to the very bottom," said general manager Justin Ford. "It's a true work-study program." The bakery is organized as a business, not a charity. But it's aligned with the nonprofit group Dog Tag, which coordinates a six-month fellowship program with Georgetown University. The first program, which had 10 students, ended in December. The next one is tentatively scheduled to begin in April. Veterans, as well as spouses and caregivers, are eligible. "Everyone who's in our program does receive a monthly stipend to be involved, so it's not a financial burden," said Meghan Ogilvie, Dog Tag's chief operating officer.
Veterans group reaches out to handicapped students (Orlando Sentinel)
A nonprofit dedicated mostly to veterans has turned its attention to helping developmentally-delayed students at Lake Hills School near Orlando, Fla., who can't get around on their own. Project SOS, "Support our Soldiers," since 2011 has donated 16 motorized wheelchairs, multiple wheelchair lifts, iPads with specially installed communications software and money for Christmas gifts for the school's 200 students. "Most people cannot afford these devices, so anything we think the school can use, we give it to them right away," said Gary Kadow, executive director of Project SOS, which has given more than 200 wheelchairs to severely disabled veterans in the area and provides clean water, food, clothing, shelter and medical care to the region's homeless vets. Veterans are the organization's top priority, but the group tries to help others when possible. "We take in a lot of different types of power chairs, but some are not useful for vets because they are built for children with special needs, and those get refurbished if necessary and then donated to students at Lake Hills," Kadow said. After the organization recently donated another four motorized wheelchairs and lifts to students at the school for severely disabled students, Principal Robin Meyers said words can't describe the magnitude of difference she sees in a child who has just acquired a power chair and the ability to communicate via technology.
Arizona State student uses clothing start-up to support veterans, women (ASU News)
Last summer, while working with the cadets of Arizona State University's Army ROTC program, Michelle Bravo made a decision to give back to veterans and women throughout the country. She put her idea into action through i Rock the Boots, a startup clothing company supported by ASU's Edson Student Entrepreneur Initiative. The company's t-shirts promote the "strength and femininity" of women in the military, as well as other careers that involve service to the community, such as law enforcement, firefighting and even farming. Portions of the company's profits are donated to causes that support homeless women veterans around the country. "I'm a t-shirt kind of gal," says Bravo, a major in the Army who serves as the executive officer for ASU's Army ROTC program. "Occasionally I would find a cute shirt that I felt really embraced who I was, but there's a lot of shirts out there that are geared toward men in the military or spouses of men in the military. What we want to do is embrace women in the military." i Rock the Boots is one of 20 ventures selected for the ASU Edson Student Entrepreneur Initiative's 2014-2015 cohort. Managed by the ASU Office of Entrepreneurship and Innovation, the Edson program works with ASU student entrepreneurs to launch viable startups with up to $20,000 in seed funding, office space at ASU SkySong, mentorship and exclusive training opportunities.
U.S. Navy Memorial hosts D.C. premiere of 'American Sniper' (Stars & Stripes)
The U.S. Navy Memorial in Washington rolled out the red carpet Tuesday night, welcoming stars and politicians for the D.C. premiere of "American Sniper." Bradley Cooper, who plays Navy SEAL sniper Chris Kyle, attended with Kyle's wife, Taya Kyle. Directed by Clint Eastwood, "American Sniper" is a Hollywood biopic of Kyle, said to be the most lethal sniper in U.S. history, with 160 confirmed kills out of a possible 255. Kyle retired in 2009 and his book, on which the movie is based, was published in 2012. He and a friend were killed at a shooting range in 2013. "It is extraordinarily accurate," Taya Kyle said. "They put a lot of energy into making it as authentic as possible, and I think they nailed it. There is one thing about Chris's brother, Jeff Kyle, that isn't 100 percent accurate. Jeff is a little bit tougher than is portrayed." Chris Kyle served four tours downrange, earning several medals including two Silver Stars. Cooper became semi-proficient in the use of the three sniper rifles Kyle used during his career, such as the .338 Lapua Magnum, the .300 Winchester Magnum, and the Mark 11 in order to better portray the US SEAL. "I had great, great teachers," he said. Cooper has been part of the USO for several years and has visited Iraq and Afghanistan.
Vietnam veteran still sees his old unit every year (The Greeneville, Tenn., Sun)
A painting hangs on a wall in Willie Fred Maltsberger Jr.'s home. It features a hauling truck, a fire and an armed man. The Army Reserve historical painting bears the signatures of dozens of men from the 319th Transportation Company, a widely known unit with a heritage going back to the early 1920s. "We try to get together every year, and tell a few lies," Maltsberger said, laughing. All but one of the soldiers from Maltsberger's unit returned home from the Vietnam War, a conflict that claimed tens of thousands of American lives. The men — the same ones whose signatures adorn the painting — make it a point to see one another at least once a year. Maltsberger was honored for his service in Vietnam in October 2014 with a Quilt of Valor. The quilts are now known as "Quilts of Honor, Respect and Valor."