Veterans GOODNEWS for Jan. 16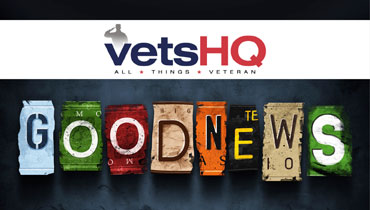 Louisiana inmates train service dogs to help veterans (KTBC-Austin)
Some veterans in Louisiana are getting some much-needed assistance thanks to a program meant to teach skills to nearby jail inmates. The St. Tammany Parish Sheriff's Office is expanding a program that not only helps inmates and veterans, it has also saved the lives of some dogs that were set to be euthanized. "I live alone, and I suffer from depression," said former Army Sgt. Robert Wright, who, like thousands of others, has bouts of melancholy. The demons spring up, even though it's been four decades since Wright served in the Army. But now, he's got a new weapon in his personal fight. Meet Penny, a rescue dog brought in to rescue a couple of human beings. "She will guide me up and down the steps – I can't walk very far," Wright said. "She will walk a little, stop, and help me rest." Penny is the latest pupil in the St Tammany Sheriff's "Big House to Your House" program. "This is the gold standard. This is what all the other parishes have got to come up to," said program director William Barse. Dogs like a lab named Dozer, are trained by inmates, as either companion dogs or service dogs for veterans. But it's not just veterans who benefit. "[To] work with veterans and train people and be a part of something that would help somebody's life — that's just a fulfilling job," said inmate trainer and former Air Force veteran Michael Bland.
Bill would create training dog therapy program for veterans (The Hill)
Rep. Steve Stivers (R-Ohio) has introduced legislation that would establish a dog training program for veterans with post-traumatic stress. Stivers said the program would help veterans who are dealing with psychological disorders from experiences in combat. As a nation, we share a moral obligation to care for our veterans when they return home and to provide them with meaningful therapies to help them deal with any service-related issues they may have — whether physical or mental," Stivers said in a statement. "I have personally met veterans whose lives have been dramatically improved through working with a service dog," Stivers added. The legislation would establish a pilot program at up to five medical facilities run by the Department of Veterans Affairs, which would coordinate with local therapy dog training organizations. The therapy dogs would ultimately be partnered with veterans who have physical disabilities upon completion of training.
Idaho mechanic helping wounded veterans by fixing up wheelchairs (CNN)
A mechanic in Idaho is turning down paid jobs so he can help wounded veterans. Instead of fixing cars, he's using his skills to recondition motorized wheelchairs for wounded warriors. Brett Waters/Mechanic: "Yep. No cost whatsoever." Brett Waters could be doing car restorations. But instead he's working on a smaller set of wheels. Brett says, "Take us a week, just on and off to work on one and get it ready." From mechanics, upholstery and paint, Waters does it all to thank those who gave their all for his freedom. Brett says, "Just a really good feeling, it really makes you happy and you see their faces." Bob Reinisch/Vietnam Veterans Association: "Well, it was an answered prayer." Bob Reinisch is the president of a local Vietnam veterans association chapter. Bob says, "They get the service, but we get the blessing." The chapter relies mostly on donations – but those aren't always available. Bob says, "We'll defray any costs that are incurred." He has the pleasure of getting the chairs to those in need of one.
Injured U.S., Israeli Army veterans meet in Tel Aviv (The Jerusalem Post)
A U.S. soldier who sustained severe wounds in Afghanistan met with Israeli counterparts at the Beit Halochem Sport Center for Disabled Veterans in north Tel Aviv on Thursday. Staff Sgt. Brian Mast was a member of the US Army's elite Joint Special Operations Command, serving as an explosive ordnance disposal operator in 2010, when he lost his legs to a bomb blast. He has since undergone some 20 operations, and made dramatic progress in his rehabilitation process. Mast told Israeli soldiers that he was excited to meet them and see how they were dealing with their injuries with bravery. He praised the Beit Halochem ("Warrior's House") center, a part of the Zahal Disabled Veterans Organization, for the many tools it provides to IDF veterans. "We are brothers with the same fate," Mast said. "We have all proven that nothing can stop us in achieving any dream." Mast, a father of two, met Col. Shlomi Dahan, the former commander of the Southern Brigade of the Gaza Division, who was seriously wounded in 2008. Mast gave Dahan a symbol of his unit, and the two men spoke with additional injured Israeli veterans, including some who were wounded in Operation Protective Edge last summer, including Capt. Omri Levi. The American visitor then took part in a wheelchair basketball game. Zahal Disabled Veterans Organization – Beit Halochem serves some 50,000 IDF veterans injured during their military service in a variety of circumstances. A delegation of U.S. veterans suffering from severe PTSD will visit the Beit Halochem in Tel Aviv in March.
Veteran helps fellow soldiers tap into their artistic sides (NationSwell)
It's an understatement to say that Army veteran BR McDonald is multi-talented. McDonald always dreamed of becoming a musician or an actor, but after the terror attacks on September 11, he decided to enlist in the military. Growing up, McDonald's parents were missionaries in Taiwan, so he was fluent in Mandarin Chinese. Perhaps because of this, the Army assigned McDonald (who graduated from the University of North Carolina in 2001 with degrees in vocal performance and religious studies) the task of learning Arabic. Graduating from the Defense Language Institute in Monterey, Calif., at the top of his class, McDonald served as a linguist with the Joint Special Operations Command. McDonald tells the Christian Science Monitor, "There are a lot of people in the intelligence community with a creative background. It's the same side of the brain. Music is just another language. So when I heard something I could repeat it." In 2008, he felt a call to reengage with the art world and was determined to bring fellow vets along with him. So the following year, he founded the Veteran Artist Program (VAP). Its goal? To support veterans who wanted to start careers in the arts. VAP sponsors events such as art shows, theater productions and writing workshops across the country. It also teaches veterans how to make a living as artists by connecting them to mentors, opportunities and grants.
First a statute memorial, then a $250,000 endowment for veterans' funerals (The Baxter Bulletin)
High on a pedestal in Kirby's Tucker Memorial Cemetery stands a solider of the World War II era balancing a helmet on top of a rifle. The eyes of the solider are blank to represent "every man," every person who has led a life in the military. The statue came as a gift in 2008 from Gretchen Pedersen, a longtime Mountain Home, Ark., resident, to the cemetery and for Twin Lakes Area veterans. Her husband, Alfred, was a WWII veteran who died in 1987. She admired a similar statue located on the downtown Mountain Home plaza and commissioned it from local sculptor Ron Moore. Pedersen passed away in 2013 at the age of 97, but her gift to veterans did not stop with the statue — not even close. The Twin Lakes Community Foundation, along with Kirby and Family Funeral and Cremation Services, recently announced the establishment of a $250,000 endowment to aid with the cost of funeral services for area veterans. Pedersen left a total of $150,000 herself for the cause.
Time to sign up for the National Veterans Wheelchair Games (The Examiner)
Every year hundreds of disabled Veterans gather to partake in the largest annual wheelchair sports event in the world. This year the games will take place in Dallas, Texas, from June 21-26. During the week, Veterans compete in 18 wheelchair sports events, the competition is high in each of the events that include air guns, archery, basketball, bowling, field events, hand cycling, a motorized wheelchair rally, nine-ball, power soccer, quad rugby, slalom, softball, swimming, table tennis, track, trapshooting and weightlifting. Athletes will compete against others with similar athletic ability, competitive experience or age. The Department of Veterans Affairs (VA) is accepting applications from January to April 15, 2015. The 35th National Veterans Wheelchair Games is being hosted by the Texas VA Health Care System and the Lone Star Chapter of the Paralyzed Veterans of America. It is cosponsored by VA and Paralyzed Veterans of America, VA's partner in this annual event since 1985. The Games are open to U.S. military service veterans who use wheelchairs for sports competition due to spinal cord injuries, certain neurological conditions, amputations or other mobility impairments. Though the Games have been known to have generated a number of national and world-class champions, it also offers a opportunity for newly injured veterans to gain sports skills, improve quality of life though better health and be exposed to other athletes who use wheelchairs.