Veterans GOODNEWS for Jan. 2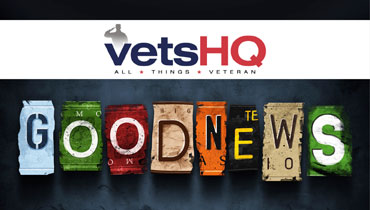 Illinois governor signs law to aid veterans with disabilities (NBC-Chicago)
Illinois veterans with disabilities will be eligible for more property tax exemptions under a law signed by Gov. Pat Quinn. Quinn signed the measure Tuesday. It takes effect immediately. The new law allows veterans with disabilities and their spouses expanded property tax exemptions. Disabled veterans will also see an increased homestead exemption to $100,000 from $70,000. In a statement, Quinn says the law will help ensure that veterans aren't "burdened by overwhelming property taxes."
Kansas' first veterans court program in the works (Kansas City Star)
Fifteen military veterans who broke the law in civilian life applauded and fist-bumped one another last month as they stepped one by one to the bench of a Kansas City municipal judge. They're in various stages of completing veterans treatment court. With more than 250 such programs springing up in 40 states around the nation since 2008, it's an alternative to jail for some offenders whose drug habits, injuries or stress related to military service may have contributed to their scrapes with police. About 80 veterans on the Missouri side of the metro are currently enrolled in months long treatment instead of sitting behind bars or having convictions on their records. Many are thankful they didn't screw up west of the state line. In Kansas — home to three large military posts and about 220,000 veterans — no veterans treatment courts exist. Plans are underway to launch one in Johnson County, however, and a committee ordered by the Kansas Supreme Court formed recently to propose standards and to study costs.
Women veterans in Minnesota can purchase license plates honoring service (Minneapolis Star Tribune)
Women veterans can now purchase license plates in Minnesota honoring their service. The newly designed Women Veterans' License Plate bears the inscription "Woman Veteran." They are the first veterans plates in Minnesota that specifically refer to women who have served in the military. Any woman wanting a plate should bring her discharge papers to the DMV and request a Women Veterans plate. Motorcycle and disabled plates also are available.
Kentucky proclaims 2015 the Year of the Woman Veteran (SurfKY.com)
The Kentucky Department of Veterans Affairs will spotlight Kentucky's 33,000 women veterans throughout 2015, which Governor Steve Beshear has proclaimed the Year of the Woman Veteran in Kentucky. "Our Kentucky women veterans have served honorably and commendably in virtually every aspect of the U.S. military," Gov. Beshear said. "They have earned their full benefits and services, as well as our thanks and appreciation." "Kentucky Women Veterans Unite! is the motto for the Year of the Woman Veteran because as women and as veterans they know they are stronger united," said KDVA Commissioner Heather French Henry. "Throughout the year, we will be reaching out to women veterans and to everyone in our communities to make the connections that support and celebrate our women veterans in Kentucky." In addition to sponsoring a statewide conference on women veterans in April, KDVA will hold events and present messages tied to the specific concerns of women veterans in all aspects of their lives, including physical and mental health, education, employment and housing.
Retired Army veteran surprised with new home at the end of the Rose Parade (Pasadena Star-News)
Thursday's Rose Parade centered on lives reflecting the theme of "Inspiring Stories." Leading the way was posthumous Grand Marshal Louis Zamperini whose amazing life is chronicled in the recently released Angelina Jolie film "Unbroken." Other American heroes with inspiring stories in the parade, ranged from wounded veterans and organ donors to Special Olympians and plucky high school musicians. But only one hero received the keys to a new home. That was retired Army Sgt. Dominic Perrotte III. He thought he was only riding in the 126th Rose Parade as a representative of American service men and women around the world. But Perrotte and his family got much more, when Wells Fargo & Company and the Military Warriors Support Foundation gave him a mortgage-free home in Virginia. The family learned of the gift in a ceremony at the end of the Rose Parade. Tim Sloan, senior executive vice president of Wells Fargo, presented the teary-eyed family with a large red ceremonial house key. "In honor of your service, Wells Fargo and the Military Warriors Support Foundation would like to present you with the 200th home that Wells Fargo has provided to veterans since 2013," Sloan said as Kayla grabbed her husband's arm and began to cry. "Sgt. Perrotte, Kayla, here's the key to your new home in Hampton, Virginia, thank you for your service."
Florida WWII veteran, 91, the face of local VA volunteering (Daytona Beach News-Journal)
Orville Swett heads into the small office he shares with two other men and goes to work at a corner desk repairing a pair of eyeglass frames. Like most weekday mornings this time of year, he shows up around dawn as a volunteer at the Veterans Affairs clinic in Daytona Beach. It's something he's done almost 30 years, helping others the best way he knows how. Nearing age 92, the retired optician and disabled World War II infantryman gives back to fellow veterans with his hands and his heart. That might mean replacing a broken eyeglass nose pad or temple stem, or simply making a minor adjustment with his shaving bag full of tools — all at no cost. "I do it because there was a need. The VA had no optician when I started and I had experience. The ophthalmologist hired me immediately," said Swett, who owned an eyeglass shop in Maine before moving to Port Orange in 1985. "I was the first volunteer in the system." Since then, he has logged more than 38,000 volunteer hours at the clinic. "I'm here for the veterans," Swett said. "I work for the veterans, not the VA."
Ohio World War II veteran will receive French Legion of Honor medal (Cleveland.com)
More than 70 years after Clyde Shull of Upper Sandusky stormed Utah Beach on D-Day as a Ninth Infantry Division artillery gunner, the government of France will repay his heroism by awarding him its highest medal — the Legion of Honor. On Monday, a French colonel who serves as a U.S. Army liaison will present the decoration to the 96-year-old great-grandfather in a ceremony at the Wyandot County Courthouse. The honor is part of a French program to express the nation's gratitude to U.S. soldiers who liberated it from invaders in World Wars I and II. "Through him, the French government wants to address the message to an entire generation of World War II veterans and the United States of America that France will never forget what they did in 1944," said a statement from the French military officer who will present Shull's medal, Col. Nicolas Auboin. Shull is among roughly 2,000 U.S. veterans to whom the French government has recently bestowed the medal that Napoleon Bonaparte established in 1802.
World War II veterans gather to watch movie 'Unbroken' (KTVI-St. Louis)
It's billed as a film about a champion who became a survivor, and a survivor who would not be broken.  Tuesday night in the suburbs of St. Louis, a group of World War II and Korean War veterans watched the movie "Unbroken." The film shows the torture of an Olympian turned WWII soldier who endured.  He was beaten repeatedly and refused to send an anti-American message his captors wanted him to send. "I've still got tears in my eyes," said WWII veteran Harold Stotchkaamp as he left the theater. "I know what they went through," said Korean War veteran Donald Flatt.  He did not elaborate.  His son said his father has never talked much about the experiences of war.  Michael Flatt said, "It's understandable given the things he saw." The audience was made up of veterans who participated in recent honor flights.  The flights take veterans to Washington D.C. for the day.