Veterans GOODNEWS for Jan. 20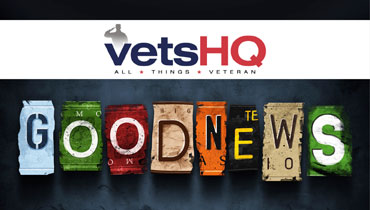 'American Sniper' gets a hero's welcome at the box office (Wall Street Journal)
Steve Smith, an Army veteran and schoolteacher, walked out of a movie theater in Plano, Texas, on Saturday with tears in his eyes. After years of movie studios getting the military experience wrong with films like "The Hurt Locker," the 33-year-old said, "American Sniper" had nailed it. Based on the memoir of Chris Kyle, reputed to be the deadliest sniper in the American military during the Iraq war, "American Sniper" opened to a phenomenal $105.3 million in the U.S. and Canada over the four-day holiday weekend, according to an estimate from distributor Warner Bros., owned by Time Warner Inc. Its success was driven in large part by moviegoers like Mr. Smith who live in smaller cities and don't regularly go to the multiplex. "Chris Kyle was a fellow veteran, a fellow Texan. He's very much a true legend," Mr. Smith said while holding hands with his wife, Crystal. "So it was basically a foregone conclusion I'd be here as soon as it opened."
Camp named after retired Air Force pilot (Albuquerque Journal)
On a spring day in 1974, Alvin Drew was sitting in his sixth-grade class at St. Anthony's Catholic School in Washington, D.C., when – just minutes before recess – he was handed a questionnaire that asked "What do you want to do when you grow up?" "Without a moment's reflection, I scrawled onto it, 'To look up from my workplace and see the curvature of the Earth from space,'" Drew said Monday at the University of New Mexico's Centennial Engineering Center. Thirty-three years later, Drew was doing exactly that as a mission specialist aboard the Space Shuttle Endeavour – the first of his two shuttle missions. The retired Air Force colonel was in Albuquerque for a ceremony in which he formally lent his name to the annual "space camps" sponsored by the Albuquerque-based Gen. Lloyd W. "Fig" Newton chapter of the Tuskegee Airmen Inc. The Tuskegee Airmen were made up of the about 900 black fighter and bomber pilots who trained at the segregated Tuskegee Army Air Field in Alabama from 1942 through 1946. More than 400 Tuskegee Airmen served overseas, flying patrol and strafing missions, and serving as bomber escorts from bases in North Africa and Italy. The airmen not only proved they were capable of flying state-of-the-art fighters, but also collectively ushered in an era of desegregation of the U.S. military. In March 2007, Congress awarded the Tuskegee Airmen a Congressional Gold Medal. "The Tuskegee Airmen were heroes to me when I was growing up and were every bit as important as astronauts or the combat rescue guys in Vietnam. Folks in those three communities were giants in my eyes," Drew, 52, said after Monday's ceremony.
WWII 'Devil's Brigade' to receive medal (Military Times)
A World War II Special Forces unit will be presented with the Congressional Gold Medal in Washington, D.C., next month. House Speaker John Boehner announced that the U.S.-Canadian 1st Special Service Force, known as the "Devil's Brigade," will be honored Feb. 3 in a ceremony in the U.S. Capitol's Emancipation Hall, according to the Waterloo-Cedar Falls Courier. The force, which operated mainly in Italy and southern France, was a unit similar to the Green Berets — the unit fought in the January 1944 amphibious landing at Anzio, through the siege of Monte Cassino, to the capture or Rome and the invasion of southern France, the Courier said. Assembled in 1942 near Helena, Montana, the 1,800-man unit accounted for 12,000 German casualties and captured 7,000 prisoners, according to the force's association website. More soldiers rotated through the unit because of the high attrition rate; members fought with such stealth and power that the Nazi's dubbed them the "schwarzer Teufel," or "Black Devils." Ninety-year-old John Tedore, a veteran of the brigade, told the Courier that only 75 members are still living — 46 Americans, 29 Canadians and one Australian.
Veterans rally to attend Vietnam veteran's funeral (KSTP-St. Paul)
One Minnesota community came together to honor a Vietnam Veteran who could have easily been forgotten. Seventy-three-year-old Richard Rhodes was buried in a Winona cemetery on Monday. He died about a week before Christmas, no family or friends could be found. He left no will. A funeral home took charge of the body and discovered he served in the U.S Army in the 1960s. The funeral home contacted area VFWs hoping people would attend the funeral, more than 100 people showed up. Rhodes was given full military honors in the short service. "It just goes to show how important things like this are. People don't want to be forgotten and I think based on the people here today I don't think he will be forgotten," Brittney Hoff with Hoff Funeral Home said. Saint Mary's Cemetery donated the burial plot.
Disabled veterans could get behind the wheel at Rockingham Speedway (Richmond County Daily Journal)
The storied Rockingham Speedway could host racing once again — with disabled veterans as the drivers. The track would be part of a community designed to help veterans returning from war reintegrate into society. The organization Vets-Help plans to create a complex that will "contain a community medical and wellness center, assisted and independent living facilities, transitional housing and programs…and economic development center" on the 244-acre speedway property. Vets-Help is nonprofit organization incorporated in New York with programs in North Carolina, Montana, Florida, California and New York. According to the Team Patriot program overview, the organization will also be able to "launch and be the sanctioning group for disabled racing at our own track." The program will also feature PTSD counseling for veterans and their families, affordable housing and a "moral injury" healing center.