Veterans GOODNEWS for Jan. 21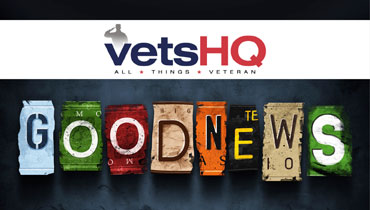 Veterans want Navy Cross for chaplain (Military Times)
Over two dozen veterans can recount how chaplain Lt. Thomas Conway kept their hope alive as sharks swarmed the remains of the USS Indianapolis on July 30, 1945. But a letter written in 1948 stating Conway went down with the sinking ship could be the reason behind the denial of a Navy Cross — a decision one Connecticut veterans organization wants to reverse. "A journey of a thousand miles starts with one step, so we started," said committee secretary Robert Dorr. The Navy denied last month the request from the Waterbury Veterans Memorial Committee to award Conway the Navy Cross, the second highest military decoration for valor for extraordinary heroism in combat. Conway was posthumously awarded the Purple Heart. A bench erected by the committee in a city park commemorates two fallen chaplains from Waterbury — Conway, and Lt. Neil Doyle, who died on New Georgia Island in 1943 and, for his service, received the Distinguished Service Cross. Father John Bevins, a retired Naval chaplain at the Basilica of the Immaculate Conception — the same parish where Conway was baptized — approached the 15-member committee in 2013 to have the same honor administered for his fallen parishioner. Because the request was beyond the three-year limit in which a nomination may be submitted through appropriate channels, the committee went through Connecticut Sens. Chris Murphy and Richard Blumenthal to pass along the nomination to Navy Secretary Ray Mabus.
Former Navy SEAL launches startup to cure PTSD (Boston Business Journal)
Former Navy SEAL-turned entrepreneur Jeff Sabados has raised nearly $1 million in funding to embark on his next venture: Cambridge-based Resilience Therapeutics, a drug discovery company with the aim of developing a cure for post-traumatic stress disorder. Last week, Sabados closed a $975,000 funding round out of a planned $3 million fundraiser with investors including New York-based PsychoGenics, a pre-clinical central nervous system research lab; and an individual angel investment from Jason Fuller, principal at the venture firm New Enterprise Associates. "We're really going after the cure, not just symptom relief," said Sabados, who spent almost a decade in the U.S. Navy before becoming an entrepreneur. With Resilience Therapeutics, Sabados and his team hope to identify new drugs that could provide a neurological cure for PTSD by targeting its biological foundations. In addition to partnering with PsychoGenics, the company is also partnering with universities and research institutions to exclusively license intellectual property; those include: Emory University, The Scripps Research Institute, Tulane University and the University of Vermont.
Troubled veterans feel at peace working with rescue dogs (Chicago Tribune)
James Elmore was putting Vienna, a pit bull mix, through her paces. On command, she sat, went to the down position, crawled, reached to shake hands. And if that didn't impress, there was one of those "easy" buttons sitting nearby. Vienna smacked it with a paw, triggering a disembodied "That was easy." Elmore and Vienna, along with four other veterans and 14 other dogs, are part of the pilot program for Veterans Advancing Lives Of Rescues (VALOR), a combined effort by Safe Humane Chicago, the mental health agency Thresholds and Chicago's Commission on Animal Care and Control. Safe Humane Chicago, a nonprofit that seeks to create safer communities through education and stronger human-animal relationships, provided animals from its court case dogs program — abused or neglected dogs that were confiscated or saved by law enforcement personnel. Thresholds, which provides health services, guidance, education and support for people struggling with various degrees of mental illness, recruited former service members and provided caseworkers. The training sessions were held at the animal control facility where the dogs were housed. During the eight-week pilot program the dogs and veterans worked two, two-hour sessions each week. From all accounts, it helped the dogs. "I look at it like they've been falsely accused of something," says Elmore, a former Marine. "Like if they were taught to fight, but we bring them back, to where they can be adopted. I get a thrill out of that."
A South Philly Marine's final mission (Philadelphia Daily News)
Up in the high desert of northeastern Utah near the Colorado border, a teen with a jawline as rugged as the surrounding mountain ranges decided early in life that he was a Marine. Staff Sgt. Daniel D. Gurr enlisted before his senior year at Uintah High School, where he was an all-state soccer player, a defender known to sacrifice his body on the field. Days after graduating in 2008, he left his hometown of Vernal for boot camp. Three years later, when Gurr came home from Afghanistan in 2011, thousands of people lined the highways and small streets. Nearly all held a flag in one hand and held the other hand over their heart. Little boys saluted, imitating the police officers and older veterans, when the hearse passed by. "He was definitely a real hometown hero," said fellow Marine Kevin Daly, 23, of South Philadelphia. "They shut down the main road when he came home." Daly never met Gurr, but said he knows him in the way all Marines know one another. He's also never been to Utah, but he's trying to get out there, raising money to complete a final mission to personally deliver a memorial flag he found in Afghanistan that was dedicated to Gurr. "If it had been me, he would have done the same thing," Daly said the other day at an Italian restaurant on Broad Street. In Afghanistan, Gurr was a respected leader in a small, elite Marine unit, the 3rd Reconnaissance Battalion, 2nd Marine Division, or "Force Recon." That unit operated in the Sangin Valley in the Helmand Province, an area once called the most dangerous place in the world, where the threats of gunfire and the Taliban were as sure as the sunrise.
Proposal would expand Medicaid to veterans in Missouri (St. Louis Public Radio)
A Republican member of the Missouri Senate is proposing expanding Medicaid to military veterans who are currently ineligible. Last year, state Sen. Ryan Silvey, R-Kansas City, put together an alternative Medicaid proposal that would have combined expansion with various reforms, but it went nowhere. Silvey said his new bill, which he expects to file Wednesday, would make veterans earning between 19 percent and 138 percent of the federal poverty level eligible for Medicaid. "If we can't solve the whole problem, let's solve a piece of it," Silvey told reporters Tuesday.  "I did not want to leave (veterans) high and dry when those (Medicaid) bills probably get filibustered and probably die on the floor of the Senate…. I wanted to offer an opportunity for this body to address specifically this question on whether or not the state should take care of these veterans." Silvey says in addition to military vets, his bill would provide health coverage for about 22,000 spouses.
Health and healing on the river for veterans (Portland Tribune)
Jan. 1 dawned clear and cold, and while most people stayed home to recover from New Year's Eve, a group of intrepid rafters greeted 2015 by paddling down the Sandy River from Dodge Park to Oxbow Park. "New Year's Day is the start of rafting season, so why not start that first day out on the river," said Val Shaull, outreach coordinator for Team River Runner Portland, one of the groups sponsoring the annual event. "The motto for Team River Runner says it all: Health and healing through paddle sports. When you're in a kayak or a raft, you get away from things, and the more you get away from your troubles, the better you feel about yourself," Shaull said. "If you are an amputee, once you get in a boat you're as good as anyone else," he added. TRR's mission is to take disabled veterans out on the water rafting and kayaking to promote healing. Shaull is a member of the Oregon Whitewater Association and Northwest Rafting Association, and has been rafting down the Sandy on the first day of the year with these groups for more than 30 years. Shaull is a veteran who served in Vietnam from 1967 to 1969; in 2008 he jumped at the chance to accompany a group of veterans to Costa Rica, and then found out about Team River Runner from its national founder, Joe Mornini. When Shaull and others decided to put together a local chapter of TRR, they "first went to the VA, asking for help, and nobody was interested. But then we got in touch with the Disabled American Veterans, and they were very receptive and have funded us ever since," he said.