Veterans GOODNEWS for Jan. 23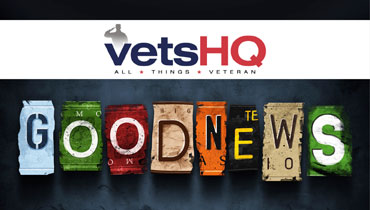 Iraq war veteran looks forward to teeing it up in PGA Tour event (Golf Digest)
Chad Pfeifer calmly rolled in one five-foot putt after another as he talked about the day he almost died. Around him on the PGA West Palmer course's putting green, multiple-time tour winners such as Bill Haas and Ben Crane were hitting putts one day before the Humana Challenge kicks off. By all appearances, Pfeifer fits right in. He practices his game six times a week at a club he used to teach at in Goodyear, Ariz. His swing, a quick, powerful move, is grooved while he hits range balls next to PGA Tour veterans. Crisp divots fly into the air as wedge shots launch at a perfect trajectory, leading veteran caddie Kip Henley to remark: "That looks like Lee Trevino. But better. I'm serious." What's amazing is Pfeifer just picked up golf seven years ago, at an Army therapy hospital in San Antonio, after he was flown home from Germany after the fateful date he rattles off — April 12th, 2007 — the day he lost his leg. Until you hear more about Pfeifer's story, you consider how amazing the Iraqi war veteran and amputee's story is. He had his left leg below the knee amputated after an IED blew up his vehicle while serving the D Company of the 3rd Airborne Battalion in the 509th Infantry Regiment. And now he's using golf, which he had never played once he returned from service, to raise awareness for wounded veterans. He's a three-time winner of George W. Bush's Warrior Open for wounded vets, and he'll be teeing it up this week in one of the amateur spots at the Humana Challenge, in a group with Baltimore Orioles pitcher Bud Norris and PGA Tour players Scott Langley and Brendon de Jonge, in the event's pro-am format. Pfeifer will also appear in a new season of the Golf Channel's Big Break show, which will debuts in Feb. 2.
Missing Korean War vet identified, given full military honor (KENS-San Antonio)
Flags will be lowered to half-staff in Comal County, Texas, on Friday in honor of Sgt. Gilberto L Sanchez — the war hero who disappeared in combat during the Korean War in the 1950's. He would have been 83 years old but even after so many years the family never lost hope in finding him. The love between siblings never dies even if one passes sooner than expected. "Capullo had been gone for so many years," said Benjamin L. Sanchez, retired Army Master Sgt. Army Sgt. Gilberto L Sanchez, or "Capullo" as he was called, became MIA during the Korean war when he was only 19 year old. "Oh man we still miss him a lot we do," he said. In his voice, you could hear the love for his baby brother even after 64 years. "We all got the chills when we found out he was finally coming home," said Benjamin C. Sanchez Jr., nephew of Sgt. Sanchez.The remains of Sgt. Sanchez , along with other veterans, were in Hawaii for at least 2 decades. However, it took years to identify his remains and for the bittersweet homecoming in New Braunfels to happen. "We'd been sad for so long now is the time to celebrate as we need it," said another relative. Black and white photos, several medals, and newspaper clippings all tell the story of a hero to younger relatives who never got a chance to meet "Capullo".
Military veterans include many famous names (Belvoir Eagle)
What would the world be like without Hollywood? More importantly, where would we be without our heroic Veterans? Hollywood and the branches of the military go hand in hand. Taking into consideration that Hollywood has produced many award-winning movies centered on our military, we thought you may enjoy a partial listing of citizens of note who have proudly served their country and have earned the right to be honored as veterans. This partial list compiled by "Army Live" includes actors, singers, politicians, writers and others, the units they served with and any honors they were awarded. Included are: Clark Gable, Jimmy Stewart, Tony Bennett, Telly Savalas, Mel Brooks, Jimi Hendrix, Elvis Presley, Clint Eastwood, and more. Check it out.
Wounded Marine: Why Chris Kyle was a real hero (People.com)
Chris Kyle didn't waver on the battlefield. As he saw it, he had one job to do – protect his fellow troops – and he did so with unflinching focus. But back home following his four tours of Iraq, the Navy SEAL – whose 2012 autobiography, American Sniper, is the basis for director Clint Eastwood's Oscar-nominated film of the same name starring Bradley Cooper – struggled with the after-effects of war. And he shared his struggles with others going through the same thing. Before his death in 2013, Kyle – who was fatally shot on a Texas gun range at age 38 while trying to help a veteran allegedly suffering from PTSD – believed passionately in raising awareness for veterans' causes. Now, with the massive box-office success of American Sniper, his mission is reaching more people than ever.  "For any warrior who is struggling mentally, or even the families who go see this film, if they see, 'Wow, if a guy like Chris Kyle could struggle and get help, then I need to do it also; he was so full of pride but he felt like he couldn't fight these demons on his own' – then I think this movie might push a warrior or at the family of a warrior away from the edge," says Jacob Schick, a retired Marine who appears in Sniper as a wounded vet. Schick lost most of his right leg below the knee as well as part of his left hand and arm in a 2004 IED attack and was close with the Kyle family before being cast in the film. He hopes audiences will take away a deeper understanding of the struggles facing veterans after they return home. "I want them to see how challenging it is when these warriors come home and have to transition into the civilian sector and try and not be what they were overseas," he says. "It is extremely challenging."
Summit helps Fort Stewart soldiers transition to civilian life (SavannahNow.com)
Within the next year, Army Sgt. Lori Jenks may be out of the military. The human resources specialist hopes that's not the case, but to remain in the service she's been a part of for 13 years she must soon be promoted to staff sergeant — something far from guaranteed in the Army's current shrinking state. "If I do get promoted I'm going to finish out my (20-year) career," said Jenks, a Fort Stewart-based soldier who's served in Iraq. "At the same time, I don't want to look at it like, 'Oh, I'm going to get promoted tomorrow.' I just want to be ahead of the game, just in case." That's the reason Jenks found herself at Club Stewart on Thursday afternoon, fighting through a crowded job fair to speak with potential employers in the civilian world during a two-day Transition Summit hosted by the U.S. Chamber of Commerce Foundation's Hiring Our Heroes program. More than 600 solders, veterans and military spouses attended the summit. Her attendance had already paid off, Jenks said. A resumé-writing workshop helped her translate much of her military experience into language that civilian employers would better understand.
Images of Vietnam help preserve history (Channel3000.com)
The photographs taken by Vietnam veterans during their time in the service are being collected and turned into DVDs to be shown during the 3rd annual Vietnam Veterans Day in Portage, Wis. Chris Schutz, a Vietnam veteran, began collecting the photographs taken by other veterans about a year ago. To date he has collected several hundred photos. They chronicle the experiences of Vietnam vets and will become a permanent record of their service. "We as a group of Vietnam veterans sat on this stuff for decades and within the last decade, especially the last five or six years, we've become a lot more comfortable with the fact that we did this. We served there and we did it well," Schutz said. He said preserving the history of the Vietnam veterans' service and sacrifice is important. This collection of photos will live on for future generations. "The memories, they just fade away after a while. You get out these pictures, these photographs, whether it is a hard copy, a slide or a DVD, it is right there," Schutz said.
12 WWII veterans to receive Legion of Honor from France (Atlanta Business Chronicle)
The Consul General of France in Atlanta Denis Barbet will present the Legion of Honor to 12 WWII Veterans from Georgia on Jan. 27. The French government said it is awarding the Legion of Honor to the veterans in order to express France's eternal gratitude to those who liberated it from oppression from 1944-45. The National Order of the Legion of Honor was founded by Napoleon Bonaparte in 1802. It is the highest honor in France and recognizes eminent services to the French Republic. According the French Government, foreign nationals who have served France or the ideals it upholds may receive a distinction from the Legion of Honor. American veterans who risked their lives during World War II and who fought on French territory qualify to be decorated as Knights of the Legion of Honor. Veterans must have fought in one of the four main campaigns of the Liberation of France: Normandy, Provence, Ardennes, or Northern France. Recipients of this honor are designated by the President of the Republic, François Hollande.
Austin chamber, Fort Hood join forces for veteran jobs program (Austin American-Statesman)
The Greater Austin Chamber of Commerce is joining forces with Ft. Hood officials for "Operation Austin," an initiative to boost Central Texas jobs for area veterans. The partnership, which will entail a series of job fairs and education efforts, aims to address employment needs for the region's significant veteran population as well as improve related recruitment. Supporters say "Operation Austin" will end the days of Fort Hood and Chamber and business groups working separately in the search to place veterans in new careers. "We were two ships passing in the night," said Col. Matthew Elledge, Fort Hood Garrison commander. Now, "we are excited to kick off our first hiring fair." "Operation Austin" will launch its first job fair at Fort Hood on Feb. 26, which is slated to host 1,000 job candidates and at least 50 employers. The region had an estimated 110,600 veterans in the Austin metro area by 2010, a number that's expected to increase 12 percent to 123,400 by 2040, according a chamber study.
When Michigan football players visit VA hospital, thanks go both ways (Detroit News)
They went room to room, visiting military veterans and hearing their stories. They shook hands, thanked them for their service and gave them a large Michigan coin as a small token of their appreciation. One Army vet told them how he lost his ability to laugh while serving in Vietnam, a World War II veteran nearing 90 began to cry and dabbed his eyes with tissues while he spoke, and another Army veteran who faces open-heart surgery in a day peppered them with questions about the football team and their new coach. A group of 17 Michigan football players, organized by teammates Ryan Glasgow and Brian Cleary, visited the VA Hospital on Thursday afternoon, spending an hour with patients. It was only the third time since last year the players have done this — it has grown from a group of 10 — but it is something they hope to do monthly. The VA Hospital is affiliated with the U-M hospital system, and about 65,000 veterans were treated there last year. The hospital serves veterans from Michigan, Indiana and Ohio. "For me, personally, it means everything, because we should be the ones showing undying gratitude to them while they're showing gratitude toward us," Glasgow said. "They're the ones tearing up at our presence, but they're the people who put their lives on the line and now they're in the in-patient part of the hospital because of it. "They spend years of their lives serving our country, while we're spending years of our life playing a game we love. It's not on par with what they're sacrificing. So it does mean a lot to us when they show their gratitude or tear up when we enter a room when it should be the opposite."