Veterans GOODNEWS for Jan. 28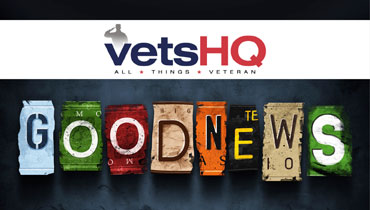 VA opens more doors to rural veterans in Virginia (Newport News Daily Press)
About 5,500 veterans live on Virginia's Eastern Shore, and roughly 1,300 are receiving health care through the Hampton VA Medical Center. Keeping an appointment with a primary care doctor means driving from Accomack or Northampton counties, paying $13 to cross the Chesapeake Bay Bridge Tunnel and traveling through Norfolk into Hampton, hoping for no surprises at that other bridge tunnel. Until now. Through a new federal program, eligible Eastern Shore veterans can seek primary care at one of five community health centers from Cheriton to Chincoteague Island. The program is called Veterans Choice, and it is part of a national effort to reach veterans who live too far from a VA medical center or who have been waiting too long for a doctor. The five Eastern Shore locations are among 22 sites statewide that are now authorized see veterans. Many are in small towns, extending VA's reach into rural areas. Virginia is the first state in the nation with agreements between the Department of Veterans Affairs and federally qualified health centers. Four such centers have signed on: Eastern Shore Rural Health, Central Virginia Health Services, Southern Dominion Health System and Tri-Area Community Health System.
Clinton Foundation focuses on veterans health (Military Times)
The nonprofit Clinton Foundation is putting its political heft behind troop and veterans health, focusing a portion of its two-day annual Health Matters Summit this week to jump-start yearlong initiatives on military medical care and wellness. In the coming year, the organization will collaborate with organizations, communities and individuals to support veterans health programs. To jump-start its efforts, summit organizers held panel discussions with veterans and veterans groups to discuss the challenges they face and probe possible solutions to support military wellness. Clinton Health Matters Initiative CEO Rain Henderson on Friday described military personnel and veterans as an "underserved population" that can benefit from increased focus on current and future health needs. "The ages of our veterans have changed in the past several years. We have veterans who are now 22, 23 years old and their health needs are very different from older veterans. Because of this diversity, this is a population whose health needs have change dramatically and we want to shine a spotlight on them," Henderson said. For the conference, the Clinton Foundation brought together policymakers, health experts, veterans and groups such as Team Red, White and Blue and the Pat Tillman Foundation to reach an audience that is largely unfamiliar with the health challenges facing former service members, Henderson said.
Nurse at Salisbury VA hospital gives veteran the shoes off his feet (Raleigh News & Observer)
One quality that makes Chuck Maulden a caring emergency department nurse is his ability to put himself in someone else's shoes. Recently, he's been lauded for putting someone else in his. Maulden, 33, had been working in the emergency department at the Salisbury Veterans Affairs Medical Center for a just a couple of months when a patient came in near the end of his shift one night in November. The man appeared to be in his mid-60s, Maulden said, and he was there because his feet were causing him such pain he could hardly walk. "He kept talking about being in bad water in Vietnam," Maulden said, though Maulden doesn't know if the man served there during the war. Many soldiers who did suffered from trench foot, caused by long exposure to cold, damp conditions. The man took off his tattered tennis shoes, and Maulden could see the soles were worn through and coming unglued. The balls of his feet were covered in huge blisters, and his compression stockings had matted to the skin where the blisters had drained. A doctor instructed Maulden to bandage his feet and give him fresh stockings. Maulden finished dressing his patient's feet, fetched him a fresh pair of socks and extras for later. Then he looked at those beat-up shoes. "Those shoes were just beat to death. I just didn't feel that I could solve the problem medically and then put those shoes back on him," Maulden said. "Then it occurred to me that his feet looked about the same size as mine." The Salisbury VA has several clothing closets where it can refer patients in need, but none of those are open at 11 p.m. The hospital even keeps a small selection of items on hand, but Maulden didn't know if there would be a decent pair of size 10s in there. So Maulden quietly pulled off one of his own still-new Nikes. He put it on the veteran's foot and asked, "How does that feel?" "It feels good," the man told him. "I need to get me some of these." Maulden looked at the man's nephew, then took off his other shoe and laced it onto the veteran's other foot. He filled out the discharge paperwork and told the man he could go. With about an hour to go, Maulden put a pair of medical shoe covers over his feet and finished his shift.
Smart homes make life easier for severely wounded veterans (KPBS)
Marine Staff Sgt. Jason Ross lost both his legs when he stepped on an improvised explosive device in Afghanistan in 2011. But life will become a little easier for him thanks to a custom built "smart home" that broke ground Tuesday. The Gary Sinise Foundation raised the money to build a smart home for Ross, who is now in a wheelchair. It will include features that make activities most people take for granted possible for severely wounded veterans. When it is complete, the home will have features like lighting, heating and window treatments controlled from an iPad. It will include roll-in bathrooms, front load washers and automated doors, all features that help restore independence. At the groundbreaking, Ross said the smart home's design will help him with things like cooking a meal. "Being in a wheelchair makes it difficult and with the more space, the counters will be set for where I'll be able to use them," he said. "That's one of the changes they'll be making in a smart home – so that basically someone in a wheel chair… can use the counter space." Ross said living in San Diego County will allow him to be close to his two children, for whom he has joint custody. He said he has been through 240 surgeries to get to this point and hopes to one day go back to college.
Army major helps women veterans through clothing design business (The State Press)
Maj. Michelle Bravo, executive officer for the ASU Army ROTC, will be retiring from the military this year after serving two tours in Kuwait and one in Iraq. Because the military has had such an impact on her, she wanted to give back to female veterans. Bravo created "i Rock the Boots," which creates apparel for women and donates part of the proceeds to organizations that benefit female veterans. "When I was younger, I would always see these shirts that said, 'My dad wears combat boots,' and others like that," she said. "I thought there should be something out there for the women to wear, too. I wanted people to know that I'm strong enough to wear these boots, too." With help from the Arizona State University Edson Student Entrepreneur Initiative, Bravo was able to receive funding to help the organization grow and expand. "We sell a lot of T-shirts with portions of the profits going to help women veterans," Bravo said. "I wanted there to be a purpose to what we were doing, so that is why a part of our proceeds are going to help these women."
Senator eyes health coverage for disabled veterans' children (Associated Press)
U.S. Sen. Charles Schumer plans to discuss a proposal for legislation that would extend health care coverage for the children of disabled military veterans. According to the New York Democrat, more than 13,000 state residents are enrolled in the Civilian Health and Medical Program of the Department of Veterans Affairs – or CHAMPVA. It's available for spouses and children of severely disabled vets. But unlike private health plans, it doesn't let dependent adult children stay covered until age 26. Instead, he says they get kicked off the plan at age 18 if they're not full-time students and then at age 23 regardless of school enrollment. The New York Democrat plans to discuss the proposed change in a conference call Wednesday.