Veterans GOODNEWS for Jan. 29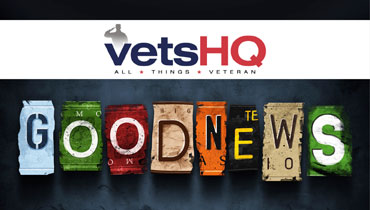 NJIT student veterans form organization to foster cameraderie (myCentralJersey.com)
Before he enrolled at the New Jersey Institute of Technology (NJIT), Roberto Bracero, of Roxbury, was in the U.S. Marine Corps, where he was twice deployed to Iraqi combat zones: first to Fallujah and then to Ramadi. The effects of combat take a psychological toll on you, he said — a toll that never fades. "When you're in combat, you forge bonds with you fellow brothers-in-arms that are stronger than anything you have ever felt," said Bracero, now a senior at NJIT. "This is due to the stress of not knowing if today will be your last, or if it will be the last day for your brother next to you. When I was discharged from the military, I searched for connections with people that would fill the void. But I found that such connections can only be found with veterans who have seen the things I have seen in the military." Bracero is lucky. He recently joined the newly-formed NJIT Veteran Students Organization, whose aim is to unify veterans on campus and give them a sense of camaraderie. The organization also intends to ease the transition from the military to the university for veterans, said Kevin Darczuk, of East Brunswick, a U.S. Air Force veteran and NJIT sophomore who is president of the organization. Darczuk, a mechanical engineering major, said the group already has 30 members, both undergraduate and graduate students. There is a total of 129 NJIT students who are veterans, he added, and all are invited to join the group, formed at the suggestion of Anthony Culpepper, assistant to the dean for parent and veteran services.
Ten-Hut! Austin wants military veteran entrepreneurs (Tech Cocktail)
The Austin Chamber of Commerce and Fort Hood's leadership has announced Operation Austin, a partnership designed to bridge critical talent gaps in Central Texas and position Austin as one of the national leaders in veteran recruiting. Specifically, the coalition will develop new programs to connect Austin businesses with veteran talent. The veteran population of America is a group that has experiences across a wide range of industries and experiences, and Operation Austin wants to help those interested in becoming entrepreneurs reach their goals. To that end they'll provide consolidated labor market research on Central Texas jobs and create an Austin startup accelerator geared for veterans. Operation Austin will kick off its launch with a job fair recruiting event hosted by the Chamber of Commerce at Fort Hood on February 26. Central Texas employers will have exclusive access to the veterans and their spouses, and the fair is expected to attract nearly 1,000 potential candidates.
Virginia House of Delegates OKs $66.7 million for veteran care centers (Capital News Service)
A pair of bills that would provide $66.7 million in state funding for new veterans care centers passed in the House of Delegates on Tuesday. House Bills 1275 and 1276, which would fund construction of two 230-bed nursing care facilities in Hampton Roads and Northern Virginia, both were approved unanimously. The legislation now goes to the state Senate for consideration. "While we will never be able to fully repay Virginia's veterans for their service to our country, we can all work to ensure that they receive the care they have earned," Forbes said at a news conference Monday. "There is a clear and pressing need for greater capacity to care for our Virginia veterans over the long term, and the passage of this legislation marks an important step toward meeting that need." Virginia is home to a number of large military bases, and over 780,000 veterans live within the commonwealth.
Seven N.C. veterans to receive French honor (WRAL-Raleigh)
Seven World War II veterans from North Carolina will receive the French National Order of the Legion of Honor in a ceremony at the State Capitol in Raleigh on Feb. 3, the consulate general of France announced Wednesday. The Legion of Honor, France's highest honor, is given to veterans "to express France's eternal gratitude to those who liberated it from oppression from 1944-45." Founded by Napoleon Bonaparte in 1802, the Legion of Honor recognizes services to the French Republic. American veterans who risked their lives during World War II and who fought on French territory qualify to be decorated as Knights of the Legion of Honor. Veterans must have fought in one of the four main campaigns of the Liberation of France: Normandy, Provence, Ardennes or Northern France.
Veterans get behind the New York City taxi wheel (The New York Observer)
Hailing a yellow taxi can be an ordeal. Finding one with a charming driver can be even harder. With the rise of private competitors like Uber, the perception of the quintessential charm of the New York City taxi driver has taken the backseat of the iconic yellow cab. One way the yellow taxi service is turning these negative attitudes around is through a new website encouraging returned veterans to get involved in the taxi industry. Daniella Itin, creator of Vets Drive Yellow NYC said she realized there was an opportunity for veterans to become involved in one of New York City's most iconic industries. This new program quickens the process of veterans obtaining their hack license, allowing them to drive taxis and helps them gain employment with one of New York City's taxi garages. Frederick Collins, an Army veteran, said he always wanted to drive taxis and had been trying to get his hack license for a while but never got fully qualified. "I was supposed to go to Missouri and go to trucker school but this [program] gave me the opportunity to drive in New York and raise my children," Mr. Collins said. Mr. Collins is one of 20 veterans who have found work driving taxis with the help of the Vets Drive Yellow NYC website which officially launched Jan. 12.
Support grows for new veterans department in New York City (Gotham Gazette)
A little over a month after Mayor Bill de Blasio appointed retired Army Brigadier General Loree Sutton as the new Commissioner of the Mayor's Office of Veterans Affairs (MOVA), she was called before the City Council to testify. In late September of last year, the committee was hearing a much-anticipated bill, Intro. 314, that would turn MOVA into its own department instead of a poorly-funded office under the mayor. It is a plan advocates had been pushing for a while and they were eager to hear what the new commissioner would say regarding the legislation. But they didn't get much from Sutton that day – in her short testimony, she declined to take a position on the bill. "Introduction 314 deserves all due consideration as we dedicate ourselves to the historic journey that lies ahead," Sutton said during her testimony on Sept. 29, 2014. "After completing my assessment and sharing my findings with Mayor de Blasio, I look forward to following up with the New York City Council Committee on Veterans to discuss this important proposal in further detail." Sutton set out on a 90-day review of her department and several pieces of relevant legislation introduced by the Council, including Intro. 314; while also learning about the veterans community in New York City. Following the 90 days, which expired on Dec. 1, Sutton was to submit a report to de Blasio with recommendations. When asked by Gotham Gazette earlier this week, de Blasio said the report had been submitted, but he had not yet reviewed it.
VA Puget Sound receives money to hire 124 more employees (The Olympian)
An overhaul of the Department of Veterans Affairs passed by Congress last summer will deliver $22 million to hospitals in the Puget Sound region over the next two years to help the network catch up with its rapidly expanding patient population. The money will allow VA Puget Sound to hire the equivalent of an additional 124 medical employees, according to a breakdown it released on Wednesday. The funds come from the Veterans Access, Choice and Accountability Act, which Congress adopted last summer in the wake of revelations that VA schedulers in Phoenix doctored reports to conceal long delays patients faced receiving care. The bill set aside $5 billion for the VA to hire employees while freeing up money for veterans to receive care from private doctors. "VA has been struggling with access to care for far too long, so today's announcement that VA Puget Sound will hire additional full-time employees to care for our veterans is great news," said Sen. Patty Murray, D-Wash., former chairwoman of the Senate Veterans Affairs Committee.  VA Puget Sound is a network of two large hospitals in Seattle and Lakewood, as well as several smaller community clinics throughout the region. It has about 4,000 employees caring for about 97,000 patients. Its patient population has nearly doubled since 2000 as veterans from Iraq and Afghanistan entered the system while older generations of veterans used more care to address the complications of aging.