Veterans GOODNEWS for Jan. 30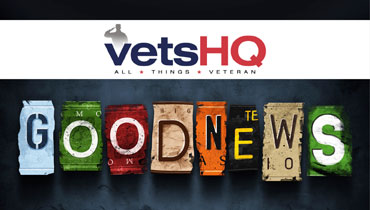 Los Angeles to build housing for veterans (The New York Times)
Even as Los Angeles became home to the country's largest population of homeless military veterans, the Department of Veterans Affairs for years has used much of its 387-acre tract near the city's exclusive Brentwood neighborhood for other purposes, including leasing property to a car rental agency and the laundry facilities of a major hotel chain. This happened over the objections of veterans advocates who thought that the tract, which had been deeded to the government in 1888 for the purpose of housing disabled veterans, should be used to house some of Los Angeles's 4,000 homeless veterans. This week, the department agreed to settle a three-year-old lawsuit on behalf of homeless veterans by pledging to build permanent and transitional "bridge" housing on the tract and at other locations throughout greater Los Angeles. The department said it would draw up a master plan for the site by October. There will be enough dormitories and beds at the location, which is nearly half the size of Central Park, to house every homeless veteran in the city, the department and lawyers for the veterans said. The plaintiffs in the case included several veterans and the group Vietnam Veterans of America. Mark Rosenbaum — the director of the Public Counsel Opportunity Under Law project, a civil-rights group, and one of the lawyers representing homeless veterans — said any veteran eligible for veterans benefits would qualify to live on the site. It is hoped that much of the money to develop the housing will come from private sources, but he said the department had made clear that it would ensure that the project was fully funded, no matter what.
Bradley Cooper expected to speak at White House for 'Got Your 6' event for veterans (Variety)
Bradley Cooper, nominated for an Oscar for his portrayal of Chris Kyle in "American Sniper," is among the the speakers expected at the White House on Friday for First Lady Michelle Obama's event on the portrayal of veterans in entertainment. The organization Got Your 6, an organization devoted to accurate portrayals of veterans in popular culture, will announce the launch of "6 Certified," in which content creators are encouraged to avoid "negative, stereotypical or extreme depictions of veterans as either 'charity cases' or 'heroes.'" Studios and producers can earn a "6 Certified" badge to display during film or TV series credits. "As Hollywood continues to tell powerful stories about veterans and the military, we want to acknowledge those who work hard to get it right," Chris Marvin, executive director of Got Your 6, said in a statement. The "6 Certified" designation calls for a production to have a "representative and balanced" depiction of veterans, as well as making a pledge to take at least one of six tasks. They include consulting with real veterans or family members in creating projects; casting a veteran in a substantial role; hiring a veteran as a writer; developing a multi-dimensional veteran character; telling a story about a veteran; and having a veteran consult during the production process. A review committee will meet on a quarterly basis to award certifications.
New veterans service director in Massachusetts has ambitious agenda (The Boston Globe)
The Commonwealth's new secretary of veterans' services is a Marine who served two tours of duty, earned a Purple Heart for wounds suffered as a tank commander in Iraq, and has a record of improving and expanding services to veterans in Lawrence and in Boston. As Governor Charlie Baker's pick to oversee the state's provision of benefits and programs for military veterans, Francisco Urena, 34, entered office this month with an ambitious agenda that includes making the agency more accessible, using partnerships to extend its reach, addressing mental health and substance abuse issues, and ending homelessness among Massachusetts veterans. "The numbers are extremely attainable, to be able to address that need," Urena said inside his old office in the Boston Veterans' Services Department on one of his last days as its commissioner. "Many states have done it, and Massachusetts should definitely be one of them," he continued. "There should be no reason why the words 'homeless' and 'veterans' should be used in the same sentence." Tall, broad-shouldered, and energetic, Urena projects confidence even when describing goals others might consider impossible. He also has a record of achieving difficult objectives. In Lawrence, where he began working in veterans' services as an unpaid volunteer, "he doubled or tripled" the number served by the department, according to former mayor Michael J. Sullivan, who hired Urena as veterans' services director. "The thing about him was it wasn't just a job for him; he really lived it," Sullivan said. "He was 24-7; he was always on."
Oregon's long-term care ombudsman moving to aid veterans (The Salem Stateman-Journal)
Mary Jaeger, who has been a champion for older adults living in senior-care facilities for almost six years, is changing desks next month to advocate for aging veterans in Oregon instead. The Oregon Office of the Long-Term Care Ombudsman announced publicly Thursday that it was launching a search to replace Jaeger, who will transition to her new job as Aging Veteran Services Director for the Oregon Department of Veterans' Affairs in February. Jaeger said the decision was a bittersweet one for her because she believes strongly in the ombudsman's office program and the staff and volunteers who serve it. But she said with more than half of the state's veterans being 60 or older, she recognized that she could help make a difference in their lives as well. Known for her tireless work on behalf of seniors and a bulldog-on-a-bone attitude, Jaeger is also confident that after 51/2 years leading the ombudsman's office program, it is in great shape and has a stellar staff and volunteer cadre to keep it that way. "This new job gives me a way to continue my passion for gerontology, and help the veterans' group get some needed internal expertise on working with the aging," Jaeger said. She will be reporting to Cameron Smith, director of the ODVA. She expects to ensure that older veterans have access to the home loan, education, and veterans' homes benefits that they earned through their military service.
Ohio-based nonprofit helps veterans reclaim their lives by covering rent deposits (Stars & Stripes)
A  whiteboard that hangs on the refrigerator in Dave Hammond's apartment lists his itinerary to search for a life gone missing. In green marker and neat, coiled script, he has written 10 priorities for recovering what he lost in the years after his medical discharge from the Army in 2005. He longs to reunite with his young son, who lives with his ex-wife in Washington. He wants to find a job, return to school, buy a computer. He needs a driver's license. In time, Hammond hopes to rewind the spiral that by 2012 had left him homeless, surviving on the dollar menu at McDonald's and sleeping at bus stops. He moved into his one-bedroom unit in October with the help of Veterans Matter, a nonprofit established in Toledo in 2012. The group provides rent deposits for homeless veterans who qualify for federal housing vouchers through a program run by the departments of Veterans Affairs and Housing and Urban Development. The vouchers do not cover rent deposits that landlords require as a condition of leasing. A veteran can apply for the money through an array of other programs, but approval routinely takes 30 to 60 days, and sometimes stretches to four months or longer. By then, in a typical scenario, a landlord has rented to another tenant, or the veteran has drifted out of the VA's orbit. Veterans Matter seeks to reduce the wait from months to minutes. The organization has created a cloud-based platform for VA social workers and case managers to submit online requests for rent deposits. "I couldn't have come up with the money," he said. "I was worried I was going to be back on the streets."
Portraits of veterans show true cost of war (CBS News)
It's pretty easy to miss the non-descript building on Chicago's North Side. But one floor up is the home of the National Veterans Art Museum and the 100 Faces of War Experience on display. These are portraits of the men and women who went to war — a cross section of the daring, devoted and even disfigured who heard the call. Each painting is accompanied by a personal statement which is meant to make you linger. "If we want people to understand the true cost of war, it's on us to tell those stories," said Elizabeth O'Herrin. O'Herrin was once Sergeant O'Herrin who assembled bombs for F16s in the Persian Gulf and Iraq. She says she's had trouble talking about her experiences but that writing was therapeutic. "I felt that it came from the heart," O'Herrin told me. She wrote that she's proud of her service but added this: "That doesn't change the fact that I contributed – however indirectly – to human beings vanishing from the earth in a moment of sheer agony." At his studio in Amherst, Massachusetts the artist Matt Mitchell worked on the project for nine years. "There's a lot of people walking around whose lives have been altered by uncontrollable memories from these wars," Mitchell said. "I wanted to convey the weight of war, but I left that in the hands of the people I was working with."
VA approves $15.6 million for New Mexico State Veterans' Home (Los Alamos Daily Post)
U.S. Senators Tom Udall and Martin Heinrich and U.S. Representatives Ben Ray Luján and Michelle Lujan Grisham announced the U.S. Department of Veterans Affairs (VA) has approved $15.6 million conditional funding for the New Mexico State Veterans' Home in Truth or Consequences to construct a new 59 bed facility. The construction and expansion project includes 39 Alzheimer's beds, a 20 bed Skilled Nursing Unit, a new rehabilitation section for inpatient and outpatient services and a new pool. The N.M. State Veterans' Home must complete items the VA has outlined as requirements for final grant award approval within 180 days from the date they received notification of the conditional funding approval. The conditionally awarded funding is available through the VA's State Home Construction Grant Program, which provides matching grant funds for renovation and construction of state veterans homes and adult day care facilities. The VA matches 65 percent of the project costs, and states fund the remaining 35 percent. The N.M. State Veterans' Home—the only nursing facility in N.M. dedicated specifically to serving veterans and their families—has planned the construction of a new facility since 2008, and the project is estimated to cost $30 million. It has already secured $12.5 million in state funding and plans to request additional funding during the 2015 state legislative session.
The difference a home makes to a veteran (Stars & Stripes)
A simple rule guided Travis Goodman during the years he sought shelter in vacant houses across Ohio's capital city. "Go in late, get out early." Slipping into an empty home after nightfall and vanishing before daybreak reduced the risk that a neighbor would spot him and call police. If he moved only in the dark, he could sleep unnoticed in the same house for days, sometimes weeks. But now and then alcohol and pot loosened his discipline. The cops would show up and arrest the former Marine, charging him with trespassing or drug possession or both. He might stay in a homeless shelter for a stretch before resuming his particular style of house hunting. He spun in that cycle for more than a decade until the day in 2011 when he received a call from his sister. She had seen a report on TV about a new housing community for disabled and homeless veterans. She urged him to apply for an apartment there. The call coincided with his growing sense that he needed to change. The old military man felt hollowed out in body and mind. "I got tired of being tired, and I got tired of being ashamed," said Goodman, 54, who grew up in Columbus and joined the Marines in 1978 for a three-year stint. "Your conscience starts to get to you. You start seeing yourself as less than human." In summer 2012, he received approval to move into the Commons at Livingston, a red-brick, three-story housing complex of 50 one-bedroom units run by National Church Residences. The nonprofit housing provider, based in Columbus, expanded the campus last year, doubling its capacity to house 100 veterans. A framed portrait of Goodman as an 18-year-old private stands on a table in his apartment. The young man in the uniform now appears more familiar to him in some ways than the version of himself who first arrived at the Commons. He has been sober for more than two years. He holds a part-time maintenance job and attends classes as he pursues a GED. He started dating a woman last year and spends more time with his three siblings, who live in the city. The purpose of his life has transcended the impulse to invade and evade, to "go in late, get out early." "I don't know where I'd be if I hadn't ended up here. Probably back in jail or dead," he said. Large windows let in the day's pale light as he relaxed on an amply pillowed sofa, arms splayed, his voice as serene as his manner. "I have goals now. Direction."
Air Force course receives professional driver certification for its military truck driver training (Trucker.com)
A U.S. Air Force Tractor Trailer Training course has received certification by the Professional Truck Driver Institute (PTDI), the first military training program to earn the designation, according to a press release from PTDI. The training program is located at Dobbins Air Reserve Base near Atlanta. The PTDI certification helps to ensure that the military training meets the same standards for quality and content as PTDI-certified civilian CDL schools. Some carriers have been reluctant to accept military training and experience when reviewing applicant qualifications of veterans. "The Air Force has taken the defense department's motto of 'Complete your service on Friday and begin your civilian life on Monday' to heart," said PTDI board Chairman Dave Money. "By designing their program around the standards set by PTDI, they have more than adequately prepared their service members."
Wounded warrior team defeats NFL alumni in flag football (Newszap.com)
The Wounded Warrior Amputee Football Team, along with celebrity guest Snoop Dogg, triumphed over a team of former NFL stars in a flag football game at Shadow Mountain High School on Wednesday. The WWAFT scored 58 against the NFL Alumni of Arizona's 21, another Super Bowl Weekend victory since they defeated a team of 9/11 first-responders last year during Super Bowl XLVIII in New Jersey. The game looked and sounded like an ordinary match: The Star-Spangled Banner, the band, the cheerleaders and the formations. But then a player in a wheelchair goes in for a blitz. A player with two prosthetic legs jumps for an interception. A man with no legs uses his arms to race across the field to stop a first down. They are all combat veterans who lost limbs overseas in Iraq or Afghanistan. The stands were full and the sidelines overrun with fans to spectate the match of over 40 NFL alumni and celebrity guests. Soldiers in uniform, including a brigadier (two-star) general, met with the wounded warriors to show gratitude. Once-NFL stars signed autographs and took selfies with fans. Debbie Lee, founder of America's Mighty Warriors, spoke about the loss of her son Marc Lee, the first Navy SEAL killed in action in Iraq. Among the special guests were ESPN's Kenny Mayne, host of Kenny Mayne's Wider World of Sports; ASU alumnus and former Cardinal Jake Plummer; and hip-hop artist Snoop Dogg, who played with the WWAFT during the game.