Veterans GOODNEWS for Jan. 5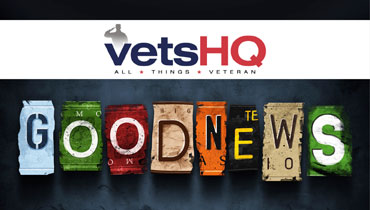 Why military experience trumps a college degree (LinkedIn)
Commentary: "As 2015 begins, companies should consider hiring veterans for technical positions. Veterans bring diverse range of skillsets with them that you just don't see in recent college graduates in the technical arena. Veterans provide unique insight to problems and are characterized by their knowledgeable ingenuity they've gained working in the military environment. They are used to fast paced operational environments and have spent their time in the military training to be both efficient and proficient. Experience can't be taught from a book and neither can work ethics. Training people to do a specific job and the technical aspects of the job are the easy part. Training them to replace every member of the team and pay attention to their skills as they develop is harder. However, a veteran already comes equipped to handle emergency situations, broken gear, equipment operations, and most importantly how to get results at the end of the day safely. Carefully executing the plan of the day and being part of a team are ideas drilled into veterans their entire military career. Usually, that's because their life depends on their training, camaraderie with team members, and their attention to their surroundings to stay alive."
Hire More Heroes Act will help businesses, veterans (Newsmax)
The House session on Tuesday will start off with several jobs bills that have always had bipartisan support, but were not considered by a Democratic-run Senate,  including the Hire More Heroes Act. The bill "makes a commonsense change" to Obamacare to encourage small businesses to hire more veterans by exempting veterans who are already enrolled in healthcare plans through the U.S. Department of Veterans Affairs or the Department of Defense from being counted toward small businesses' employee limits, said Rep. Rodney Davis (R-Ill.). "When small businesses — the engine of our economy — can't hire, we can't move forward," Davis noted. "So not only are we providing small businesses – and our economy – with much-needed relief, but we're also helping more of our veterans find work."
Sears employees in Montana donate food to veterans (KULR-Billings)
A group of Billings veterans received a carload of food from Sears employees on Friday. The employees donated boxes of items to residents at Independence Hall in the Billings Heights. The donation was made in the name of a veteran who lives at Independence Hall — and is a former employee of Sears. Independence Hall Director Billy Holder says they get an influx of donations around Christmas time, which is crucial for them to operate at full capacity. "The donations have been a tremendous help this year," said Holder, who's served as director since 2010. "Moreso than any other year I've been involved with this program." Independence Hall is a transitional program that houses around 20 veterans who have experienced homelessness. Their primary goal is to get veterans steady jobs and into their own private housing. The hall includes a full kitchen, laundry room, and a dining and living space — and is operated by Volunteers of America.
Teenager documents veterans' stories for Eagle Scout project (Fox News)
A Pennsylvania teenager is documenting the stories of U.S. veterans, honoring those who have served from World War II through the Iraq War, as part of his Eagle Scout project. Derek Copeland, 17, of University City, enlisted 16 veterans to tell their stories, which will be archived at the Library of Congress as part of its Veterans History Project, the Philadelphia Inquirer reported. One of the most fascinating aspects of the project "to see how our nation's views have changed over time," Copeland said Sunday during an appearance on "Fox and Friends." "I wish I could have some First World War vets, but they're a little past their prime today," Copeland, a junior at Delaware Valley Friends School, told the Inquirer. Copeland said his project idea grew out of his love for history. Vietnam War veterans Gordon Bocher, 72, and Rich Feldman, 64, as well as World War II veteran Len Feldman, 92, were among the veterans who agreed to be interviewed for the project. Each agreed to a question-and-answer session that lasted at least one hour, according to the report.
Iraq War veteran aims to leave no Utah veteran behind (KSL-Salt Lake City)
A Utah veteran who served in Iraq continues to fight for his fellow veterans. Retired Army Sergeant Josh Hansen came home with serious physical and emotional scars of war, but found hope and healing through exercise. "By forcing myself to do it and getting out, I started feeling better," Hansen said, while enjoying a cross-country skiing workout at the White Pine Nordic Center in Park City. In battle, Hansen lost six of his men in combat. Back at home, four more took their own lives. Now, he's on a mission to leave no veteran behind. "After I had a few of my fellow veterans take their own lives, I said, 'OK, I led guys in the war, it's time to lead them here at home,'" he said. So he and Laura Cantin, an adaptive sports specialist, founded Continue Mission "No Veteran Left Behind" with the objective to integrate the veterans back into civilian life to "get the vets out of the house, and get them into activities," Hansen said. The co-founders know the healing power of rigorous exercise like cross-country skiing. "We have a passion for what we do, and we want to share that," said Cantin. "We don't want our veterans to be stuck at home and not enjoy the camaraderie that they did in the service."
Veterans can make great franchise owners (Arizona Daily Star)
Obeying rules is important because the franchise business model provides a comprehensive operating manual and a contract with pages of dos and don'ts. That's why most veterans, when they start learning about franchising, understand the model right away. Veterans leave the service armed with discipline, a strong work ethic and a lot of ambition. Hundreds of franchises welcome military veterans with open arms. Some offer special incentives for veterans; the most common is a discount on the franchise fee. VetFran is a program in franchising that's focused on bringing veterans into the fold. It was started by the International Franchising Association (and includes more than 600 member companies offering financing, training and mentoring to interested veterans) in 1991 by Don Dwyer Sr. (USAF, Ret.).
VA explores alternative therapies (Associated Press)
The acupuncturist gently leaned over the burly and bearded Army Special Operations officer who was stretched across a bed in the "zen den" at the McGuire Veterans Affairs Medical Center in Richmond, Va. The air was sweet with eucalyptus and peppermint aromatherapy. The lighting was warm, fluttering with the golden hue of battery-operated candles. The retired lieutenant colonel, who had been injured in a combat plane crash, inhaled and exhaled as the doctor pressed needles into his knees. Like hundreds of veterans from across the country who have come to this local VA hospital for treatment of chronic pain, panic attacks, traumatic injuries and other ailments, he said he was so fed up with taking heavy-duty painkillers that he was willing to try anything. The alternative-therapy programs mark a dramatic departure in the treatment offered to troops who are returning from the wars in Iraq and Afghanistan and seeking relief from pain. Among the options: Equine therapy. Alpha stimulation. Qigong. Guided imagery. Life coaching. Yoga and Pilates. Hypnosis. Aqua therapy. Botox. The Richmond center and three other pilot programs offering these therapies are part of an effort by the Veterans Health Administration to reduce the dependence of tens of thousands on opiate painkillers.