Veterans GOODNEWS for Jan. 6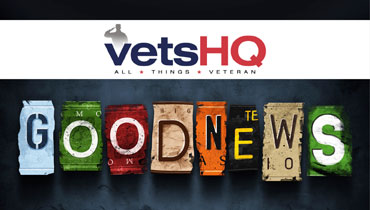 Navy veteran, 100, cheered after standing up to protestors at medal ceremony (Fox News)
A 100-year-old U.S. Navy veteran drew cheers from a crowd in Oregon Saturday after telling protesters shouting "hands-up, don't shoot!" to stop interrupting his medal ceremony and to "show a little respect." Dario Raschio was at Portland Community College's Southeast Campus to be honored by Sen. Ron Wyden, D-Oregon, at a public town hall meeting. But shortly after Wyden began speaking, more than 100 demonstrators in the back of the room started shouting, The Oregonian reports. After 15 minutes of chanting against the deaths of unarmed black men by white police officers, Wyden was able to talk the group into quieting down so he could continue with the medal ceremony. Raschio joined the Navy at the age of 27 and participated in five campaigns in the Pacific theater, flying observational planes based off the USS Chester. He was awarded a frame filled with medals, including the U.S. Naval Aviator Badge, the American Campaign Medal, the Asiatic Pacific Campaign Medal, the World War II Victory medal, the American Defense Service Medal, the "Ruptured Duck" award and the U.S. Navy Honorable discharge pin.
Houston launches business competition for military veterans (Houston Chronicle)
The city of Houston is co-sponsoring a first-ever business plan competition for military veteran entrepreneurs and business owners, aiming to pool as much as $1 million in investor funding for the winners. The competition, the Entrepreneurs' Organization-Houston Veterans Business Battle, is open to any honorably discharged U.S. military veteran living in the country. Prizes will be awarded in three categories: one for a new business looking to get off the ground, a second for a veteran business that is expanding and another for a "crowd favorite."
Ohio rolls out veteran-friendly employer registry (Military Times)
Ohio has rolled out an online registry letting military veterans know which employers are looking to hire veterans. Registry proponents suggest it should result in more jobs for veterans, while others aren't so sure. The registry, stemming from a 2014 law, went online Dec. 19 with about 300 employer names. More than 150 indicated they have a preference policy for hiring, promoting or retaining veterans, service members or their spouses or surviving spouses. Others "self-reported" as military-friendly — an option that isn't in the law but does allow employers to indicate other veteran support. The Ohio Department of Job and Family Services must maintain the voluntary registry and provide a link on its OhioMeansJobs website for employers wanting to get on the list.
Marine veteran selected for Delaware beekeeping venture (Delaware News-Journal)
A Marine Corps veteran from Wilmington has been selected as the first participant in the state's new Planting Hope with Honey Bees project. Ronnie Hazlett II will receive training, mentoring, supplies and equipment to operate two beekeeping hives to be installed at the Planting Hope in Delaware Urban Farm, according to the state Department of Agriculture. The Urban Farm is located on the Delaware Department of Health and Social Services' Herman Holloway Campus in New Castle. The project, a partnership between the Delaware Beekeepers Association, the University of Delaware Cooperative Extension and the Delaware Department of Agriculture, was announced in September and aimed at giving a veteran the opportunity to learn new skills and get involved in beekeeping. Hazlett, a native of Kentucky who moved to the Wilmington Area four years ago, enlisted in the Marines in 1998. After leaving the Corps, he enrolled at the University of Kentucky in 2003.
Tax attorney raising funds to provide veterans with laptops (San Antonio Business Journal)
San Antonio tax attorney Cym Lowell has helped raise $15,000 for wounded veterans this past year from proceeds for his new book. Lowell is a Vietnam veteran and author of "Jaspar's War" for which he has been touring and giving a series of speaking engagements across the country. Proceeds from book sales are being donated to Soldiers' Angels, a Topeka, Kansas-based non-profit organization that provides services to wounded veterans. Lowell is working through the organization to provide adaptive laptops for severely wounded or injured soldiers who are not able to use their hands. So far, more than 66 laptops have been provided to the 200 wounded warriors on the waiting list.