Veterans GOODNEWS for Jan. 7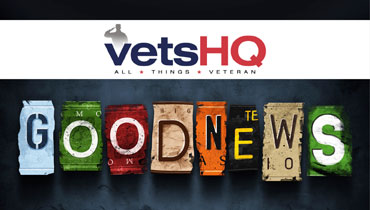 Memorial dedicated to submarine veterans nearly complete in Florida (WFTS-Tampa Bay)
Work is under way on a central Florida memorial dedicated to submariners who gave their life defending our country. After seven years of planning and raising money, the Roy Holland Gallemore Veterans Memorial is now just weeks from being finished. "Being in central Florida, where there are a lot of retired submariners, we thought this would be a nice place to have a memorial for all of them," said Jack Merrill, a retired submariner himself who has spearheaded the project. He and fellow submariners raised more than $37,000, many of it by standing outside Publix selling raffle tickets for dollhouses. "My only responsibly now is getting this built," he said. The memorial is named after Roy Holland Gallemore, a submariner from Bartow and nephew to former Florida Gov. Spessard Holland. Merrill said they need to raise another $4,000 to finish the project prior to the dedication ceremony planned for March 7.
Wells Fargo donates mortgage-free home to veteran (Quad City Business Journal)
After traveling the world with the military, Robert and Darlene Williams are making Bettendorf, Iowa, their home, thanks to a mortgage-free house given to them by Wells Fargo Home Mortgage and Operation Homefront. Walking into their house Tuesday for the first time, the couple was in awe of the spaciousness, the new carpeting and features, and the generosity of the bank and the non-profit agency. "Oh, my goodness; oh, my goodness. This is so wonderful," Darlene Williams said as they walked from room to room, admiring the kitchen, the closets and three bedrooms. The couple had spent more than a half hour touring the main floor, repeatedly expressing their thanks and gratitude to Wells Fargo and Operation Homefront before they even realized the house had a finished lower level and attached garage. Then Darlene began screaming for joy. "Robert, there is a downstairs to this place! We got a washer and a dryer!" she said with delight. The couple was the first in Iowa to receive a Wells Fargo home through Operation Homefront's Homes on the Homefront program. Since the program's inception three years ago, Operation Homefront has helped put more than 450 veteran families in new homes, said Amilee Santos, a housing case worker with Operation Homefront.
WWII veterans' association seeking 384th Bomb Group vets (Pensacola News Journal)
With the number of living WWII veterans quickly diminishing, the WWII Veterans' Association, 384th Bombardment Group of the Eighth Air Force is looking to commemorate those of the generation. A piece of history in the form of a wing panel from a WWII B-17G aircraft has been donated to the Association and will be on display at the Hill Aerospace Museum at Hill Air Force Base in Utah. As part of the commemoration recognizing these servicemen, members of the Association are offering 384th veterans a chance to sign the wing during the groups' reunions taking place nationwide. "We wanted to do something to preserve the legacy of these gentlemen," said Keith Ellefson, a WWII Veterans' Association volunteer and a NexGen member — a descendant of a 384th Bomb Group member. For questions and more information, call Ellefson at (334) 733-4353 or email B-17WingPanel@384thBombGroup.com.
Veterans Law Clinic sets benefits recovery record (Delaware News Journal)
A Delaware-based free veterans law clinic had a banner year in 2014, recovering $1.76 million in medical disability benefits on behalf of 35 veteran clients. The total represents the highest dollar amount recovered by the clinic, based at the Widener University School of Law Wilmington campus, since 1997, when it began representing disabled veterans and their dependents with claims pending before VA The Veterans Law Clinic specializes in representing veterans' cases on appeal from VA Regional Offices throughout the U.S. to the Board of Veterans Appeals and the Court of Appeals for Veteran Claims. The total recovered, $1,765, 638, brings the total benefits recovered by the clinic to more than $7 million, with $3.7 million – or 53 percent – of that recovered in the last three years, the school says. "The clinic has had an outstanding year," Director Susan Saidel said. "It has been really rewarding to recover these benefits for our veteran clients, because they improve their lives and the lives of their family members. These awards can be the difference between hunger and homelessness and a warm, safe home with a stocked refrigerator. The work is also an eye-opening educational experience for our law students, as it demonstrates the impact of public interest work and hopefully ignites a passion for pro bono that stays with them during their legal careers."
New Orleans mayor declares victory in ending homelessness of veterans (New Orleans Times-Picayune)
Michael Washington said he's not suicidal, but on some days he wishes that he were never born. And over the past two decades, there have been a lot of days like that. Washington, 56, lived on the streets of New Orleans for 20 years. He's been addicted to crack, suffered through severe depression, and continues to struggle with acute pain after being slammed so violently to the ground during a brutal attack years ago that he separated both shoulders. But the hardest part about being homeless, said Washington, a veteran of the U.S. Air Force, is the weather. "Sometimes you have to endure the rain and the cold and sometimes you have to endure both," he said. "The weather can turn on you and you end up with nothing. I think Unity rescued me just in the nick of time." Last year, as part of Mayor Mitch Landrieu's pledge to be the first city in the country to end veteran homelessness by Dec. 31, 2014, outreach workers with Unity of Greater New Orleans conducted sweeps looking for former members of the military in need. They found Washington sleeping on a bus stop bench at the corner of Elysian Fields and St. Claude avenues. Less than a month later, on Sept. 19, they moved him into his own apartment. "It's a blessing," Washington said. "I sit down and when it's storming outside I say, 'Wow. Normally I'd be out there.'"