Veterans GOODNEWS for Jan. 8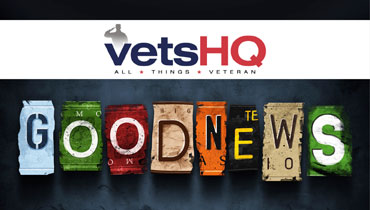 Lincoln Awards and concert honor service to veterans (Military Times)
Nick Jonas is joining forces with Jerry Lewis, Gavin DeGraw and other entertainers Wednesday to honor those who serve and support U.S. veterans and military families with a new award. Ten individuals and corporations will receive the inaugural Lincoln Awards during a musical special that comes at a time when many service members are returning from Iraq and Afghanistan. The honorees include Bruce Springsteen for supporting veterans for decades through his music and charity work; Segway inventor and bionic arm creator Dean Kamen for major advances in prosthetics for amputees; Fisher House Foundation CEO Ken Fisher for housing families of hospitalized military personnel and veterans; and Wal-Mart Stores Inc. for the company's commitment to hire 100,000 veterans by 2018. NBC's Brian Williams will host "The Lincoln Awards: A Concert for Veterans and the Military Family" at the Kennedy Center. The audience will include about 1,900 veterans and military family members. The show will be broadcast in May on PBS.
Decorated Marine veteran appointed as Massachusetts Secretary of Veterans Affairs (Military.com)
Francisco Urena, a Purple Heart Marine and much respected ally to the city of Lawrence, was appointed Massachusetts Secretary of Veterans Affairs by incoming Gov. Charlie Baker Monday. Urena, 34, will leave his current job as commissioner of Veterans Services in Boston to take the state appointment in Baker's cabinet. Prior to taking the Boston post in 2011, Urena was director of the Lawrence Veterans Services for four years. "It's a bittersweet moment to tell you the truth. We've built a great team here in Boston," said Urena, describing his team as "effective and energetic." "We are engaging veterans in all of the neighborhoods," Urena said. "I'm very honored to be selected by Gov. Elect Baker to represent the 385,000 veterans that live in the Commonwealth," Urena said. Born in the Dominican Republic, Urena moved to Lawrence at age 4. He attended the Tarbox School before moving to Florida. In 1998, the day after he graduated from Broward High School, he joined the Marines. He spent eight years in the Marines, guarding U.S. embassies in Syria and Kyrgyzstan and was a tank commander during operation Iraqi Freedom.
Syracuse University College of Law opening veterans legal clinic (Syracuse.com)
Military veterans in Central New York will have access to free legal help through a new, year-round legal clinic opening today at Syracuse University's College of  Law. The Veterans Legal Clinic opens Jan. 8 at SU's Dineen Hall. It will specialize in work involving the Department of Veterans Affairs such as appeals of adverse VA decisions and attempted  upgrades of military discharges. Tom Caruso and Josh Keefe, both of whom graduated from SU's College of Law and SU's Maxwell School this year, helped create the clinic.  Each is returning to active duty as a judge advocate — Caruso for the U.S. Navy, Keefe for the Marine Corps. "Studies have shown that there is a 144 percent increase in compensation on VA claims, and veterans can have a VA decision in just a few weeks (with assistance from an attorney)," said Caruso. The two began their legal clinic initiatives three years ago as first-year law students when they created Valor Day at SU, an event where Central New York veterans and their families obtain a range of free professional services. But demand exceeded what one day of services could provide. So Caruso and Keefe began looking for ways to establish a full-time veterans legal clinic. SU's College of Law will continue to hold a Valor Day each fall, offering services and promoting the clinic, Caruso said.
Injured veteran launches business to empower other vets (Military Times)
An SUV that's been on many camping trips with Boy Scouts is now in the hands of a veteran who is starting an athletic clothing line to support disabled veterans and civilians. "That's a big truck," said Zoey, 4, the daughter of Rhode Island Air National Guard Technical Sgt. Steve D'Amico of South Kingstown, Rhode Island, who received the Dodge Durango through the Groton-based nonprofit Work Vessels for Veterans Inc., at the Bob Valenti Automall in Mystic, Conn., last week. D'Amico's business, Broken Gear, "was founded on the principle of disabled athletes empowering themselves to get back into sports, whether they're disabled veterans or disabled civilians," he said. D'Amico, who attended the University of Connecticut's Entrepreneurship Bootcamp for Veterans with Disabilities, developed the concept for Broken Gear after suffering an on-duty accident that severely injured his leg and ankle, which led him to medically retire from the military. The clothing line, found at www.brokengearwear.com, features gear bags for individuals who have prosthetic hands, among other athletic gear. The idea is to support disabled veterans and civilians in the pursuit of their athletic goals. Profits from the sale of gear will go toward "buying equipment and getting vets involved in different activities," D'Amico said.
Maine university system to offer in-state tuition to veterans' dependents (Portland Press Herald)
The University of Maine System is poised to reduce tuition for military veterans' dependents who live out of state, bringing it in line with new federal requirements for public colleges and universities. The system would offer in-state tuition to all veterans' dependents who qualify for GI Bill benefits under a proposal approved unanimously Wednesday by the academic and student affairs committee of the system's board of trustees.The full board of trustees will vote on the proposal at its Jan. 26 meeting. If approval isn't delayed, the policy will take effect after the spring 2015 semester.  Depending on the campus, in-state tuition rates in the UMaine System are one-third to one-half of out-of-state rates. At the University of Southern Maine, annual tuition for a full-time student is $7,590 for Maine residents and $19,950 for out-of-state residents. Under the proposal, dependents would have to enroll before their GI Bill benefits expire, but would continue to pay in-state tuition even after GI Bill benefits are exhausted or expired. Under the GI Bill, some dependents' benefits expire 15 or 20 years after a veteran's death, or after the dependent has attended college for a certain number of years.