Veterans GOOD NEWS for Feb. 26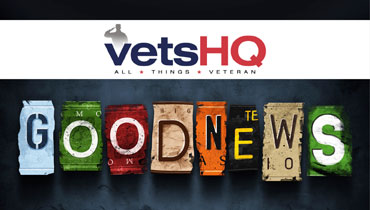 Arizona veterans enroll in 'healing arts' classes (AZfamily.com)
The Arizona Fine Art EXPO is playing host to some military veterans who are taking free art lessons, thanks to the Healing Arts Foundation. "It gives me a sense of peace. When I walk away from here today, I'm going to feel good because I accomplished something," Filmer Kewanyama, an Army veteran, told 3TV. Kewanyama drives all the way from Prescott for his weekly sculpture class. He and some of the others struggle with stress and post-traumatic stress disorder. "I really never thought I'd get into sculpture," said Navy veteran Jim Treece. Most here have little or no experience in the arts, but consider the class therapeutic. "It's an emotional healing," said Steve Smigay, whose wife encouraged him to enroll. Smigay quickly realized that he has a natural artistic talent, and also realized the healing powers of the class. "For those who just came out of Iraq or Afghanistan, they all express this is an opportunity for me to relax and meditate, and not think about what's happened," Smigay said. "Most folks aren't here for physical healing. It's more for a mental, psychological and emotional healing," Army veteran Mike Noyes said. Others, like Barry Rosenblatt, a retired Army dentist, believe they have healed physically, as well. "I think this is an excellent program for anyone with a traumatic brain injury," he said.
Back from war, veterans find a home on the farm (KCUR-Kansas City Public Media)
Sara Creech has grown dependent on farming. She started out planting an orchard of fruit trees – apples, peaches, cherries and pears. She added berry bushes and rows of vegetables. And then she bought her first chickens. "A lot of people call chickens the gateway animal," she said. "Like once you have a chicken on the farm, then you end up getting sheep on the farm, and then you end up getting horses, and cows, and then it just explodes from there." Creech served as a surgery nurse during the Iraq War. She has a master's degree and 16 years of experience. But she turned to farming when her career in nursing fell apart. Like as many as one in five veterans from Gulf War II, Creech came home from war with PTSD that she said made returning to nursing impossible. Her depression and anxiety became so severe she felt like she was dangerous to her patients. "I couldn't work," she said. "I couldn't do my job. It was devastating." n recent years, thousands of veterans like Creech have showed an interest in farming as a way to find peace and purpose, and several nonprofit organizations and universities have launched programs to help them pursue careers in agriculture. Now, Congress has gotten on board, giving veterans a dose of financial support. The 2014 Farm Bill designated veterans, for the first time, as a distinct class of beginning farmers within the U.S. Department of Agriculture. The status grants veterans access to low-interest rate loans to buy animals and equipment, allows them to apply for grants to build onto their farm, and can help them receive extra payments to implement conservation practices on their land.
Wounded veterans given VIP treatment at Pa. ski resort (ABC27-Hershey)
A Pennsylvania nonprofit rolled out the "white carpet" for wounded veterans this week. The Wounded Warrior Patrol's annual trip to Seven Springs Mountain Resort in Somerset County is all expense-paid for physically and mentally injured vets and their families. Army veteran Dennis Leonard of Middletown lost his legs while serving in Iraq in 2007. He made the trip last year and returned this year as a mentor to others. "The social networking for vets to find out about events like this isn't there," Leonard said. "So, the more people you can come in contact with and spread the word through them, the better. Get groups out there like this so everybody knows about them." Shane Betts of Mount Holly Springs, also an Army veteran, skied for the first time with his wife Ashley. Betts's foot was shattered when he stepped on a landmine in Afghanistan in 2010. "(Injured veterans) tend to keep to themselves and I'm the same way," Betts said. "I definitely understand the anti-social thing. That's why I work so hard though, to meet these guys. Couple of guys on this trip, I know other wounded warrior organizations and I'm trying to push them to go do other things, too." Wounded Warrior Patrol began in 2011. It's 100 percent volunteer, with 100 percent of proceeds going to the cause.
Puzzles, writing help combat veterans with PTSD (Sioux Falls Argus-Leader)
Erik Bunger turns to puzzles when he needs an outlet for the post-traumatic stress disorder he suffers after two deployments as an infantry airborne paratrooper. "Whether it be written or actual jigsaw puzzles, it's a huge outlet," the Sioux Falls veteran said. "I do puzzles with 5,000 pieces, and I piece them together and glue them, and I have them hanging up all over my apartment. It's a mental control for me, if you will." Bunger, who served in Afghanistan from June through December 2002 and in Iraq from June 2003 through April 2004, has been diagnosed with post-traumatic stress disorder and has been evaluated with a 80 percent disability. He's not alone in his struggles. Data from the Veterans Administration indicates that from 2002 to 2009, 1 million troops left active duty in Iraq or Afghanistan and became eligible for VA care. Of those troops, 46 percent came in for VA services. Of those veterans who used VA care, 48 percent were diagnosed with a mental health problem. In Sioux Falls, Augustana College has been designated as a Yellow Ribbon School, a Veteran Friendly School and Military Friendly. Patrick Hicks, the college's writer in residence, said he has taught classes that include veterans since 2005. "Some of my students have struggled with their re-entry into the United States," Hicks said. "It's very hard for me to watch especially when these are very gifted and bright young men and women, but they have trouble maybe focusing on the present moment when the past is so much a part of their daily lives." That is one reason Hicks has organized a program especially designed for veterans. On Thursday he is hosting Ron Capps, the founder of the Veterans Writing Project, a nonprofit that provides no-cost writing seminars and workshops for veterans, service members and their adult family members. The event includes Capps reading from his latest book, "Seriously Not All Right," and Hicks from his new collection of short stories, "The Collector of Names."
Blind, homeless vet draws lots of support, but fate still uncertain (KHOU-Houston)
A blind and homeless Marine Corps veteran evicted from a shelter that failed to pay its rent spent Tuesday night inside a dark and cold building in the Third Ward, sharing sleeping quarters with his caretaker. Enrique Avala moved into the building along with Tom Jones, who ran the non-profit shelter that closed earlier in the day and hoped to open a new shelter in the new location. But his fate remained uncertain, as the new building's owner complained that Jones moved in without a signed lease and gave utility workers the wrong address to turn on the electricity. Avala's story, aired on KHOU 11 News Tuesday evening, triggered a flood of phone calls and emails from viewers offering to help. Most of them offered money, a couple offered him a place to stay and one even offered to pay for a few nights in a hotel room. KHOU passed all of the offers along to Jones, who acts as Avala's caretaker. "I've got ten bucks until Friday," said Debra Thomas, a cashier at a Pasadena hardware store who said Avala's story drove her to tears. "And it's going to go to that man. I know it's not much, but it's what I could do. And it felt right." A police officer who saw the story happened to see Avala on a Third Ward street the next day. He and his partner stopped and talked to both Avala and Jones, then called for help from HPD's Homeless Outreach Team, which arrived in the afternoon to help find Avala a warm bed for the night.
Pet therapy at the Salem VA (WSET-Lynchburg)
Therapists at the Salem VA are having great success using pet therapy with veterans. An effort led by a cat. On the hospice floor of Building 2 at the Salem VA Medical Center — the head honcho around here is a cat named Tom.  "We actually thought about getting another cat but we decided that's not a good idea," said Laura Hart who is a physician's assistant in the hospice unit. You know you have it good as a cat when you have your own play space… your own office… even a book about you. Called "Tom the Angel Cat", it's a book written by the family of a vet who lived his last days here.   A vet comforted by Tom – who seems to know the right time to employ his skills. "When they are dying sometimes he jumps up in their laps and it kind of breaks the tension. The families really like it. They put a lot of stock into him," said Hart. Pet therapy at the Salem VA is an important part of the treatment. Dogs, birds, fish and horses are also part of the prescription that has helped many here feel better. "We try to promote a home life environment and so it's just like everybody would do with their animals at home. They interact. You build a relationship with the animal. It touches their heart. It touches our heart to see the veterans interacting," said recreational therapist, Molly Hayslett.
National Foundation for Military Family Support launches 'Hollywood for Heroes' program (Fox News)
The relationship between Hollywood and the military is getting another boost. On March 1st, the National Foundation for Military Family Support (NFMFS) will officially launch its Hollywood for Heroes (H4H) program in coordination with SkyScape Entertainment, with the goal of providing a series of donations to an array of military charities and veterans' programs through production company and distribution revenues. "I'm hoping to set a new precedent on how Hollywood is not only viewed, but operates," Stephen Rollins, NFMFS founder and president and CEO of SkyScape Entertainment, told FOX411. "It's a way to give hope while entertaining, and I hope others will follow." Starting with its next production, SkyScape will donate a percentage of its revenue from the sales of each of its forthcoming productions to military charities selected by the company's executive board, in addition to making a donation to various charities on behalf of celebrities attached to the company's productions. SkyScape bills itself as an independent production company that focuses largely on narrative driven projects such as feature films, short films, and trailers.
Medal of Honor recipient to race The Mint 400 (Off-Road.com)
Medal of Honor recipient Sgt. Dakota Meyer is headed to Las Vegas, NV to race the Mint 400 on March 14th with the Roberts Racing Team. Dakota will be piloting the Roberts Racing #1588 Class One Car. Dakota earned his Medal of Honor during the battle of Ganjgal in Afghanistan where under fire he saved the lives of his fellow soldiers and civilians in an extraordinary act of bravery. The Medal of Honor is the United States of America's highest military honor, awarded for personal acts of valor above and beyond the call of duty. The medal is awarded by the President of the United States in the name of the U.S. Congress to U.S. military personnel only. "The Mint 400 is more than a race, it's a demonstration of American ingenuity and resolve. The idea that we never quit is an inherent American trait that is upheld at its highest level by our veterans. That trait is also a inherent in off-road racing, we never quit. We are honored to have Dakota Meyer and all the other veterans who come compete in "The Great American Off-Road Race". They have offered the greatest sacrifice in protecting our way of life," stated Matt Martelli, Mint 400 CEO.