Veterans GOOD NEWS for Feb. 27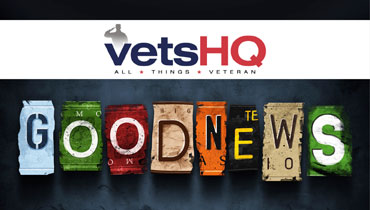 Meet the 91-year-old whose wartime PTSD makes him perfect guide for today's vets (The Washington Post)
Commentary by Norman Bussel: "They come into our office at the VA hospital in Montrose, N.Y., hesitantly. Eyes filled with doubt, hands restless. They want us to help them file compensation claims for disabilities resulting from their military service. Some have debilitating physical injuries, but almost every one also displays mannerisms — fidgeting in their seats, knees bobbing up and down during interviews, avoiding eye contact — that indicate that they have PTSD. The symptoms jump out at me because I have lived with PTSD for more than 70 years. As a 91-year-old World War II veteran, I am not the most obvious choice to help these Iraq and Afghanistan vets, some of them almost four times my junior. In many ways, we fought vastly different wars, and more importantly, we experienced vastly different homecomings. But I can persuade them to talk by being forthright about my own decades-long battle with PTSD. PTSD is not particularly associated with WWII vets, partly because the term didn't emerge until after the war in Vietnam, and partly because we downplayed its effects. We're "the greatest generation," the ones that lived through the Depression and returned home as heroes. But war is war. When my father returned home with his Army unit after they defeated the Germans in World War I, veterans with psychological problems were termed "shell-shocked." My generation's issues, described as "battle fatigue," were famously dismissed by Gen. George Patton. The rate of PTSD among WWII vets is difficult to ascertain, but one study put the number at 26-33 percent. The vets I meet are surprised to learn I'm a weightlifter who does interval training on the treadmill and that I can make it through a conversation without nodding off. I tell them how PTSD has affected me: I avoid elevators, crowds and July 4th fireworks; I'm claustrophobic from the 12 days I spent in a lightless cell at the Luftwaffe interrogation center in Germany, and I won't fly unless I have an aisle seat."
How veterans are helping other veterans fight suicide (KTBC-Austin)
This week the Central Texas community lost another veteran. On Monday Brett Aycock, a U.S. Army sniper veteran, killed himself. This is especially hard for the community because Aycock was actively involved in raising awareness about veteran suicides. He'd recently been working with the WYSH Project, a group we have profiled several times on the Care Gorce that fights against military suicide. We want to extend our condolences to Aycock's family and friends. The WYSH project isn't the only group fighting against vet suicide. There is also a state-wide organization called the Military Veterans Peer Network. Mike Warren caught up with Christopher Araujo to learn more about the organization. Araujo is one of about 36 area coordinators with the Military Veterans Peer Network. The group's formula to help struggling vets is simple: they are veterans too. "I'm a combat vet, you're a combat vet, I understand what you're going through, I can help with what you're going through because I've been there. I've done it," Araujo said. He says that method works in Central Texas because the rate of veteran suicides here is far less than the national average of about 22 a day. He says he's never lost anybody, and he's sure not going to lose Darrell Garrett, despite his PTSD. Garrett served in Iraq and it was his parents who contacted the peer network because Garrett was isolating himself and they were worried. "There've been days where I'm sad I woke up but I've never made a plan. You feel alone. Nobody understands what you're going through," he said. "It's the feeling of hopelessness and that's what we do is in still hope in people to show them there is a light at the end of the tunnel and you can overcome the feelings and trauma you've suffered because of your military service," Araujo explained.
Veterans express their true selves in stunning photo series (The Huffington Post)
A new photo series is casting clichés aside by portraying veterans as nothing but their truest selves. "The Veteran Vision Project," created by photographer and college student Devin Mitchell, aims to both empower veterans and enlighten the public about the serious issues they face upon returning home. As CBS News reported, sometimes a military uniform "can mask the complexity of the men and women who wear it," and Mitchell is setting out to unveil just who they really are. "The veteran population is so diverse, and that is one of the elements that is so amazing about the project," Mitchell said in a video posted on Kickstarter. His online fundraiser aims to raise $20,000 to publish a photo book of his work. "If there's one thing I could accomplish with this project, it would be to give the veterans a voice." In the photo illustrations, veterans pose — sometimes with family members — in front of a mirror. One photo captures them dressed in uniform and typically sporting a stoic expression. Mitchell takes another photo depicting the military member however they choose to be photographed as a civilian. He then combines the two contrasting images into one.
Author of 'Redeployment': Stories reflect experiences by many Iraq War veterans (The Miami Herald)
Phil Klay understands that when you are a veteran of the U.S. Marine Corps, and you write fiction about war, some readers will assume every story is your own. This, he wants you to know, is not the case. "I don't think you can read the whole book and think it's autobiographical," says the author of Redeployment (Penguin, $16 in paper). He appears Thursday at Books & Books in the Gables. "There are some things in the book that are related to things that happened to me. There are things related to other soldiers or Marines — and I did a lot of research." In its 12 unforgettable stories, Redeployment offers a wide-angle and yet deeply personal examination of the Iraq War. Winner of the 2014 National Book Award for fiction, the book is the spiritual heir of Tim O'Brien's Vietnam War masterpiece The Things They Carried. But instead of mimicking O'Brien's metafictional stories based on his own experiences about the men in a single platoon, Klay — who accepted his commission in the Marines in 2005 after graduating from Dartmouth and served in the Anbar Province from January 2007 to February 2008 — expands his stories to include a wide variety of experience. His position as a public affairs officer put him in a unique position to meet and work with different types of Marines and soldiers. "I was interested in the stories people haven't encountered as much," he says now. "It allowed me to approach similar themes from very different angles and look at them in a new light."
WWII vets reunite for 10th Mountain Division Ski Day (CBS-Denver)
World War II veterans who were part of the 10th Mountain Division and trained on the slopes in Colorado were reunited this week. The 90-year-old veterans are still doing what the Army trained them to do decades later — ski! "This is our annual skiing trip and it's 35 or something. I don't know, we've been doing it for years," said 10th Mountain Division veteran Dick Dirkes. They hit the slopes at Vail to tell stories and reminisce. "We're a fine group of men, those of us who are left and those of us who are passed, we have pleasant memories of them," said Dirkes. "The training here bonded us as a division and the training was very rigorous, especially the D series which was six weeks living in the snow and ice," said 10th Mountain Division veteran Hugh Evans. They learned skills at Camp Hale near Leadville. The Ski Troopers were an experiment by the Army in the early 1940s. "The training at Camp Hale built the bond of the 10th Mountain Division," said Evans.
From soldiers to welders: New program trains for careers (Fort Campbell Courier)
Soldiers transitioning out of the Army can face a degree of uncertainty about future career endeavors – and the means necessary to get started on a path in the civilian sector. Members of the Soldier for Life – Transition Assistance Program, formerly the Army Career Alumni Program, work closely with these Soldiers to help the planning process go as smoothly as possible. Simultaneously, they work with educational and employment programs in the private sector, looking to find organizations eager to provide a leg-up to transitioning Veterans. Sometimes, these partnerships yield phenomenal opportunities for transitioning Soldiers – as is the case with The United Association of Journeymen and Apprentices of the Plumbing and Pipe Fitting Industry of the United States and Canada (commonly known as the UA). This multi-craft union is now offering transitioning Soldiers the opportunity to receive 18 weeks of condensed training in the field of welding. The program, called Veterans in Piping, is being offered at no cost to participating Soldiers – and guarantees a union apprenticeship upon completion of the course. The VIP program – which is already in place at some military installations across the country – recently began its first 18-week training session at Fort Campbell. While there is already a generated level of interest, Teresa K. English, Career Skills Program coordinator at the Sgt. Glenn H. English Jr. Army Education Center, wants to spread the word about VIP to as many Soldiers as possible.