Veterans GOODNEWS for Feb. 11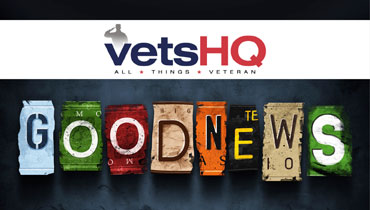 In death, Marine returns to the Pacific Island where he survived battle (Milwaukee Journal-Sentinel)
Under a cluster of coconut palms on a tiny coral island more than 6,400 miles from Milwaukee, Lynne Rivera and Paula Smith honored their father's final wish. Frank Pokrop had been a sniper in the 4th Marine Division during World War II. Trudging through the jungle, trapped behind enemy lines, he was shot and nearly lost his life on Namur, one of two conjoined islands at the northern tip of Kwajalein Atoll in the heart of the Marshall Islands. Seventeen at the time he enlisted, 18 and a corporal when he took part in the Battle of Kwajalein, the experience never really left him. He served as president of the 4th Marine Division Association, helped organize reunions, and for 47 years ran a scholarship committee for division members' college-bound children and grandchildren. Twice, he returned to the island for anniversary commemorations, in 1985 and 1994. The speck of land in the central Pacific kept calling her father back, said Smith, who lives in Menomonie. Pokrop achieved much in his life — coach and counselor, teacher and principal, community volunteer and church leader. He and his wife, Maxine, had three children and five grandchildren. But when he died at age 89 a few weeks before Christmas — the anniversary of Pearl Harbor to be exact — it was time to head back to Namur one final time. And so on Jan. 30, just shy of 71 years after the island battle started, Pokrop's daughters landed here and climbed out of a 19-seat turboprop commuter plane, bringing with them their father's ashes.
Vets honor those who served but died homeless (The Portland Tribune)
Upon the request of a deceased veteran's family, U.S. law requires every eligible veteran who served honorably to receive a military funeral ceremony that includes the presentation of a folded burial flag, a rifle salute, and the playing of "Taps." But what if a veteran dies homeless or without any surviving family members? When Senior Vice Cmdr. Bill Trumble and his group at the Three Rivers Veterans of Foreign Wars Post #1324 heard that funding was cut for the Oregon National Guard's program giving full military honors at the funerals of homeless veterans, he immediately went to the Willamette National Cemetery in Happy Valley and offered services for the monthly memorial. Burial services for veterans who don't have a next-of-kin seeking full military honors are technically called "unescorted." George Allen, Willamette National Cemetery director, said he appreciated that the VFW post stepped in to honor such veterans. "It all aligns with our mission to make sure that no veteran goes unrecognized," Allen said.
Reflections of Vietnam from those who served (Fort Worth Star-Telegram)
Even after more than 40 years following the Vietnam War, it's still not clear how historians will close the book on it, much less interpret its final outcome. Some say it was a proxy war fought the result of the Cold War following World War II involving three major superpowers — America, China and the Soviet Union. Ron Chandler, Post 163 Adjutant for the American Legion in Weatherford, Texas, said he's comfortable with letting analysts figure that out. His main concern, however, lies in the remembrance of the war, and to bring awareness to one of the largest veterans groups in Parker County. "Even though we show on history's calendar the Paris Peace Accord was signed on Jan. 27, 1973, you really don't see anything on a functional, day-to-day calendar about the end of the war," Chandler said. "This got my interest and so I started asking questions and realized that very few people have brought this to the level of awareness." On May 8, 1945, the country celebrated the victory in Europe with VE-Day; on Aug, 15, 1945 America celebrated again with the victory over Japan with VJ-Day. Chandler said the sacrifice of Vietnam Veterans, their dedication and service to country resonates; that their spirit lives on and needs always be remembered. "We have 163 Vietnam Veterans that are members of our post, which makes up half of our membership," Chandler said. "All total in Parker County we have 13,000 veterans, a large portion are Vietnam Veterans and we want to reach out to them. "It's exciting to see veterans from that era getting more involved now. We're going to Congress and petitioning for more benefits and better assistance."
Special 'Welcome Home' for Vietnam veterans (The Herald of Everett, Washington)
Martin Spani stepped forward to present the Vietnam veterans flag and to say some words few veterans of that conflict heard when they returned stateside. "Let me begin by saying — finally — welcome home," said Spani, of Lynnwood, Wash., commander of Veterans of Foreign Wars Post 1040. It's been more than 50 years since the United States formally involved itself in Vietnam. Around 40 Vietnam veterans and their families gathered in the longhouse at the Hibulb Cultural Center Feb. 7 to be honored for their service. The event's keynote speaker was Edmonds artist Michael Reagan, who served as a Marine during Vietnam. Reagan is best known for his work with the Fallen Heroes Project where he draws portraits of servicemen and women killed in action. "I appreciate what Mr. Spani said, to welcome us home," Reagan said. "So many of us that made it home never heard that, aside from our families or fellow veterans." The national commemoration began May 28, Memorial Day, 2012, and will continue until Veterans Day, Nov. 11 of 2025. A presidential proclamation by Barack Obama designated these 13 years as a time to honor veterans, to thank them for their service, and to remember the sacrifice so many made.
Kansas bill would allow private employers to give veterans preference in hiring (Kansas.com)
Employers would be able to show a hiring preference to military veterans if a Kansas State House bill becomes law. House Bill 2154 would allow private employers in Kansas to voluntarily adopt policies that give preference to veterans in filling job vacancies provided they meet the requirements for the position. The House Committee on Veterans, Military and Homeland Security reviewed the proposal at a hearing Tuesday and will likely vote on it Thursday. Martin Dempsey, Midwest liaison for the U.S. Department of Defense, testified that many employers who would like to show a hiring preference to veterans "are hesitant to do so out of fear of being sued" under equal employment opportunity laws, noting that U.S. veterans are disproportionately male. However, Title VII of the Civil Rights Act contains an exemption that gives states the power to allow employers to show a preference for hiring veterans. Twelve states have adopted such a policy, according to Dempsey. "Certainly, the need for your help is out there," he told the committee.
Injured veterans find strength in self-defense classes (MyFox-Tampa Bay)
Veterans permanently injured in war are meeting the challenge and accomplishing amazing physical acts of strength. They refuse to use the word "disabled." How they're fighting back is What's Right with Tampa Bay. Once a warrior, always a warrior. "How many people here think you can choke somebody with this little bitty short arm?" asks Richard Cicero, who started a mixed martial art program for injured veterans said. An I.E.D. explosion in Iraq maimed Richard Cicero's body, but couldn't rob him of his will. "Resulted in the loss of my right arm and leg," Richard said. Now he is challenging himself physically and mentally through mixed marital arts training. Richard and other vets who lost limbs or suffered traumatic brain injuries strengthen their bodies and minds. "We focus on what they can do, not what they can't do," said Ron Kahn, a martial arts instructor. "We modify the techniques so it works for each individual veteran." Veteran's groups and private donors are supporting new adaptive physical training for our war wounded, a massive population. In 14 years of battlefield fighting, 42,000 suffered traumatic brain injuries; 1,500 had major limbs amputated. "It's about understanding one another and looking after one another," Richard said. This training sets goals, promotes teamwork, boosts fitness and self-esteem.
Wounded veterans climb the peaks of the Earth (MyFox-Tampa Bay)
It happened in an instant. "Immediately the blast traumatically amputated the leg at the knee," says Billy Costello. The army moved him off the battlefield in Afghanistan and into a hospital. Just over a year later, he climbed Mount Kilimanjaro. "It was, 'hey, nobody's carrying you. You got to get there yourself to the top' and that's what I needed," says Costello. He climbed with an organization called Combat Wounded Veteran Challenge, with headquarters in Tarpon Springs. Their plan is to visit the Seven Summits, the highest mountains on earth. They've climbed Kilimanjaro in Africa and Denali in Alaska. Now, their nine member team is in Argentina to climb Aconcagua, the highest peak in the western hemisphere. "I'm excited about it," says Josh Waisenan, a wounded veteran who suffered a traumatic brain injury. They carry both the physical and mental scars of war, but their expedition is important in many ways. Pete Quintanilla, who lost his leg to machine gun fire during training, puts new prosthetics to the test in the world's highest and coldest climates.
Iwo Jima veterans share stories on 70th anniversary (Richmond.com)
Frank Matthews was never more afraid than the morning nearly 70 years ago when he helped seize an airfield on the Pacific Island of Iwo Jima near the end of World War II. The Marine private first class had walked across the island that night with his platoon, their gas masks tied together to form a chain as Japanese soldiers fired at them out of the dark. He had fought the enemy hand-to-hand as they emerged from a network of tunnels. His bayonet procedure that night, he said, was parry then shoot. But that morning, lying in the open with no cover as the battle for the airstrip raged, death seemed like a certainty. It wasn't for Matthews, though. He would be the only member of his platoon to survive the monthlong bloodbath at Iwo Jima. Mike Dudash, a Marine charged with running phone lines for communication on the island, arrived around midnight after the first day of battle on Feb. 19, 1945. "You could not see the island," Dudash said. "All you saw was a huge floating cloud, filled with explosions, flashes and smoke." Matthews and Dudash were among eight Battle of Iwo Jima veterans who shared their stories Tuesday at the Virginia War Memorial in a program marking the 70th anniversary. Nearly 200 active-duty Marines and others attended the all-day event to honor the men's service and hear their war stories.
Working with historic artifacts offers vets a bridge from battlefield to civilian jobs (St. Louis Public Radio)
These days, Marine veteran Ryan Schatz works a quiet job, painstakingly photographing Native American arrowheads and shards of ceramic pottery unearthed decades ago during construction projects by the U.S. Army Corps of Engineers. Schatz, 33, is employed by the Veterans Curation Program, a Corps initiative that hires veterans as temporary lab technicians, while teaching them employment skills to help them transition to the civilian workforce. The digital images he is making will eventually be shared online as part of an ongoing effort to preserve and catalog the Corps' massive collection of artifacts and photographs. Schatz, who says he was a "combat arms kind of guy" during the 13 years he served with the Marines, likes cataloging these fragments of history. He also appreciates working with other veterans — most in their late 20s and early 30s — who served in Iraq and Afghanistan. Schatz enlisted when he was 18 and was among the first Marines to push into Iraq in 2003 during the U.S.-led invasion that ousted Iraqi president Saddam Hussein. "It's definitely good to work around other veterans that share some of the same experiences,'' he says. "That was the big thing when I was getting out — worrying about how am I going to transfer my skills? How am I going to adapt? This is definitely making the transition to civilian life a lot easier.'' The Veterans Curation Program is a unique employment opportunity for post-9/11 veterans. The little office-like lab in the Robert A. Young Federal Building in downtown St. Louis appears as unrelated to the battlefields of the Middle East as the work the veterans are now doing with archaeological specimens collected during the building of U.S. reservoirs and locks and dams.
WWII veteran honored for service through Hospice for Heroes (Evansville Courier & Press)
Donning a World War II veteran cap and wearing a suit, 94-year-old Louis Hoelle was filled with emotion Monday during a ceremony honoring his service in the U.S. Navy. Wiping tears, Hoelle sang along to the national anthem, asking his daughter to remove his cap, and then accepted the certificate of recognition and flag presented to him by the Navy. Through Unity Hospice's Hospice for Heroes patient program, Hoelle, surrounded by his children, grandchildren, great-grandchildren and great-great-grandchildren, was honored by the U.S. Navy color guard at Avalon Springs Health campus in Valparaiso. Hoelle is a resident and hospice patient who suffers from Alzheimer's disease. "Because of his dementia, we couldn't do the Honor Flight, so when we heard about this program we knew this would be special," said Hoelle's granddaughter Lori Hogan, of Valparaiso. "We did have to convince him this morning that this was an honor and that the Navy was not taking him back into war." Sailors from Naval Station Great Lakes in Chicago presented the colors and spoke of Hoelle's service. Hoelle served in the Navy for three years during World War II, quickly becoming a first class petty officer as a machinist mate. To advance to such rank nowadays would take six-to-10 years.
PGA Tour events offer free tickets for troops, retirees (Army Times)
Active, reserve, veteran and retired service members and their families are eligible for free or discounted tickets at some of the nation's top golf tournaments this year, including this weekend's AT&T Pebble Beach National Pro-Am in Monterey, California, and The Players Championship in Florida in May. Birdies for the Brave, the PGA Tour-supported military outreach charity founded in 2006 by Phil and Amy Mickelson, provides the tickets in conjunction with sponsor Quicken Loans. Ticket offers vary by tournament and type of service, ranging from free entry for a service member and multiple dependents to discounted admission for a single military veteran. Get a rundown of the offers at https://birdiesforthebrave.sheerid.com. The Players Championship isn't on that list, but it will offer free admission for each day of the event (May 5-10) to active-duty troops, reservists, National Guard members and military retirees, and their dependents. Spouses of active-duty troops also are eligible for free tickets, and all veterans qualify for ticket discounts. Fans must obtain a ticket voucher (available through the tournament's website) and present military ID when claiming tickets.
After military service, many bring their skills to security (SourceSecurity.com)
You can identify the military veterans among private security guards by the way they wear their uniforms, according to one security company executive. Each veteran looks comfortable in the uniform and exudes a confidence you don't often see among those without a military background. It comes as no surprise that security companies like to hire veterans – more than practically any other industry. With a growing population of U.S. men and women coming out of the service after tours of duty in Iraq and Afghanistan, the number of highly trained service personnel represents an opportunity for the nation's security industry. Many veterans are trained with skills that translate readily into a private security position. These include uniformed guard positions, and also many management and technical jobs including human resources, sales and intelligence.  Many companies – particularly those run by veterans – are motivated by a desire to help employ former military personnel, but that's clearly not the primary rationale. A theme that comes through in conversations with a variety of security companies, CEOs, human resource leaders and managers is that veterans are simply more likely to do a good job.