Veterans GOODNEWS for Feb. 13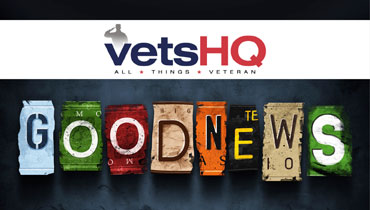 Documentary dives into hotline helping veterans in crisis (Philly.com)
When she first walked through the maze of cubicles at the National Veterans Crisis Line in the winter of 2012, Ellen Goosenberg Kent thought she knew what to expect. Goosenberg Kent grew up in Philadelphia during the Vietnam era, the daughter of a Marine who had served in World War II. An Emmy-winning documentary filmmaker, she had already made two films about soldiers coping with broken bodies and spirits after returning home from war. This latest project, however, exploring the inner workings of the nation's suicide help line for veterans, surprised her and the film's producer, Dana Perry. For months, the two women and their film crew visited the help line's offices in Canandaigua, N.Y., half a dozen times, spending long days eavesdropping on responders as they tried to stop vets from killing themselves. "We thought they would be doing therapy," Goosenberg Kent said. "But it's not their job," Perry said. "It's their job to get them safe." "To deal with suicide straight on," said Goosenberg Kent.
BYU nursing students to get real-life lessons from veterans (KSL-Utah)
When Utah Honor Flights resume this spring, more than a dozen veterans will have BYU nursing students as their guardians. As the veterans travel to Washington, D.C., to visit the memorials dedicated to their sacrifices, the students will learn more about caring for veterans as a requirement for one of their classes. "The object of this course is having our students get to know these veterans very intimately," said Kent Blad, associate dean of the BYU College of Nursing. Blad and his faculty partner Ron Ulberg thought spending 72 hours with a veteran as a guardian in Washington would be a great way for the students to learn more about World War II veterans. The two professors regularly took students to Washington to visit the war memorials and learn more about veterans. Both men are veterans of the Gulf War. Last fall, they went on a Utah Honor Flight as medics and decided their students should share the same experience. "There's a lot of stuff they (veterans) bring home with them that makes them people we need to understand in order to provide better care," said Ulberg. For nearly a decade, BYU had the only nursing program in the country that dedicated a semester to caring for veterans. It's a source of pride for the program leaders. "We felt that to know them is to care for them better," said Blad. That become the motto of their course.
Maryland governor pushes plan to spare retired veterans from taxes (The Baltimore Sun)
Gov. Larry Hogan pledged Thursday to make Maryland more welcoming to veterans, though he acknowledged it might prove tough to pass some of his proposals to help them. Hogan urged military retirees to help him persuade lawmakers to approve his bill to eventually exempt their pensions from state income tax. "It's probably not going to pass unless we get some of our retired military to get involved in the lobbying effort," Hogan said to a friendly crowd at American Legion Post 136 in Greenbelt. "Help us help you." The new Republican governor said his long-term goal is to eliminate income taxes for all retirees but said military veterans deserve the first break as "a token of our appreciation and respect." "People who put their lives on the line every day kind of earned a tax break," Hogan told reporters after the event, where he spent nearly an hour chatting with retirees and touring the post. "I think everyone deserves one at some point, but we're starting with them."
Syracuse U. veterans program to receive $7 million grant from First Data (Syracuse.com)
Syracuse University's Institute for Veterans and Military Families (IVMF) will be awarded a $7 million grant by First Data Corporation. The grant will be paid out over seven years. It is First Data's first contribution to IVMF's ongoing programs, and will help the institute develop a Center for Excellence focused on veteran entrepreneurship. The Center for Excellence will have its own director and staff within IVMF, said Raymond Toenniessen, IVMF's managing director of development and external relations. First Data is a global payment technology company headquartered in Atlanta. First Data was a sponsor of IVMF's Entrepreneurship Bootcamp for Veterans with disabilities' national alumni conference held last fall in Atlanta. Vivian Greentree, First Data's senior vice president for military and and veterans affairs, said she expects the company's partnership with IVMF will help military veterans with both employment opportunities and business support partnerships with First Data. IVMF already runs eight veteran-related entrepreneur training programs, and for years has conducted research on veterans employment issues. First Data's grant will also help fund the EBV program.
ManUP honors veterans with 'Leave No One Behind' event (Chicago Tribune)
The first annual "Leave No One Behind" breakfast, sponsored by ManUP in Northbrook, Ill., raised $101,000 for veterans. "A major success in supporting our Gulf War wounded veterans," said Bill Landwehr of Northbrook. He was describing the first annual "Leave No One Behind" breakfast at the Northbrook's Renaissance Chicago North Shore Hotel on Jan. 24. Landwehr, as event director, and fellow members of ManUP, a north suburban volunteer group, organized the fundraiser for the Wounded Warrior Project. "This event was not about how many people attended or amount raised," Landwehr said. "It was about learning the impact the Gulf War has had on our returning veterans, now over 1.4 million veterans, with Gulf War service connected disabilities." Jim Cornelison, the Chicago Blackhawks National Anthem singer and a veterans advocate, started the event off with "The Star-Spangled Banner." The breakfast raised over $101,000, twice the goal of $50,000. Keynote speaker was Deven Schei, a Gulf War veteran, who gave emotional testimony of the Gulf War's toll, chronicling his long recovery from wounds. Schei shared his passion for the Wounded Warrior Project, which helps other returning veterans from the battlefield.
New option for veterans and first responders dealing with PTSD (KFDA-Amarillo)
An increasing number of first responders and local veterans are showing signs of post-traumatic stress disorder. But now the Pavilion is offering a new option when it comes to coping with it. On Thursday, the new Uniformed Services Unit officially opened. The 16-bed unit will work specifically with first responders and local veterans dealing with PTSD.  "Over the years we have found that people who work with law enforcement, firefighters, emergency medical, any kind of occupation where they have to face danger or disturbing events fit in well with that population," Program Manager Lonny Eaves said. In response to growing violence around the country and abroad the Pavilion is working to address a growing need. "It's just one more specialized service that maybe take away some of the stigma of asking for help. That's what we hope. They can come here and get treated and get back into life with their friends and their families," said Mark Crawford, the CEO of Northwest Texas Health Systems. As an Air Force veteran, Crawford and Captain Martin Birkenfeld who has been with the police force for more than 20 years know the damage a  devastating scene can leave in the minds of those who work to protect us.  "There are paramedics, firefighters and police officers who can benefit from these services as well. When one of those persons is in crisis they are no different than anybody else. They can use mental health services and I think this program here will be very beneficial," Birkenfeld said. A first responder or veteran can stay at the in-patient unit for up to three weeks as the trained staff works with the individual to overcome PTSD.
Veteran dodges homelessness with help (Gaston Gazette)
Faced with mounting bills and the possibility of eviction, Cleo Joyner feared he and his three children would soon be homeless. The Gastonia, N.C., man didn't know where to turn, so he went to the Salvation Army. There, a case worker told the disabled veteran about a program that might help. Now Joyner's bills are current, and he no longer fears losing the roof over his children's heads. "They got me back on my feet where I can see daylight," he said. Joyner found the help he needed through Community Link, a Charlotte-based operation that has several programs, including one that focuses on homeless veterans. Homeless to Housing Veterans is provided by Community Link. Federal dollars pay for the program, which helps 200 veterans — about 25 of whom live in Gaston County. The goal is to put homeless veterans in rental properties or help those on the verge avoid homelessness. Joyner feels like his finances have leveled out now. Raising three children alone on disability is tight, but he's working through it and says he's grateful for the help he got from Community Link. "I was getting ready to be evicted," he said. "They pulled me out of a hole."
WWII veteran given diploma after 75 years (WPRO-Providence)
After joining the army at age seventeen to fight in World War Two, Central High School alum Domenic Giarrusso was given his diploma after seventy-five years. "It's beyond belief, it's beyond belief and my life is now complete," said Giarrusso. The ceremony held at Cranston West High School honored Giarrusso and fellow World War Two veteran John Casale Jr. for their service and sacrifice. Both men gave up their graduation to go and fight, however Casale received his diploma 15 years ago. Giarrusso said if he could go back he wouldn't change a thing. "I realized that we had to stop the enemy, so I gave up my education to do that; I'm not sorry and under the same circumstances I would do it again." The idea for the event came after Cranston West Principle Thomas Barbieri learned Giarusso had never earned a diploma. Barbieri said he immediately called up his counterpart at Providence's Central High School. "I called Mrs. Carlson up who quickly responded and said without hesitation 'we're going to do something,'" said Barbieri. Central High School Principle Julia Carlson said the ceremony was put together in just a matter of days.
At 95, WWII veteran still aiding Long Island's wounded warriors (Long Island Herald)
In the late 1940s and early '50s, veterans returning from World War II scattered across Long Island, seeking quiet communities to call home. Many were tired, forlorn, shell-shocked. They founded local posts of the American Legion and Veterans of Foreign Wars to find companionship with the men they had fought side by side with in far-flung corners of the globe only a few years earlier. Members of Merrick American Legion Post 1282 began meeting in local restaurants shortly after the Second World War, Bob Wieboldt, 95, one of the post's founding members, recalled in a recent interview. Post members sought a permanent home for their fledgling organization in the early 1950s, according to Wieboldt (pronounced WE-bolt), who was an aerial gunnery instructor during World War II and has been a Post 1282 member for 70 years. The post's original members sold bonds to buy the main building of an old Merrick Avenue tennis club, he said. Around that time, a post member moved away and sold his plot on Merrick Road, a block west of Babylon Turnpike, to the post for $10. A local construction company agreed to lay the cement foundation for the post's new home for free. All the post had to do was transport the tennis club's central structure from Merrick Avenue to Merrick Road, a roughly half-mile trip. Post members had a flatbed truck they could use, but it was too small to fit the entire center. So they did what the "Greatest Generation" is famous for — they improvised. Two post members climbed to the top of the structure, which resembles a quaint country house, and cut the building in half with a two-handed saw, the kind that lumberjacks once used. "If you go up in the attic, you can see where the saw marks are," Wieboldt said with a laugh. Read more if Wieboldt's story by clicking the headline link.