Veterans GOODNEWS for Feb. 16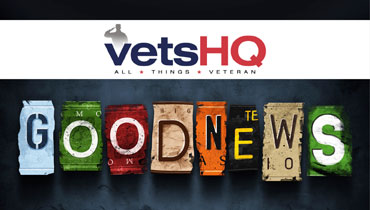 In VA's push to reduce claims backlog, one clinic explains benefits face to face (Pittsburgh Tribune-Review)
Army veteran Horace Turner was grateful Saturday that representatives with the Department of Veterans Affairs took time to talk to him about service-related disability benefits. "Any help is better than no help," Turner, 47, of Swissvale said. "When they extend their hand and offer you help, it's good to accept it." About 30 veterans attended a clinic Saturday hosted by the Pittsburgh Regional Office of the VA at the H.J. Heinz Campus in O'Hara, Pa. The clinic explained how eligible vets and their families can apply for financial benefits and what kind of benefits are available for service-related injuries or illnesses, pensions, education, home loans and life insurance. The VA is on a nationwide push to reduce a backlog of claims, and the clinic here is part of it. VA reported it reached its peak in 2013 of about 870,000 claims, with nearly two-thirds pending for more than 125 days. VA employees across the country have been working 20 hours of mandated overtime a month to catch up on the backlog. Locally, 107 VA employees work to process claims, said Jason Brown, assistant veterans service center manager. They processed 1,100 claims in January, an all-time monthly high, he said. In the Pittsburgh region, about 3,000 benefits claims are pending, said Jennifer Stone-Barash, director of the Pittsburgh regional office. Of those, from 40 percent to 45 percent have been pending for more than 125 days. The regional office, which covers the western half of the state, pays millions in benefits monthly, she said. The VA said the clinic gave it a valuable opportunity to meet veterans face to face to talk through any concerns they might have and explain how to solve any problems with their claim.
Veterans graduate from solar training, immediately get hired by solar company (PV-Tech.org)
The first wave of military veterans to enroll in a to train to work in the solar energy industry have graduated in San Diego, California and already been offered employment. The veterans graduated from the program at Camp Pendleton, one of three bases participating in an initial pilot program to train 200 workers as part of a wider drive to train and recruit new solar industry employees in the US. Residential leasing and installation company Vivint Solar has already hired all 20 of the graduates, the company announced on Friday. Vivint Solar was one of US solar's five biggest companies — by numbers of employees — which signed up and committed to interviewing military graduates of the program. Also involved are SolarCity, Sunrun, SunEdison and SunPower. Training the 200 veterans on the pilot program at Pendleton, at Fort Carson and Naval Station Norfolk is being done in partnership with Sunshot Initiative, the DoE's cost-cutting program for solar. The pilot was launched in September. Sunshot has, with the Solar Instructor Training Network Program, set itself the target of training up 50,000 new workers for the industry by 2020, an unspecified portion of whom will be recruited from those leaving the armed services. Jobs the military personnel will be trained for include installation, sales and system inspection roles.
Recent veterans get fresh start with high-tech training (Daily Finance)
Veterans from the second era of the Gulf War continue to face higher levels of unemployment than their civilian counterparts, and one new program is focused on making a difference in their careers –and their lives. NS2 Serves says its signature program is training "recent veterans of U.S. national security missions … in world-class software solutions that support U.S. national security." According to the Bureau of Labor Statistics, from January of 2014 through January of this year, the unemployment rate stayed at 7.9 percent. However, the number of such unemployed veterans grew to 219,000, up from 189,000 in that span. The national unemployment average is at 5.7 percent — holding below 6 percent since September. President Obama took a portion of his State of the Union address to call on businesses to hire more returning service members. "So to every CEO in America, let me repeat," he said. "If you want somebody who's going to get the job done and done right, hire a veteran." Multiple organizations, training centers and groups help returning veterans, with the independent nonprofit NS2 Serves focusing on helping post-9/11 veterans to get high-tech careers.
Students deliver Valentine's Day cards to veterans (12News-Arizona)
For Arizona veterans spending Valentine's Day alone in the hospital, a group of children took time Saturday to say 'Thank you' and 'We love you'. The Valentine's for Vets is a program spearheaded by Arizona Congresswoman Kyrsten Sinema. With a family full of Veterans, Congresswoman Sinema knows the importance of giving back. "You know, these are men and women who have sacrificed so much in service to our country," Congresswoman Sinema explained while visiting a group of Veterans Saturday afternoon, "And we owe them our love and gratitude, not only on Valentine 's Day, but every day." Saturday, students from Osborn Elementary School delivered those cards to a delighted crowd. "I think a lot of Vets are really excited." Sinema said, "Particularly if their kids or grand kids or even great-grand kids can't be with them today, to have some neighbor kids come ask them about their service, I think is pretty exciting." As the children passed out the cards in the lunchroom of the Veterans Administration Hospital, they took some time to talk with the Vets, asking about where they served and thanking them for their service.
Senator, Girl Scouts salute veterans, volunteers (Poughkeepsie Journal)
U.S. Sen. Kirsten Gillibrand and a pair of area Girl Scouts paid tribute to the mid-Hudson Valley's heroes on Sunday and encouraged others to do the same. Gillibrand and Girl Scouts Rhiannon Schultz, 13, and Casey Dickeson, 13, of LaGrangeville, passed out valentines to 30 veterans at the VA Hudson Valley Health Care System Castle Point Campus in Wappingers Falls Sunday afternoon, as part of National Salute to Veteran Patients Week. "It makes you feel good to do something for someone else, especially when you help someone that needs it," Casey said. Gillibrand encouraged citizens to become involved as volunteers and visit hospitalized veterans. "We have to thank our veterans every day for the hard work that they do," Gillibrand said. The health facility houses 130 veterans in two community living centers. "We're always looking for volunteers, especially drivers to transport residents to appointments," said Yvette Rodriguez-Cacho, chief of voluntary services. Jason Tudo, the health center's public affairs officer, said many veterans become volunteers. Tudor served in the military for 22 years. "It's an opportunity for the younger folks to meet those who have paved the way or served as part of the 'Greatest Generation,'" he said.
Women's club brings aid to families of veterans (Cincinnati.com)
Seventeen crafty and philanthropic ladies gathered one morning at the Cincinnati Woman's Club in Clifton to prepare items for the Cincinnati Fisher House. The Fisher House, on the grounds of the VA Hospital, provides a free "home away from home" for the families of veterans being treated there. Under the direction of Chairman of the Day, Carolyn Rand, the ladies made 16 spring wreaths to decorate room doors and packed 100 welcome bags with snacks and personal items for the families. Each bag also contained a personal letter of appreciation for the veteran's service. Every month the Cincinnati Woman's Club schedules a "Can-Do" work day to create practical items needed by one of its supported charities. Later in the morning Karrie Hagan, manager of Fisher House, visited to retrieve the items and to share with the group the mission of Fisher House. It is to provide a place to stay, at no charge, for veterans and their families who live more than 50 miles from the VA Hospital. Up to 40 people can be accommodated in the 16 rooms, and it is usually close to full. There is no minimum or maximum stay, but the average stay is about one week. Food is supplied, and families cook for themselves from a well-stocked common kitchen. The house is run by three paid staff and a corps of volunteers. The Cincinnati Fisher House was founded in 2001, one of the first four in the country, and the idea has grown to 65 houses in the U.S. and abroad.
Veteran will soon have a place to call home (Fayetteville Observer)
A little more than a month ago, Vietnam War-era veteran Donald Lee was sleeping on a cot in a dilapidated camper, hoping for a mild night so he would not get too cold. Volunteers ascended on his property just before Christmas to cut a piece of plywood and fasten it as a door for the camper. But they didn't stop there. The volunteers have continued to go to his property to build a cabin for Lee. They aim to have it finished within the week. "It's surreal," said Lee, 59, surveying the progress on his five-acre property. The foundation has been dug. Water and sewer lines were installed. Building materials, mostly donated, are stacked up and ready to go. Before the project kicked off, Lee said he would have lived in the camper indefinitely. "I'd given up," he said. "I was a dead man walking." Bad weather has stalled construction. Yet, progress has surpassed Lee's expectations, helping him realize he will soon have a new, warm home. "It's amazing," Lee said. "Brothers and sisters coming together to help one another." Lee said he enlisted in the Army in 1972 and served in a unit based at Arlington Hall, Virginia. He was sent to Thailand, he said, where his unit was tasked to free POWs from Vietnam. Lee left the Army in 1975.