Veterans GOODNEWS for Feb. 17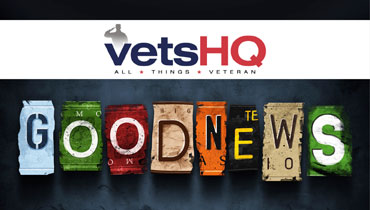 California teen to escort 15 veterans to Iwo Jima (San Diego Union-Tribune)
A 16-year old member of the Camp Pendleton Young Marine's program was among six students across the country selected as Young Marines of the Year. It is the second time Tyler Wermann-Jones was picked for the rare honor. But it's the first time the Young Marine sergeant major will escort veterans to Iwo Jima and Guam as part of the youth leadership program's Reunion of Honor trip. The weeklong journey starting Mar. 23 will take 15 World War II veterans back to the site of the Battle of Iwo Jima, which marks its 70th anniversary this year and the Battle of Guam, both pivotal in World War II history. Wermann-Jones and peers will have a chance to meet American and Japanese veterans and learn about the history of the battles from those who fought in them. "It will be quite humbling to speak with veterans and be in a place where so many paid the ultimate sacrifice for our freedom," said Wermann-Jones, who is planning a golf tournament April 3 to raise money for the nonprofit Semper Fi Fund, which helps injured service members. The Oceanside teen distinguished himself over six years in the Young Marines program, earning 40 ribbons, often multiple times for his conduct, academics and leadership and for completing 1,000 hours of community service. He is home-schooled through Julian Charter School and holds a volunteer staff position with the the Civil Air Patrol, Squadron 47 in Oceanside, Calif.
GM sponsors U.S. Veterans Innovation Partnership program (GMAuthority.com)
General Motors has announced its sponsorship of the U.S. Department of State's Veterans Innovation Partnership (VIP) program, which looks to provide U.S. military veterans with a one-year paid position in a U.S. Government position. The program helps U.S. war vets with their transition to diplomacy and furthers their career development, GM says. By providing them with educational opportunities to study international relations, establishing opportunities at U.S. Government foreign affairs agencies and facilitating international public and private employment opportunities, veterans can make a smoother transition into everyday life. "We know that transitioning from military to civilian life can seem like a daunting task, and we want to do everything in our power to help them," GM chief diversity officer Ken Barrett said in a statement. "These men and women have given so much for our country that they deserve our best efforts to make a difference in their life." The initiative is one of many GM has put forward as it looks to continue its support of U.S. military veterans. The automaker is a sponsor of the U.S. Chamber of Commerce Foundation's 'Hiring Our Heroes' program, which helps vets and their spouses find jobs, and is also a partner in a coalition of private sector businesses dedicated to hiring 100,000 veterans by 2020. In addition to these efforts, GM has also established the GM Service Technical College, which gives U.S. vets free training necessary to prepare them for technical and non-technical work roles at a car dealership. Lastly, the automaker supports the Achilles Freedom Team of Wounded Veterans, which helps wounded vets overcome various injuries through athletic training.
Heavy duty motorized chairs open doors for veterans (Anniston Star)
In the cold, gray light, two local veterans took turns patrolling up and down an Anniston driveway, the rubber tread on their new all-terrain track chairs rasping on the concrete. Matthew Pepe, 71, said his old power chair, given to him by the Veteran's Affairs office, would take him anywhere he wanted to go — but only as long as it was accessible by sidewalk. "Now, I can do anything I want to do," Pepe said at his home Monday, seated in the track chair. Birmingham-based nonprofit Support Our Soldiers gave Anniston resident Pepe and Oxford's Ken Rollins the motorized chairs, which have continuous track reminiscent of a tank and are designed to be used on rough terrain. The two veterans — who were exposed to Agent Orange while serving in the Army during the Vietnam War — said the chairs may open doors they thought closed many years ago. "At my age in my life, I had accepted the fact that I'd never fish … never walk a beach again," said Rollins, 70. "That all changed today," said the veteran, who was deployed to Vietnam in 1966 and again in 1969. He's looking forward to being able to reach the lakeshore or ride along the beach with his chair, maybe do some fishing, he said.
Florida veteran gets a new home after SUV destroys trailer (Sarasota Herald Tribune)
At around 1:20 a.m. the morning after Christmas, Dennis Moylan, 63, was shaken by the sound of police sirens and screeching tires outside his mobile home. Still half asleep, the next thing the Vietnam War Marine Corps veteran heard, and felt, was a crash at the end of his trailer as jarring and loud as an explosion. Two suspects driving a stolen Cadillac Escalade east on 51st Avenue were chased by police and tried to cut through the site of Moylan's trailer, Pioneer Park. The driver swerved, lost control, and barreled into the front end of Moylan's home, destroying his living room. "It threw everything," Moylan recalled. "It knocked the thing three feet off the foundation. Everything in the front room was halfway down the hallway. And the cops had him, just like that. I heard the cops yelling, 'On the ground, now!' " Luckily for Moylan, he was in his bedroom at the end of the trailer. But Moylan, a groundskeeper at New College of Florida, did not have a lot of options. County officials came out hours later to tell him his home was uninhabitable. Repairs were estimated at more than $5,000 — money he did not have. Moylan feared he could become homeless. Dennis Turner, program director at Turning Points and head of the group's Yellow Ribbon Program, came to the rescue with an offer to repair the trailer or help Moylan find a new place. Moylan elected to move. With donations from Bingo Land — a Bradenton bingo hall — Turning Points was able to put Moylan in a new trailer in Pioneer Park in the same week. Moylan was speechless. "I can't put it into words, I mean, I was overwhelmed, I was like, 'Wow, there are good people out there,' " he said.
High school teen honors his grandfather, helps wounded veterans (USA Today)
Sutton Norris is a popular senior at Prince Avenue Christian School. He plays football and one day he will be a soldier. Norris was accepted to West Point. "My grandfather died as a Naval Aviator during Vietnam" Sutton said. "When I was six years old I visited his grave and ever since then I said I was going to serve my country just like him." Sutton didn't wait long to start making an impact. As a sophomore he founded his own company, Wood for Warriors. It's purpose is to help raise funds for wounded veterans to receive an action track wheelchair. "I just woke up one morning and felt God gave me the idea to chop and sell firewood with a bunch of my buddies" Norris recalls. When Norris and his friends chop wood, it's usually on a Saturday. They spend half a day working, and then use the wood to raise donations for Wounded Warriors. "It really hit home for me because I want to serve in the military" Norris said. I really wanted to help these veterans achieve that sense of independence back" he said. One solider has already benefited. "We helped out a wounded marine, Ms. Erin Cobb. She was paralyzed from the mid-waist down" Norris stated. "It was pretty cool to talk to somebody you helped out and especially when you give them the ability to look people in the eye again especially after being in a wheelchair for a little while. It was definitely a rewarding experience" Norris says.
Company enlists veterans to feed a growing need (Growing Produce)
AgVets' mission is to help solve business, economic, and social problems by providing employment and empowerment to returning veterans while meeting the growing demand for locally sourced, year-round produce on a national level for low-to-middle-income consumers. The plan of AgVets is to grow a variety of vegetable crops, including lettuce, microgreens, tomatoes, peppers, cucumbers, squash, and melons. Co-founded by Michael Walker, a decorated, disabled, and retired ground combat senior Marine Corps officer with nearly 25 years of service in the military, groundbreaking is slated to take place this spring. A network of up to 30, 3- to 5-acre hydroponic greenhouse operations, located throughout the country, will be built or retrofitted to deliver produce to national grocery chains. AgVets will train and deploy former military officers and non-commissioned officers to manage an all-veteran workforce. They have developed a proprietary educational and training model that will provide all the skills necessary for the veteran workforce to successfully become hydroponic produce growers. Ultimately, with a full roll-out of 150 acres, at 10 to 15 employees per acre, AgVets will create a significant number of real jobs for veterans, more than 1,000 over 10 years, Walker says. Veterans will be well paid, and have profit sharing and benefits associated with the company. "We think we're on to something special with the veteran workforce model," Walker says. "We know that it's going to propagate out into other companies. We're hoping it will do that, and we're going to desperately try to make other companies in the industry aware of the benefits of hiring veterans — and how to do it."
Amazing dogs: Hero dogs for military veterans (WUSA-Washington)
Inside Hero Dogs in Brookeville, Maryland, the career of a potential military service dog begins with temperament testing. The puppies being tested are just shy of eight weeks. Even at this young age, Hero Dogs founder Jennifer Lund can get a snapshot of their potential. She looks for confidence, sociability and resilience. "They're going to be in a lot of high stress environments—traffic, subway, buses, crowds, the mall. They have to be able to take things as they come, not be noise-sensitive, not be startled by strange sights, strange sounds," said Lund. "They want to please. They always want to please. And that's their main goal. And they'll do anything for the humans," said Golden Retriever breeder Ellee Neilands. Golden retrievers and Labs are selected specifically for their suitability to this type of service work and are donated by breeders, who see firsthand what their puppies can do for a veteran. "Making them happy," said Neilands. "They go from being all not sure about the world and all of a sudden hey, let's conquer the world, let's go explore! Do different things together. It's just beautiful!" Eventually, they'll have remarkable skills. Hero Dogs York and Amber can: 1. open and close dresser drawers and fetch clothing, 2. pick up silverware off the floor and place it in a kitchen sink, 3. pull back a bedspread, 4. assist a veteran with removing a jacket, 5. bring a towel to their human companion after a shower, and 6. even, open a refrigerator, remove a water bottle and close the door. But perhaps their greatest skill of all is bringing comfort and independence to military veterans, whether their injuries are visible or not.
Marine veteran heals through throwing (Military.com)
Physically, Joshua Jablon appeared unhurt. But mentally, he was deteriorating. It was October 2009 and Jablon, a former Marine and Mankato West graduate, had just returned to Okinawa, Japan, after a tour of duty in Iraq. Jablon had been in three roadside bomb explosions while serving, which caused shrapnel to enter his left leg and lower back. More significantly — and unknown to him — Jablon had sustained a traumatic brain injury. He suffered constant headaches and ringing in his ears as well as random lapses in memory, during which he would forget where he was entirely. Eventually, a sergeant forced Jablon into treatment for his brain injury. While recovering he rediscovered the sport to which he credits so much of his turnaround: track and field. "It gave me something to strive for," said Jablon, now a freshman thrower at Bethany Lutheran College. "I could actually put a meaning to my hard work. I could see my hard work in how hard I threw it, and I could see my hard work when I didn't fall over when I did certain things." "It kept me going when there was times when I just wanted to sit at home and let life pass me by."
Florida Coastal School of Law helps veterans with range of issues (Jacksonville Daily Record)
Shakuwra Shaw's path to law school includes eight years as a paralegal in her native St. Croix, U.S. Virgin Islands. But the third-year Florida Coastal School of Law student said she's never been more enlightened about her prospective career as on a recent Friday morning. That's when she began helping veterans with legal challenges ranging from child custody to disability benefits disputes. "It was a wonderful experience because it was my first time, really, to give back to veterans," she said. "It actually opened my eyes to the community of Jacksonville and has really gotten me thinking about more what's ahead." Shaw, 32, is among the Florida Coastal students participating in the school-led Veterans Legal Collaborative, a multiagency initiative that serves as a gateway for veterans in need of civil legal assistance. Every other Friday from 11:30 a.m.-1:30 p.m., the collaborative's representatives set up shop at Jacksonville's Veterans Health Administration outpatient clinic on Jefferson Street. Florida Coastal students, faculty and local volunteer attorneys conduct one-on-one intake interviews with veterans with the aim of helping them directly or steering them to someone who can help resolve their issues. The law school's services are free. Many of the people served are homeless. "The design of the program is that instead of the veteran going to a lot of different places to get their answers, there's a centralized place to go to have their needs met," said Sarah Sullivan, Florida Coastal's Disability and Public Benefits Clinic director. "And it's an opportunity for us as attorneys and law students to give back to those who have served us."