Veterans GOODNEWS for Feb. 18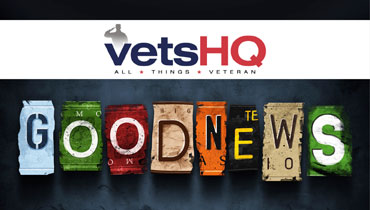 Connecticut state legislators want full tax exemption for retired veterans (WTNH-New Haven)
State democrats unveiled a plan today, that would give retired veterans a 100 percent exemption from the state income tax for federally taxable military retirement pay. Right now the law gives a 50 percent exemption for retired members of the U.S. Army, Navy, Air Force, Marines, Coast Guard, and Army and Air National Guard. "Passing this bill will demonstrate Connecticut's great appreciation for the service and sacrifice of our nation's veterans by providing a one hundred percent exemption from the state income tax for federally taxable military retirement pay," said President M. Looney, Senate President, (D) New Haven. "I believe we can and should do better to help our veterans transition back into civilian life here in Connecticut." Many other states already offer this type of exemption, including Massachusetts and New York.
Riverine vets model new company after Iraq 'startup' (Military Times)
When junior Navy officers Alex Roodhouse and Mike Taylor were leading small gunboats up and down the Euphrates River in Iraq eight years ago, they never could have imagined how their combat experience would prepare them to launch their own company. But now they see it as plainly as the rooster-tail wake that used to spray up behind their fast boats. They're co-owners of BeaverFit USA, a small startup that — fitting with its "Dam Strong" tagline — builds mobile gyms out of shipping containers. Think CrossFit "boxes" in no-kidding big metal boxes. The pair teamed up with Tom Beaver, a former British special-operations soldier, who returned to the family bridge-building business a few years ago after leaving the military and found a new niche in metal working by supplying the military there with functional fitness equipment. "Initially, he'd welded together — just for himself — a CrossFit rack to work out on," Roodhouse says. "As his SAS buddies saw his rig, more and more of them kept asking him to build them one." The business grew from there into in one of the biggest suppliers of fitness gear for the British military. Now, Roodhouse and Taylor are building and expanding on his designs for their customers in the U.S.
'Terra Firma' shines spotlight on female veterans with PTSD (The Red & Black—University of Georgia)
Since 2001, post-traumatic stress disorder has affected a multitude of veterans during the War on Terror. The documentary Terra Firma, directed by Christine Anthony and Owen Masterson, seeks to shed light on the effects of PTSD on women in the war. "The thing is that most of what the media focuses on are the few vets that make headlines because they spun out of control and caused destruction or something like that," Anthony said. "Whereas not everybody who has PTSD is necessarily out of control." The directors wanted to focus on female veterans, who they feel are often overlooked as soldiers in the U.S. military. "It piqued our curiosity about who are the women that go to war," Anthony said. "We had no idea what to expect when we went to go and film these three women." The documentary centers on three veterans who are using farming as a means of coping with PTSD. Through this activity they have found a sense of protecting their community in a different environment than on the warfront. "A lot of our work revolves around sustainable agriculture and our nation's food system, so we decided this might be an interesting topic to explore," Anthony said.
Veterans' cybersecurity retraining program a success (Daily Detroit)
There are many jobs available in the Detroit area, but often there's a gap between the skills someone has and the skills a new career requires. To help address that, the Wayne County Community College District (WCCCD), in partnership with Merit Network, the Michigan Cyber Range and Mile2, recently unveiled an innovative veterans' retraining program. The program, which lasts 13 weeks and prepares veterans for a career in cybersecurity, is unlike any other in the country. "We are very proud of this program," said Don Welch, president and CEO of Merit Network. "It meets two important needs: helping our veterans and effective cybersecurity training." The 17 participants in the program were selected based on their experience and aptitude in conjunction with Wayne County's veteran affairs office. The unique retraining program aimed to place veterans in the high-demand cybersecurity field by exposing students to the challenges faced by cybersecurity professionals. The program included five weeks of instructor-led curriculum followed by four weeks of hands-on lab experience. The next three weeks of the course involved Alphaville capture-the-flag exercises, and the final week required resume writing and interview skills development. For seven weeks, students had access to the Michigan Cyber Range's Alphaville environment and Mile2's lab environment. This enabled students to safely practice ethical hacking and penetration testing in virtual environments disconnected from the Internet.
Bill aims to connect Arizona vets, Guard members with college (Cronkite News)
Arizona lawmakers are out to make a college education more affordable for National Guard members and veterans. Bills this legislative session include HB 2091, authored by Rep. Sonny Borrelli, R-Lake Havasu, a retired Marine, to bring Arizona in line with a pending federal law requiring that public colleges provide in-state tuition for veterans and eligible dependents. Meanwhile, Rep. Mark Cardenas, D-Phoenix, who served in the Army and National Guard, is pushing HB 2240 for tuition waivers for National Guard members. Representatives of a veterans group say those two measures would benefit current and former service members. "Those National Guardsmen have been called upon to go to Iraq, Afghanistan, Kuwait, they've served through Desert Storm, all the way up through Iraqi Freedom," said Terry Hill, a representative of Veterans of Foreign Wars Arizona. "So I'm all for supporting Arizona National Guardsmen. It allows them to go on to a higher education." "Obviously in-state tuition will certainly make it much easier financially for more of our men and women who served our country faithfully to afford entrance into institutions of higher education, to give them the opportunity to meet their goals," said Don Taylor, chairman of the organization's legislative committee. With more than 500,000 veterans as of 2010, Arizona has the 13th-largest veteran population in the nation, according to the U.S. Census Bureau.
Ceremony to rename Waco VA for WWII hero Doris Miller (Waco Tribune)
The Waco Veterans Affairs Medical Center's name and brand soon will be officially linked to a local World War II hero. The hospital is holding a renaming ceremony Thursday to formally become the Doris Miller Department of Veterans Affairs Medical Center, taking on the name of the Waco native and Navy veteran renowned for his heroic actions at Pearl Harbor. U.S. Rep. Bill Flores, R-Bryan, wrote the bill to change the hospital's name, which received unanimous support by both the U.S. House and Senate and was signed into law by President Barack Obama on Dec. 10. Flores will speak at the ceremony and present a copy of the official bill to be displayed at the hospital. The ceremony will include unveiling the hospital's new name sign, which was installed during the weekend and will remain covered until the program. Miller, a mess cook aboard the USS West Virginia when the ship was attacked at Pearl Harbor by Japanese bombers in 1941, carried his badly wounded captain to safety. He then manned a .50-caliber machine gun and took aim at fighter planes, despite not having any weaponry training, reportedly downing as many as three planes. He became the first black person to be awarded the Navy Cross, the branch's second-highest military honor, for his actions at Pearl Harbor. Miller ultimately died aboard the USS Liscome Bay in 1943 after the ship was torpedoed in the South Pacific.
Five-tour veteran charts new territory in charged new novel (Vogue)
War literature tends to have its own particular flavor, whether it's the elegiac tones of World War I novels or the corrosively ironic voices that came out of Vietnam. But the extraordinary outpouring of fiction written by veterans of Iraq and Afghanistan—wars that remain raw, incomplete, and ill-understood—have been markedly diverse in style, ranging from haunted lyricism (machine gunner Kevin Powers's The Yellow Birds) to mordantly gut-wrenching (public affairs officer Phil Klay's National Book Award–winning short stories, Redeployment). Now, there's a fresh wave on the horizon, which includes Elliot Ackerman's Green on Blue (Scribner), Ross Ritchell's The Knife (Blue Rider Press), Matt Gallagher's Young Blood (Atria), and War of the Encyclopaedists (Scribner), by Christopher Robinson and Gavin Kovite. There are no clear battle lines here, no good guys and bad: All of these novels, written with the self-awareness necessary in a post–Tim O'Brien world, share a demolished idealism and an unfiltered experience of these wars not found in any newspaper. Most of all, they share an uneasy sense of complicity that comes from having chosen to fight them. "You can't ignore the fact that everyone who was there volunteered," says Ackerman, 34, via Skype from Istanbul, where he lives with his wife, Xanthe, and their two children. "I have a lot of mixed emotions about these experiences, but I chose all of it and I kept choosing it, and there's a sort of sadness associated with that."
Why this Oscar-nominated short documentary has been compared to 'American Sniper' (IndieWire)
Over a period of nine months, Goosenberg Kent and the film's producer, Dana Perry, along with their film crew, filmed at the National Veterans Crisis Line, the only suicide hotline dedicated exclusively to U.S. veterans. They spent long days filming responders as they fielded calls from veterans in crisis and on the verge of suicide. Rather than feature interviews with veterans and their families, the filmmakers presented the subject matter in cinema verite style through "overheard" conversations — where viewers can only hear the responder's side. The result is the Academy Award-nominated HBO short documentary "Crisis Hotline: Veterans Press 1." Said director Kent, "With a short documentary, it can only help when a major feature film is breaking box office records and deals with the same broad subject matter. To the extent that "American Sniper" shows the experiences and emotions of family members when a veteran returns from war and is alienated and emotionally estranged, it brings attention to this reality for many veterans and a greater understanding. It sensitizes more people to the human costs of war, the plight of veterans struggling to readjust and how the rest of us can make a difference. Our film does have a different lens since it focuses on veterans in crisis from the point of view of the heroic people on the front lines trying to help them through a rough time. But opening up this conversation and people's eyes is the amazing outcome of having a Clint Eastwood directed feature, starring Bradley Cooper nominated in the same year as our documentary."