Veterans GOODNEWS for Feb. 19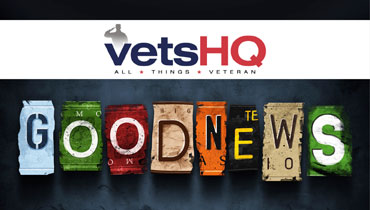 Clay Hunt is a hero — then, now, and always (Huntsville Item)
Opinion: Clay Hunt was a hometown boy, though many in our small town probably don't even realize it. We know he was a brave young man. We know he was a sensitive, gentle soul who yearned to heal a broken world and restore the lives of so many lost before their time. Last week, from the East Room of our nation's White House, Clay's mother was embraced by President Barack Obama after the signing of the Clay Hunt Suicide Prevention for America's Veterans Act. Clay's mother, Susan Selke, is Susan Knotts to her hometown Huntsville family, the daughter of prominent parents Bill and Muriel Knotts. A graduate of Huntsville High School and the University of Texas, Susan and Clay's stepfather, Richard Selke, teamed up with the Iraq and Afghanistan Veterans of America (IAVA) and started a campaign for meaningful help with our returning veterans so many of whom suffered debilitating issues when they returned from service to our country. When Clay returned home he was not well. He knew it and they knew it. He tried. He sought help. He did what he was told. At his death, he was waiting for help through the Veterans' Administration. He had done all he could do. I had first known about the beautiful, courageous young war hero when his death was reported back in 2011. He was a painfully beautiful boy whose mother had watched him go and return a hero. She had watched his unequaled efforts to help others whether through aid to the earthquake-stricken people of Haiti with Team Rubicon or other efforts encouraging other veterans who were suffering. According to a television report on Houston's Channel 26, Clay said his work in Haiti was the most rewarding, because of the need and his personal sense of purpose. Clay died at his own hand in 2011 after deploying to Iraq in 2007, and Afghanistan in 2008, narrowly escaping death in combat. After leaving his beloved Marine Corps in 2009, Clay struggled with post-traumatic stress and reintegrating into civilian life.
Uber: Military, veteran drivers made $18 million in 6 months (Mashable.com)
Uber announced on Thursday that over 10,000 members of the military community have signed up as drivers since last fall. The popular on-demand car service launched a program in September dubbed UberMILITARY to enlist 50,000 service members, veterans and military spouses as drivers by early 2016. One of the goals of the campaign was to "empower them as entrepreneurs and small business owners," the company said in a blog post at the time. Former Secretary of Defense Robert Gates also signed on as chairman of UberMILITARY's advisory board. To date, Uber reports 10,000 drivers with military backgrounds have earned $18 million. That figure includes Kia Thomas Hamel, a 40-year-old U.S. Navy veteran whose husband is currently stationed at the Pentagon. Hamel has been an Uber X driver from UberMILITARY's inception, transporting riders around Washington, D.C., roughly 20 hours a week when she isn't looking after her two young children. According to Hamel, the wages she gets being an Uber X driver not only pays some of the bills but also covers the law school prep course she had been eying. Becoming a driver, Hamel told Mashable, helped veterans like herself quickly join the workforce "instead of jumping through all the hoops of getting out the resume."
70 years after Iwo Jima, veterans, families to honor lives lost (The Washington Post)
Veterans and families will gather Thursday to commemorate the 70th anniversary of the Battle of Iwo Jima in a ceremony hosted by the Friends of the National World War II Memorial. This will be the first time the organization puts on an event honoring the five-week battle, said the group's executive director, Holly Rotondi. The battle was the deadliest in Marine Corps history, with more than 6,800 Americans killed. The ceremony will take place at noon at the World War II Memorial in Washington. Rotondi said one woman is traveling from Pennsylvania to attend the commemoration and honor her father, who served in the U.S. Navy's Pacific Fleet in World War II and at Iwo Jima from 1942 to 1946. Josiah Bunting III, who was named the Friends' chairman this month, will briefly speak at the event. Bunting, a U.S. Army veteran who served in Vietnam, will be joined by families of Iwo Jima veterans to lay a wreath at the World War II memorial's Pacific Arch.
A moving entry for an Oscar: Saving vets from suicide (USA Today)
Among the candidates vying for an Oscar on Sunday night is a powerful film that highlights the persistent and troubling trend of lives devastated by war – to the point of suicide. No, not American Sniper, the box-office smash based on a true story about a Navy SEAL who piled up record kills while developing emotional trauma. This movie is a 40-minute documentary filmed in an austere, cubicle-setting on the campus of a Department of Veterans Affairs center in Canandaigua, N.Y. It is the VA suicide hotline center (800-273-8255), where staffers take 1,000 calls a day from veterans or servicemembers on the brink of self-destruction or family members terrified a suicide might occur . The HBO-produced film, Crisis Hotline: Veterans Press 1, is an Oscar nominee for best short documentary. It has been picked as a potential winner by critics that include The New Yorker magazine. "Whether we win or not, I just think it's so great that it's getting all this attention and that it's going to help people call in," says Julianne Mullane, acting director of the hotline operations. She says she's putting on extra staff for the Oscars in case more calls are generated Sunday night.
Veterans' therapy goes to the dogs (CBS News)
When Lt. Tommy Faulkenberry came home to his wife and four sons in 2012, after 12 years at sea with the U.S. Coast Guard, he found his transition to civilian live especially difficult. He had contracted a rare form of muscular dystrophy, and as the physical toll on him mounted, depression, anxiety, and prescription drug dependence followed. "I had actually planned on jumping in front of a train on my way to work one day, and instead of doing that I decided to seek help, went to Walter Reed," Faulkenberry told CBS News. Among the available treatment options, he quickly seized on one that was a little unusual, a therapy regimen that was based on dogs. That's where the Warrior Canine Connection (WCC) came in. WCC traffics in match-making, but it's not your average dating service. The three-year-old program, based just outside of Washington, D.C., pairs military veterans with service dogs, using puppy training as part of a physical and psychological therapy program for veterans. Faulkenberry starting training service dogs and soon came to realize that he could also benefit from having a dog of his own. He met his match in Sam, a lovable black Labrador. "I've got this 90 pound big black dude and he cuddles with me every night," Faulkenberry joked, though his wife noted that Sam prefers her side of the bed. Last October, Sam and five other puppy pals graduated from Warrior Canine training in Brookeville, Maryland. The so-called "doggy graduation" commemorated the day that Sam and the Faulkenberrys officially became a family, but it also put a capstone on a family's difficult healing process.
War hero, physician serves veterans (Forbes)
Dr. Sudip Bose received a Bronze Star and was recognized as a "CNN Hero" for his role in treating Saddam Hussein following his capture from the spider hole and for serving one of the longest tours of duty for a medical doctor since World War II. Dr. Bose's experiences in the military served to catalyze a desire to serve veterans. Still a respected, practicing emergency room physician, he founded The Battle Continues, a nonprofit organization that works to improve the health of veterans–and all Americans. From The Battle Continues website: "Dr. Bose saw firsthand how soldiers suffered from combat stress after returning from war. Many soldiers came back only to fight another battle, perhaps harder than they had ever fought before…their own. Many struggled with post-traumatic stress disorder (PTSD), traumatic brain injury (TBI), and devastating physical injuries sustained during the course of their service to our country. Whether veteran or civilian, preserving our health and well-being is the number one battle we must all fight if we want to live the American dream. Dr. Bose's mission is to use his knowledge and experience to reach people around the nation through education. Our Board of Directors will allocate donated funds to veterans and their families to help them fight their battles after returning from combat. Donated funds will be used to connect injured veterans with physicians. The motivating force behind www.TheBattleContinues.org is to progress education so that we can improve healthcare on a larger scale and to help patients that even Dr. Bose has not met; to throw a stone into an ocean of people and create a ripple effect for a healthier America."
Senator introduces bill to help veterans gain EMT licenses (MyArkLaMiss.com)
U.S. Senator Bill Cassidy, M.D. introduced the Veteran Emergency Medical Technician Support Act of 2015 to help states streamline their certification requirements for veterans with military emergency medical technician (EMT) training who are looking to pursue a career as an EMT following their military service.  It will provide demonstration grants to states that work to simplify the EMT certification process for veterans. It will allow veterans to avoid duplicating their medical training. "Veterans trained as emergency medical technicians in the service should not have to repeat the training that they've already had. It is better for them and for their community if their expertise is used as quickly as possible. This is about jobs, easing transition to civilian life and providing emergency services to fellow Americans," Cassidy said. Dr. Cassidy is a member of the Senate Health, Education, Labor and Pensions (HELP) Committee and the Veterans' Affairs Committee.
Female veteran creates vet apparel for women (AOL.com)
When Nadine Noky, an Iraq War veteran, returned to civilian life, she could not find any apparel for women veterans. T-shirts were large, unfitted, and the designs all had giant eagles on the front. So Noky learned how to screen print and in 2014 launched Lady Brigade, which she believes is the first and only female veterans clothing line. The smart designs are fitted for women and feature slogans specifically targeted to female veterans like "Mother, sister, soldier", "Any girl can wear heels, but it takes a woman to wear combat boots", and "She served her country". In addition to fitted tees, the line includes racerbank tanks and hoodies. When Noky wears her designs, the 29-year-old said she's often approached by people surprised she's a veteran. With women serving in 95 percent of all Army occupations and making up about 15.7 percent of the Active Army, she hopes to expand the image of a veteran. Noky served in the military from 2002 to 2007. In 2005, four months after the birth of her son, she was deployed to Iraq. She left the military as a radar technician and then pursued a new career in graphic design and advertising, which led to starting Lady Brigade. She single-handedly runs the company out of her Florida home where she lives with her son, now ten-years-old. The company is dedicated to sourcing all of its merchandise from American manufacturers and Noky designs and prints all the shirts herself. She also runs the Lady Brigade website and blog, and personally packages and sends each shirt.
Louisville mayor urges compassion for homeless (Louisville Courier Journal)
In the entrance to a day shelter for homeless men escaping the deadly cold, Mayor Greg Fischer on Wednesday urged help and compassion for the homeless during this frigid weather. Fischer, before talking to the staff and men at St. John Center for Homeless Men, urged people to donate to homeless shelters and programs. About 200 men were at St. John on Wednesday to get out of the cold, talk with friends, eat, drink coffee, watch TV and shower. "In weather like this, we know the services we provide are life-saving," said Maria Price, executive director at St. John, which is housed in a former church sanctuary with picturesque stained glass windows. Fischer said there are places for people to go during the day including community centers and libraries. The mayor and Price said the strategy to combat homelessness for veterans is working. She said 29 percent of the men coming into the shelter in 2010 were veterans. In 2014, the number was 18.6 percent, which she said was a notable decrease. With assistance from the U.S. Department of Veterans Affairs through an emphasis on combating homelessness among veterans, Price said they have been able to reduce the problem among veterans and others through supported housing — assisting the men in finding and maintaining permanent housing. She said they placed 96 men, through the assistance of Veterans Affairs and their own staff, in housing during the 2014 fiscal year.