Veterans GOODNEWS for Feb. 2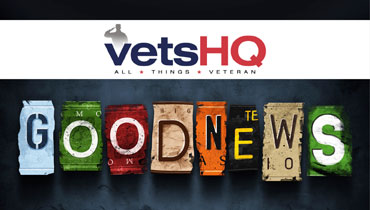 Which states are friendliest to veterans, provide best benefits? (Fayetteville Observer)
Highway welcome signs are a way for states to officially to toot their own horn to millions of travelers. To tell drivers about the thing that makes that state special. Mississippi calls itself the birthplace of America's music. Kentucky, the birthplace of Lincoln. Florida lays claim to all sunshine, Alabama is beautiful and Tennessee is the volunteer state. At five of its busiest entrance arteries, North Carolina claims to be the "Nation's Most Military Friendly State." Not just a military friendly state, the most military friendly in the entire nation. But does saying it make it so? The size of a state's military welcome mat matters in an era of downsizing, belt tightening and base shuffling. Gen. Ray Odierno, chief of staff of the Army, has said publicly that the Department of Defense will consider things like the quality of schools near military installations when deciding where to place, move or remove soldiers and families. States also like to attract retirees and their retirement checks and keep service members leaving the military. Like many states, North Carolina has millions of dollars on the line. No cause for concern if you really are the most military-friendly state in the nation, but three canaries in the coal mine say not so fast. Compare North Carolina, Texas, Virginia, and Florida.
Michelle Obama praises 'American Sniper' at veterans event (Associated Press)
First lady Michelle Obama urged Hollywood to give a more accurate portrayal of veterans and defended the Oscar-nominated "American Sniper," which has received criticism for its depiction of war. Bradley Cooper, who is nominated for best actor for his portrayal of the late Navy SEAL sniper Chris Kyle, joined Obama and media heavyweights in Washington, D.C., on Friday to launch "6 Certified" with representatives from Warner Bros., National Geographic Channels and the Producers Guild of America. The initiative will allow TV shows and films to display an onscreen badge that tells viewers the show they're watching has been certified by the group Got Your 6, which derives its name from military slang for "I've got your back." To be approved, the film or show must cast a veteran, tell a veteran story, have a story written by a veteran or use veterans as resources. "We hope our country will welcome back our veterans — not by setting them apart but by fully integrating them into the fabric of our communities," Mrs. Obama said. Mrs. Obama also came to the defense of "American Sniper" — about Kyle, considered the most lethal sniper in U.S. military history. It has become a box-office sensation and has strong supporters but has also weathered a growing storm of criticism that the film glorifies murder and serves as war propaganda. "While I know there have been critics, I felt that, more often than not, this film touches on many of the emotions and experiences that I've heard firsthand from military families over these past few years," she said.
Soldier with PTSD, woman who lost husband to it, find solace together (NPR)
Stefanie Pelkey, 39, is a former Army captain. Her husband, Michael, served in Iraq as an Army captain in 2003 and struggled when he returned. "When he came back, he wasn't the same person that left. His light was gone. That's the only way I know how to say it," she says. "He just didn't joke around anymore. He had a lot of anxiety. He'd shake his legs a lot while he was sitting there talking, like, he'd tap his feet a lot. "Also, he started sleeping with a gun," she says. "He would sleep with it under his pillow. So he sought help, and probably about a month after, he took his life — he shot himself in our living room." Pelkey told a congressional committee in 2005 that it was only a week before Michael died in 2004 that he first was diagnosed with PTSD — by a therapist outside the military's system because its own therapists were booked up for months. Army Sgt. T.J. Hart, 49, a friend of Stefanie, tells her he knows what Michael was feeling when he killed himself: nothing. "It's a numbness. I didn't feel like I was doing anything wrong," he says. "I thought I was doing my family the right thing. And it's so easy to justify and say, 'Maybe the right thing for me is to just disappear.' " Hart and Pelkey met while volunteering at a veterans center in Houston. Hart, another veteran of the Iraq war who has struggled with PTSD, tells Pelkey that he had attempted suicide himself. Pelkey says she hopes she's helped Hart see suicide isn't the answer to his problems; Hart says she's now like a little sister to him. "You remind me every day of what I can do to my family, with one slip," he says. "Never once did I think about the aftermath, the sadness, the things that I would miss. And, you've reminded me of that."
Ex-Marine's path to sobriety began with veterans court (Green Bay Press-Gazette)
Jeff Vanstraten distinctly remembers the feel of the gun in his hands, the process of filling the clip, the sound of chambering a round, and looking at the police outside his home and thinking how easily he could pick one of them off. It was about 9:30 p.m., Jan. 15, 2012. Vanstraten, then 40, had consumed his usual 30-pack of beer and was well into another. It must've reacted badly with the pain medication he had been taking for his bad back, because he can't remember many other details of what went on that day in his west-side Green Bay rental home. He learned later that a buddy, concerned he was suicidal, called the police, who dispatched a SWAT team that surrounded his house. Tear gas and the knowledge that the next step was almost certainly be the police bursting through the door shocked him into sobering up a little. "The next thing, I surrendered." After a short stint at the Brown County Mental Health Center, Vanstraten found himself charged with a felony. But what happened next may have saved his life. During the court process, his counselor and lawyer recognized he was a perfect candidate for Brown County's newly formed Veterans Court. Vanstraten was the second person ever admitted, and one of 16 success stories the program has produced in its nearly three-year existence. Maybe the biggest help of all was developing a relationship with other participants in the court. "It's like a brotherhood," Vanstraten said. So much so, he almost regretted graduating from the program in November 2013. Staying sober ever since has helped him learn the benefits of sobriety like he never understood them before. He's regained pride in the military service he gave, got reconnected with family members he had taken for granted and got married — in Veterans Court, with Kelley performing the ceremony.
North Carolina veterans keep calm and cast a fly rod (Charlotte Observer)
Nights are the worst for Calvin Norton. Fitful sleep comes amid nightmares about combat missions from 45 years ago. Around him, he sees fellow infantrymen killed and maimed. He stares into the face of the North Vietnamese soldier he shot – after the soldier killed two of Norton's buddies in an ambush. But during the day, Norton finds respite while standing in a rushing river, focused on the fly rod in his hands. There, he feels safe, surrounded by nature and other disabled veterans. "It's not a cure-all," said Norton, 66 who suffers from post traumatic stress disorder. "But it's calmed me down tremendously." He's talking about Project Healing Waters Fly Fishing. Norton is one of about 30 veterans who participate in the Charlotte-area program, part of a national nonprofit dedicated to helping disabled veterans transition to civilian life. Under the leadership of expert fly fisherman Steve Patterson of Indian Trail, vets learn to tie flies and build rods in classes at the Salisbury VA Medical Center. Then they test their skills during outings to places such as Stone Mountain State Park near Elkin, Mitchell River near Dobson, and Ararat River near Mount Airy.
Wisconsin girl creates blankets for ailing veterans (Associated Press)
Snuggled in a hand-tied fleece blanket, a female veteran with terminal cancer prepared for takeoff Christmas Eve from Austin Straubel International Airport on what likely would be her last flight home. And she smiled. Aubree Leitermann, 10, of Kimberly, also smiled later that evening, knowing she had warmed the woman's heart with a blanket she made. "I saw a picture of her with my blanket and it was … her favorite color," she said. Aubree has made more than 150 blankets for veterans using Express Air Medical Transport service out of Green Bay and Tampa, Florida. The Mapleview Intermediate School fifth-grader got the idea while listening to her great-aunt Jill Hanson, flight coordinator with the transport company, share stories about the veterans they serve.
Texas governor declares Chris Kyle Day (Associated Press)
Recently sworn-in Texas Gov. Greg Abbott announced Friday he intends to declare Feb. 2 Chris Kyle Day in Texas. The announcement comes about less than two weeks after Abbot was inaugurated in Austin as Texas' first new governor in 14 years. Kyle, who was from Midlothian, served as a Navy SEAL sniper in Iraq and is considered to be the deadliest sniper in U.S. military history. After returning home from war, he worked to improve the lives of veterans throughout Texas with non-profit foundations like the Heroes Project, which provides gym equipment and training to veterans with disabilities. He also wrote the book "American Sniper," which was adapted as emotion picture and released nationwide Jan. 16 . The movie is nominated for six Academy Awards, but has also received national criticism for portraying a realistic look into what it takes to be an American sniper. Kyle, and his friend Chad Littlefield died on Feb. 2, 2013 at a Texas gun range. Eddie Routh, the former Marine accused of killing Kyle and Littlefield, is set to go on trial on Feb. 11. Abbott made the announcement at the end of his address to the Texans Veterans of Foreign Affairs (VFW) Mid-Winter Convention, according to the prepared remarks released by the governor's office.
82nd Airborne Division's museum seeks artifacts of Dominican mission (Fayetteville Observer)
This year, the 82nd Airborne Division will mark the 50th anniversary of Operation Power Pack, when thousands of paratroopers participated in a peacekeeping operation in the Dominican Republic. The division's museum has big plans for an exhibit honoring those who served in Power Pack. "Problem is, I need some stuff," said Jimmie Hallis, a curator at the 82nd Airborne Division War Memorial Museum. "I need artifacts." Hallis and the museum's director, John Aarsen, are hoping veteran paratroopers will donate items from their time in the Dominican Republic to fill the museum's slim collection from that conflict. Operation Power Pack was a major undertaking for Fayetteville and Fort Bragg. The 82nd Airborne and the 18th Airborne Corps deployed on short notice to help stabilize the Dominican Republic during a civil war. But nationally, the conflict was forgotten. "It's an operation that's a big deal at the time but quickly becomes overshadowed by Vietnam," Aarsen said. The entire 82nd Airborne deployed, and the operation lasted a little more than a year. More than 12,000 paratroopers served. In addition to local paratroopers, Marines and the Navy sent troops for Operation Power Pack.
WWII commandos to receive Congressional Gold Medal (Rochester Democrat & Chronicle)
Two Rochester natives will be honored Tuesday in Washington for their service as members of an elite commando unit during World War II. Thomas W. Hope and Thomas W. Johnson were members of the First Special Service Force, a predecessor to the Army's Green Berets. On Tuesday, leaders of the U.S. House and Senate will present a Congressional Gold Medal to honor the members of that unit for their contributions to the liberation of Europe and end to World War II. The Congressional Gold Medal is the highest civilian honor Congress can bestow. House Speaker John Boehner (R-OH), Senate Majority Leader Mitch McConnell (R-KY), Senate Democratic Leader Harry Reid (D-NV), and House Democratic Leader Nancy Pelosi (D-CA) will take part in the ceremony. Dubbed the "Devil's Brigade" by the German opposition, the FSSF was a special operations unit that comprised 1,800 soldiers from the United States and Canada. It was the only unit formed in WWII with troops from the U.S. and Canada, and was instrumental in targeting military and industrial installations. Original plans for a European invasion called for these commandos to parachute into Norway, destroy power plants, and fight their way south to Germany.