Veterans GOODNEWS for Feb. 20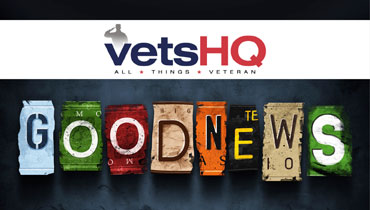 VA opens first clinic at Orlando medical center (Florida Today)
The VA is opening its first primary care clinic at the Orlando VA Medical Center campus. While the new hospital is not yet ready to open, the Department of Veterans Affairs is moving the clinic — which serves about 1,200 clients — from a nearby annex to the Lake Nona hospital complex to begin serving veterans there. The move Tuesday marks the first time that Central Florida veterans will receive primary care at the yet to be completed campus. "We're trying to open up the clinic as timely as we can," Orlando VA spokesman Mike Strickler said. "At least the clinic is open for business. We're raising the flag to say we have a portion of the clinic open." In addition to the clinic opening, the $665 million VA medical complex in Orlando's Lake Nona area — just west of the Brevard County line — is to include a 134-bed hospital, 118-bed nursing home and a veterans benefit service center. Strickler said other departments likely will open while the final phase of the medical complex construction is completed and turned over from the builder to the VA, which is expected later this year.
New training program offers veterans skills for better job opportunities (Dallas Morning News)
Larry Jones of Frisco, Texas, has been job searching for more than six months since he was laid off. Recently, the Marine Corps veteran was passed up on an entry-level information technology job because of lack of training. "I actually had a job opportunity, but I didn't get it because I didn't have this training," he said. He hopes a new initiative for veterans at Collin College will change his luck. Jones, 60, is one of 13 veterans currently enrolled in a new, free veterans training program through the Collin College Center for Workforce and Economic Development. Through August, the center is hosting two training programs — one focused on manufacturing and the other on information technology. The IT class began Feb. 16, and the other is scheduled to begin Monday. The new initiative comes thanks to a $132,737 Veteran and Industry Partnership grant from the Texas Workforce Commission. The grant is designed to create jobs for veterans and supply a more skilled workforce. Natalie Greenwell, director of the college's Center for Workforce & Economic Development, said she has high hopes for the program. "We hope the veterans will get a job following training, or at least be more marketable," she said.
The Coffee Bunker: A place for veterans to feel like they belong (KJRH-Tulsa)
A Tulsa success story could soon spread state-wide. The Coffee Bunker, near 41st and Sheridan, is helping veterans in a unique way. Now, a state bill is moving forward to create new centers modeled after it. The Coffee Bunker started in the back room of a church in 2010 by the mother of a veteran who committed suicide. Since then, it has moved into it's own facility, and really given veterans a place to hang out and feel like they belong. The Coffee Bunker is more than just a place to drink a cup of joe. "A relaxing place among the brotherhood." The organization has been up and running in Tulsa for a few years now. And it's helped a lot of returning veterans, of all ages and branches, that now have a place to feel welcome. More importantly, they have a place to talk about their experiences, both fighting overseas, and returning home. "Everything an active service member experiences is absolutely nothing like what my friends, my parents experience out here in the civilian world," Gary Secor said. Secor and his pal, Nala, come here often. He says it's a place where he feels like he belongs. Up to 50 local veterans stop by the bunker each day. Sometimes, they go to get help looking for jobs, other times, they just want to shoot the breeze and hang out with the boys.
PTSD support group for young Florida veterans (WPTV-West Palm Beach)
John Castro doesn't share details about his time serving overseas. "The toll is not being with your fellow buddies or your battle buddies or your company, the toll is the anticipation of what's going to happen next," said John. He says his sleepless nights started after his tours of duty as an Army Sergeant in Kuwait and in Iraq, protecting convoys. What he didn't expect was possibly battling post traumatic stress disorder when he returned home. "Currently I only sleep three hours a day, I don't ask for that. I never thought I would be in that predicament," he said. John received support. He wants other veterans to have the same opportunity, especially young veterans  just returning from Iraq and Afghanistan who don't know where to turn to for help. That got Ray Nazareth, also a veteran, thinking and he started a support group for the young veterans. "I've seen them as 18, 19 when they have done one, two, three, some of them have done half a dozen tours, so it's getting where we are stretched to the point," Nazareth said. The statistics for veterans are alarming. According to the National Center for PTSD, about 20 percent of those who served overseas, such as in Iraq, have PTSD in a given year. "The support groups hope to give the younger and older veterans a place to feel safe and find ways to cope," Nazareth said.
Doris Miller VA Medical Center officially debuts (The Waco Tribune)
Waco native and World War II hero Doris Miller's name adorns a city recreation center, a YMCA facility, a cemetery and a former elementary school in the Waco area. But to his family and the scores of residents and veterans he has inspired, the renaming of the Waco veterans hospital after Miller by far is the greatest tribute. "It's a tremendous honor for the entire family for him to be recognized in this way," said Sherri Miller, whose father, James, was Doris Miller's younger brother. "Recognition in some areas has been slow in coming, but the city of Waco has always been very generous because he was a native son here. "This puts it more on a national level; for it to be a federal facility that now bears his name is a tremendous honor. We're very humbled and very appreciative of this recognition." Dozens of Miller's relatives traveled from across the state for a ceremony Thursday officially naming the hospital the Doris Miller Department of Veterans Affairs Medical Center. About 200 people attended the event, including members of the Veterans of Foreign Wars Post 1406 of Dallas, which is named after Miller. "We wouldn't miss it for the world," said post member Kennard Bowen, an Air Force veteran. "I think it's a big honor and recognition, and it's a long time coming."
Mindfulness training improves resilience of active duty soldiers (Huffington Post)
Mindfulness has become recognized as a promising mental health intervention for soldiers returning home from war. But it may also be a vital tool for soldiers before they are deployed to conflict zones. During the critical pre-deployment period — the training period before a soldier goes to combat — soldier face high levels of stress and high demands. While training intensively for the upcoming mission, they are also mentally preparing themselves to leave their loved ones and head into a dangerous conflict zone. Research has shown that the demands of this critical period can take a psychological toll on soldiers, leading to impairments in mental health and cognitive functioning — meaning that soldiers may be going into combat already dealing with mental health challenges. And according to a new University of Miami study, a brief mindfulness meditation exercise aimed at staying focused on the present moment can help active-duty soldiers prepare for combat, improving performance and cognitive resilience. "Soldiers are experts at standing at attention," Miami neuroscientist Amishi Jha, the study's lead author, said in a statement. "However, maintaining a mind at attention under the intense physical, emotional and cognitive demands they face, is a more difficult task."
Disabled, but active, Vietnam veteran gets an all-terrain wheelchair (Yahoo News)
A Vietnam War veteran who has no feeling in his legs got the gift of a lifetime — a $20,000 all-terrain wheelchair.U.S. Marine Jerry Baylor, 68, returned home from Vietnam without any serious injuries but was severely wounded in an accident on American soil.  In 1980, a car with defective brakes hit him while he was riding his motorcycle, according to the U.S. Department of Veteran Affairs. Baylor, of Leechburg, Pa., never let his disability define him or discourage him continuing his high-octane lifestyle. When not speaking to other veterans, Baylor, whose friends call him Bull, can be found using his upper-body strength to maintain an active lifestyle, which includes marathons, track and field events, rugby matches, and weightlifting. He regularly wins medals while competing at the National Veterans Wheelchair Games. "The medals aren't what's important to me," he said, according to Veterans Affairs. "What's important is I've talked 40 or 50 guys into joining me at the Games to show them what they can do. When you see their faces out here for the first time, man, that's what it's all about."
Young Marines focus on self-confidence, service (South Maryland Newspapers Online)
The Young Marines strive to better the lives of veterans and the general community by turning the values of honor, courage and commitment into leadership, discipline and teamwork, according to Rob Willis of California. "We build moral and physical well-being," Willis, the Southern Maryland Young Marines unit commander, said recently. "What we're really doing is arming them with the self-confidence they need to take a stand against drugs and to lead a healthy lifestyle." The group is dedicated to spreading an anti-drug message, focused on what Willis called "drug-demand reduction." Willis of California started the Southern Maryland chapter in 2010 in Calvert County with just four children, including his own son, Jake, who is now 15. Last year he officially expanded the group to St. Mary's, and there are now 27 boys and girls in the group, along with nine adults who volunteer their time with the Young Marines. The group performs hundreds of hours of community service every year. At least a third of that volunteer service is in support of veterans organizations like the American Legion or the Veterans of Foreign Wars, Willis said.
Operation Second Chance on a mission for veterans (MyFox-Tampa Bay)
For Private First Class Rex Tharpe, joining the Army fulfilled a lifelong dream. "It is a whole lot of accomplishment in knowing that not a whole lot of people have done that in their lives," he said. But, during his deployment to Afghanistan one small step changed his life forever. "I took a knee on a 17-pound pressure plated IED," he said. Tharpe lost his right leg; his left had severe muscle and tissue damage. "Everything was going real fast-paced, and then it just came to a grinding halt," he said. For two-and-a-half years he worked to recover, refusing to give up. "If I give up and do nothing, just give up and kind of mope around the rest of my life, the enemy has won at that point," said Tharpe. Marine Staff Sergeant John Stanz can relate. He was wounded in Afghanistan, and his family was told he would never recover. "The will-power of being a Recon-Marine and a Raider has played a big roll in it," he said. After both men healed, Operation Second Chance came into their lives. "This gives me a chance to be with like-minded individuals, have fun with them and [it] lets me keep living life," said Stanz. They focus on helping wounded vets and their families, providing everything from financial assistance to support and trips. "Better than 90 percent of the money we bring in goes directly back to the veterans," said Kevin Kenney. In nearly 10 years since the organization first started, they have raised nearly $ 3 million, and have helped 5,000 people including veterans and their families.