Veterans GOODNEWS for Feb. 5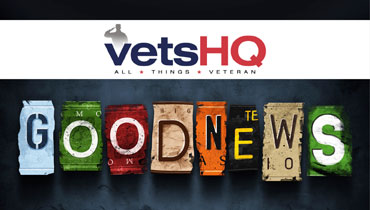 Bill aims to help veterans heal through farming (WBNG-Binghamton, N.Y.)
U.S. Dept. of Agriculture funds will allow Cornell University to increase training and resources for returning veterans seeking to start farm-related careers. On Monday, U.S. Sens. Charles E. Schumer and Kirsten Gillibrand announced the USDA will provide $1.4 million in federal funds to help two New York state organizations train farmers and ranchers, including returning veterans looking to start farm-related careers. These federal funds will be allocated through the USDA's Beginning Farmer and Rancher Development Program (BFRDP). Cornell University in Ithaca will receive $712,500 in federal funds to provide advanced training and support to 500 advanced beginning farmers and 100 military veterans who are seeking to start careers in farming. "Veterans are really one of the groups in our community that is growing and when it comes to job reentry and training, sometimes agriculture is really being pushed to the side," said Laura Biasillo, of Cornell Cooperative Extension.
Veterans pan, and cheer, their counterparts on the screen (The New York Times)
Chris Marvin, 35, a retired Army helicopter pilot who broke his legs, an arm and bones in his face in a crash in Afghanistan in 2004, says he often does not recognize the veterans he sees portrayed in movies and television shows. He has had enough of the "broken hero" story lines about the grunt who did incredible things but is now forever damaged. "The truth is, 99 percent of us are neither heroic nor broken," Mr. Marvin said. "We are people — people the public has invested in who have a lot of potential. And it's time to get over the pity party." To help, he and a number of veterans groups have begun a drive to encourage veterans to volunteer in their communities, while Mr. Marvin and others go behind the scenes in the entertainment industry to push writers, television networks and Hollywood executives to present realistic characters that show the full scope of veterans' experiences. Part of the process, of course, is education. Mr. Marvin was in Washington last week with Michelle Obama and the actor Bradley Cooper to unveil a program that will give a veteran's seal of approval, called "6 Certified," to movies and television shows that portray veterans in a fair and accurate light.
Veteran-made films show healing power of the outdoors (The Olympian)
The healing powers of the outdoors will be shown through a series of short films made by military veterans who fought overseas. "Warriors and Film in the North Cascades and Beyond" will take place Monday night in Tacoma. The program will feature speakers involved in the Sierra Club's Military Outdoors program who will present their footage and stories of veterans who adventure outdoors to heal, experience camaraderie and find the strength to continue their fight to make America a better place, said Josh Brandon of the Sierra Club. The goal of the club's military program is to ensure that service members, veterans and their families have the skills, exposure, knowledge and confidence to access the outdoors, Brandon said. "Many veterans experience difficulty adjusting to civilian life after leaving the service," he said. "Time spent outdoors eases the transition and improves both mental health and social skills." Elle Hanson, an Army veteran of Afghanistan, took part in the program's 2014 film adventure. She shared some of her thoughts on the experience on the program's website. "Life gets complicated after deployment. Every day for almost a year, I left a piece of myself in the mountains of Afghanistan. In that void, the sight, smell, and sounds of war followed me home. I thought that I was climbing the North Cascades make a film. But that's not why the mountain called my name," she wrote. "The mountain wanted to return something to me that was left behind on a battlefield on the other side of the world. My peace. My purpose. My sanity." "This will be a night of film, reflection, and a celebration of our veterans who have bravely shared their stories, and documented the struggles of returning home and demonstrated the role wild places have in helping our troops heal from the profound trauma of war," said Krystal Kyer, executive director of the Tahoma Audubon Society.
North Carolina plans to create a military and veterans affairs department (Fayetteville Observer)
Gov. Pat McCrory used his biennial State of the State address on Wednesday to announce plans to create a N.C. Department of Military and Veterans Affairs. The proposed Military and Veterans Affairs Department is intended to assist the state's military communities from Fort Bragg to Camp Lejeune and its many veterans.  "At a time when so many servicemen and women are coming home from Afghanistan and Iraq through North Carolina, as I mentioned before, we must have an efficient and well-coordinated process in place to meet the needs of active duty personnel and veterans," McCrory said. "These services are right now scattered across many areas of state government with no accountability, causing delay, frustration, and sometimes poor customer service." The new Department of Military and Veterans Affairs would: (1) Protect and fight for the state's military bases, (2) Promote the health and safety of veterans and military families, (3) Help veterans get jobs, and (4) Work with the unique needs of base communities.
Franchising: An opportunity for veteran entrepreneurs? (Forbes)
Fifteen years ago, when Army Master Sergeant Grant Springer was deployed to the Balkans region of southeastern Europe, he was struck by the area's serene, natural beauty. The landscape of Albania was especially striking—so much so that Springer called his wife, Nadja, back at his home base in Germany and told her they should think about buying property there someday. Today, the Balkans have transformed into a burgeoning tourist destination, and the Springers are now running a cruise business that takes clients to tour Grant's beloved Albania and the surrounding region. They also offer tours to many other places around the globe. To do this, they acquired a franchise with travel retailer CruiseOne in November 2013, joining one of the hundreds of U.S. businesses that offer special programs for veteran franchisees. CruiseOne offers veterans a 20 percent discount off the franchise fee and was named the top franchise for veterans in 2014-15 by Military Times. Rounding out the second and third spots, Sports Clips, Inc., a sports-themed barber shop for men, and Signarama, a business signage company, also offer discounted franchise fees for veterans as well as management assistance and training. With Signarama, that initial discount grows from 10 percent to 50 percent based on the franchisee's years of military service.
Chaplain's film to chronicle soldiers at war (Military Times)
U.S. Army Chaplain (Capt.) Justin Roberts knows very well the difficulties soldiers encounter connecting with the civilian world after successive combat deployments. In his upcoming documentary "No Greater Love," Roberts sets out to bridge this gap between the American public and its combat veterans through extensive footage he shot in Afghanistan and follow-up interviews with soldiers and Gold Star wives and families. "This film isn't a contrived story about soldiers, it IS soldiers; this is us talking," Roberts said. "These are our conversations." As a shiny new chaplain, Roberts deployed in 2010 with the 2/327th "No Slack" Infantry Regiment of the 101st Airborne Division to Kunar Province in eastern Afghanistan. Roberts wanted to be able to connect with his soldiers; to care for them. To do so, he began going on combat missions with them outside the wire, spending time with each platoon in turn in the field. "To be their chaplain, I needed to be where it sucked the most," Roberts recalled. Chaplains, however, do not carry weapons on the battlefield. Instead, Roberts decided to take a camera in order to capture their experiences and tell their stories. Over their year-long deployment, "No Slack" pushed deep into rugged Kunar Province, repeatedly fighting fierce pitched battles with the Taliban. The unit lost 18 soldiers killed in action and earned more than 200 Purple Hearts.
HillVets names its 100 most influential on veterans issues (Military Times)
HillVets on Wednesday released its choices for the 100 most influential personalities on veterans issues, highlighting the lawmakers, business leaders, community organizers and advocates "giving back to those that have sacrificed so much for our nation." The full list, available at http://hillvets.org, was compiled from outside nominations by a 13-member panel of veterans working on Capitol Hill. Officials from HillVets — whose stated goal is to increase the number of veterans working in government — said the intention was to draw attention to both the honorees and their work, in an effort to keep veterans issues at the forefront of national conversations. Organizers said they included both veterans and nonveterans, looking for individuals with a strong influence and impact on the broader veterans community. Lawmakers on the list include House Veterans' Affairs Chairman Rep. Jeff Miller, R-Fla.; House Armed Services Chairman John McCain, R-Ariz.; former Senate Veterans' Affairs Chairman Bernie Sanders, I-Vt., and Iraq war veteran Sen. Tom Cotton, R-Ark. Marie Tillman, widow of Army Ranger Pat Tillman, is honored for founding the Tillman Foundation in the wake of his death. Bob Woodruff — injured by a roadside bomb while reporting in Iraq in 2006 — and his wife, Lee, were both recognized for their foundation's work with transitioning veterans. The list lauds Michelle Obama and Jill Biden for their work with the Joining Forces initiative, and singles out departing Defense Secretary Chuck Hagel, the first enlisted veteran to serve in that post.